1971 - Peugeot BP Michelin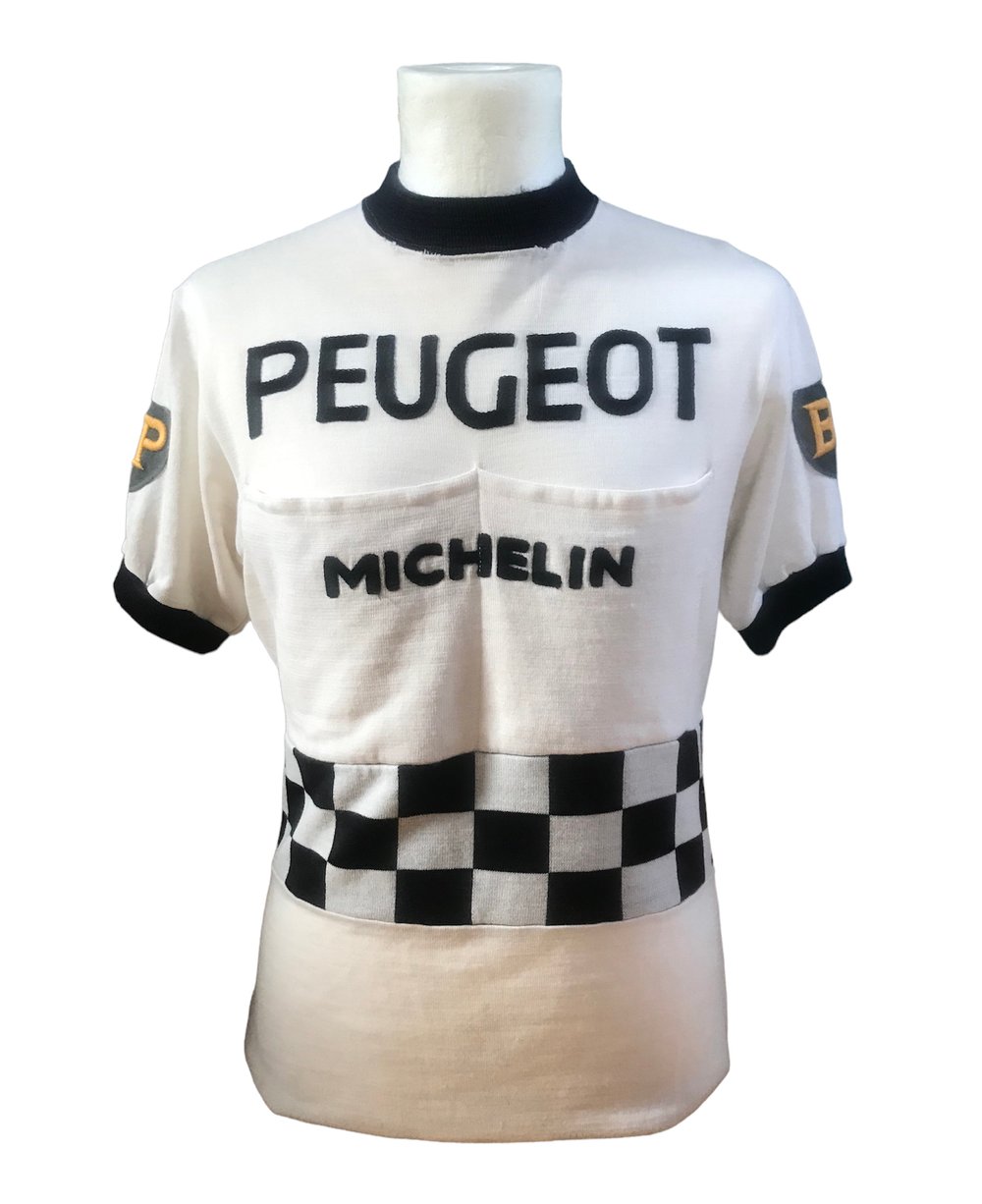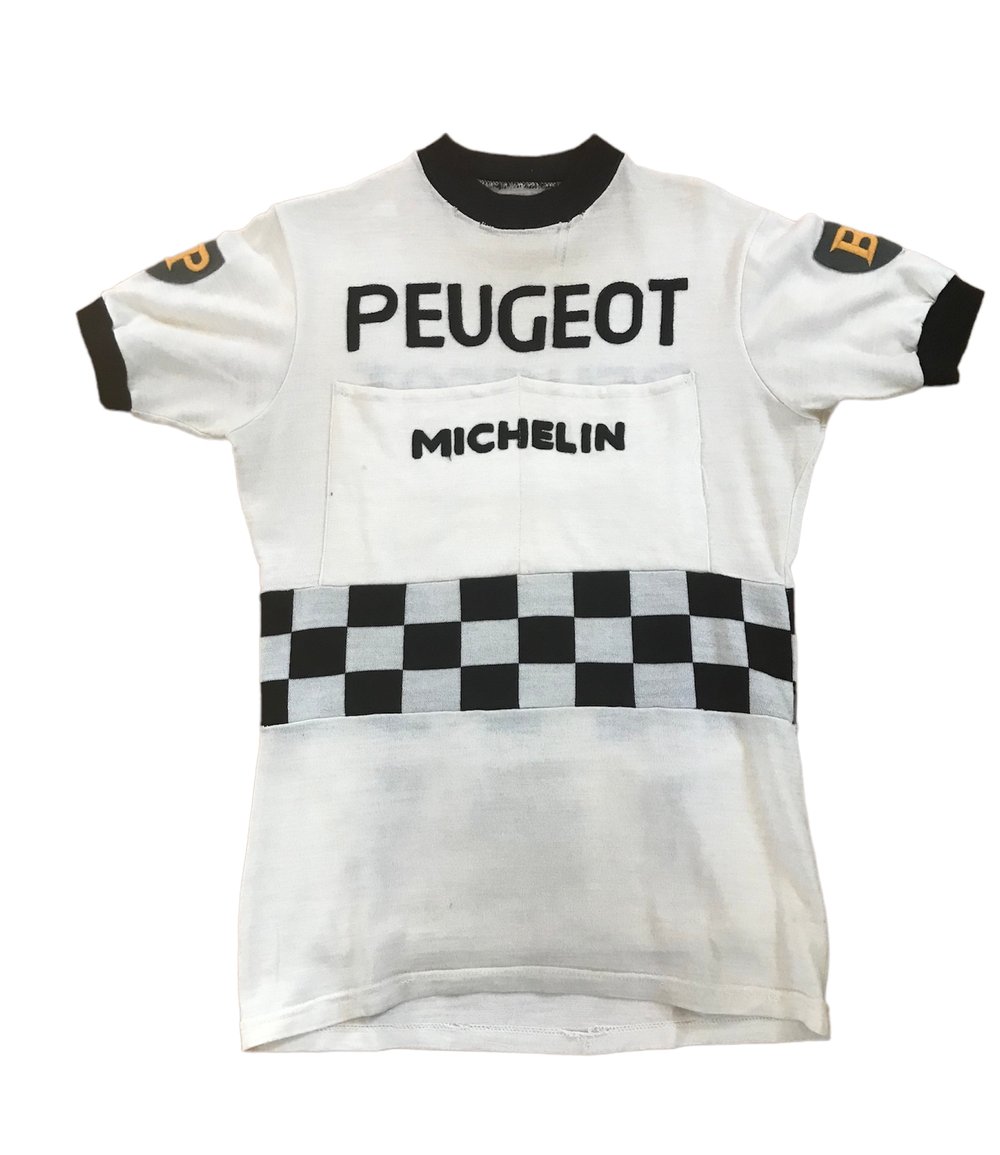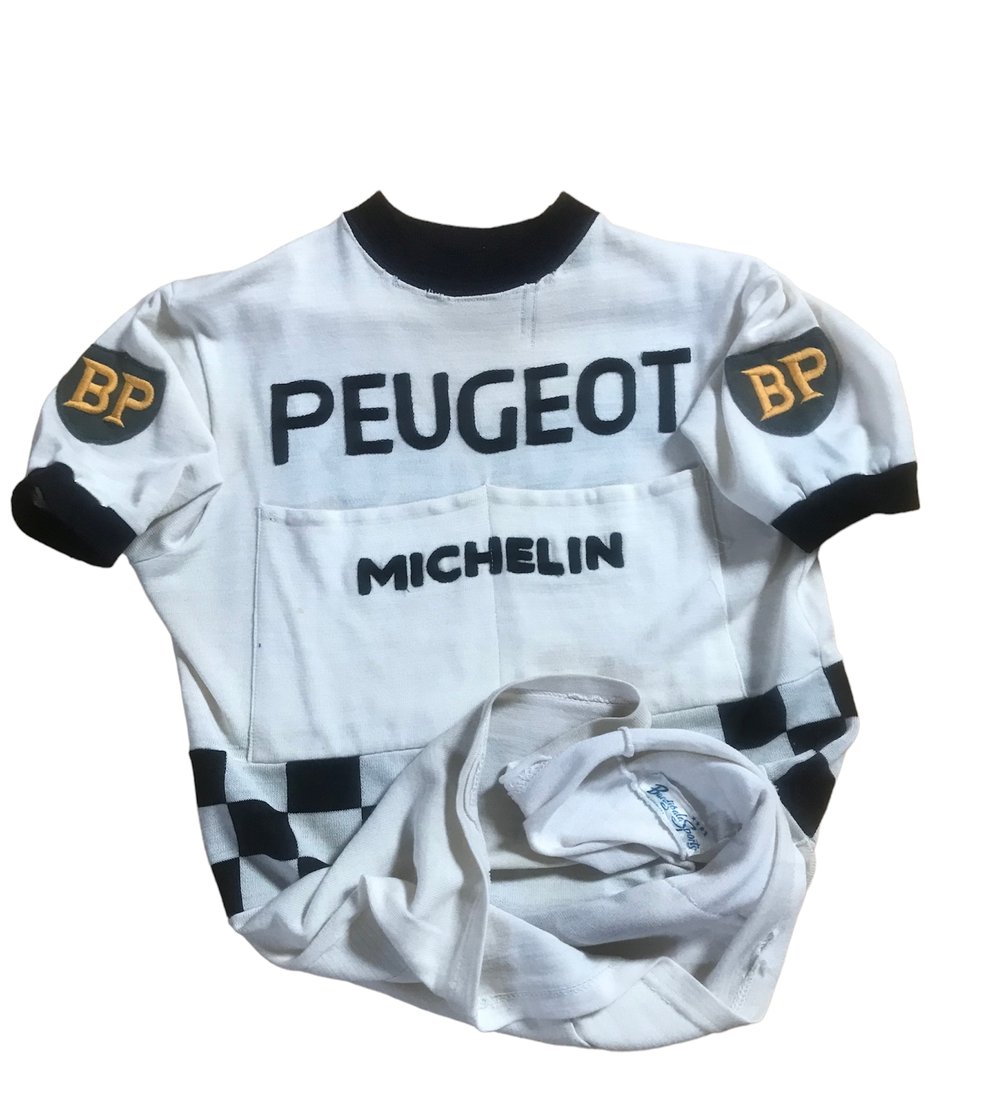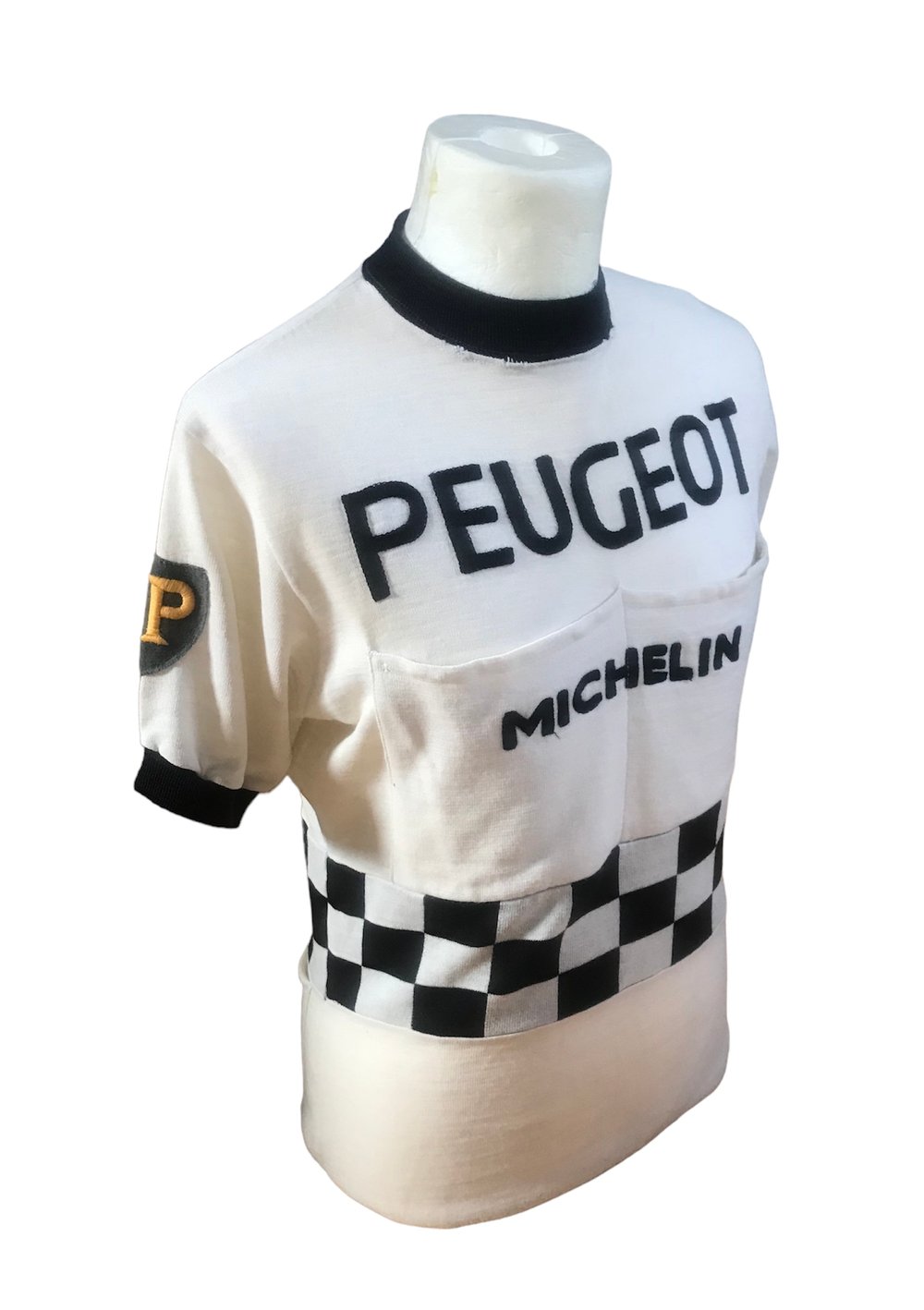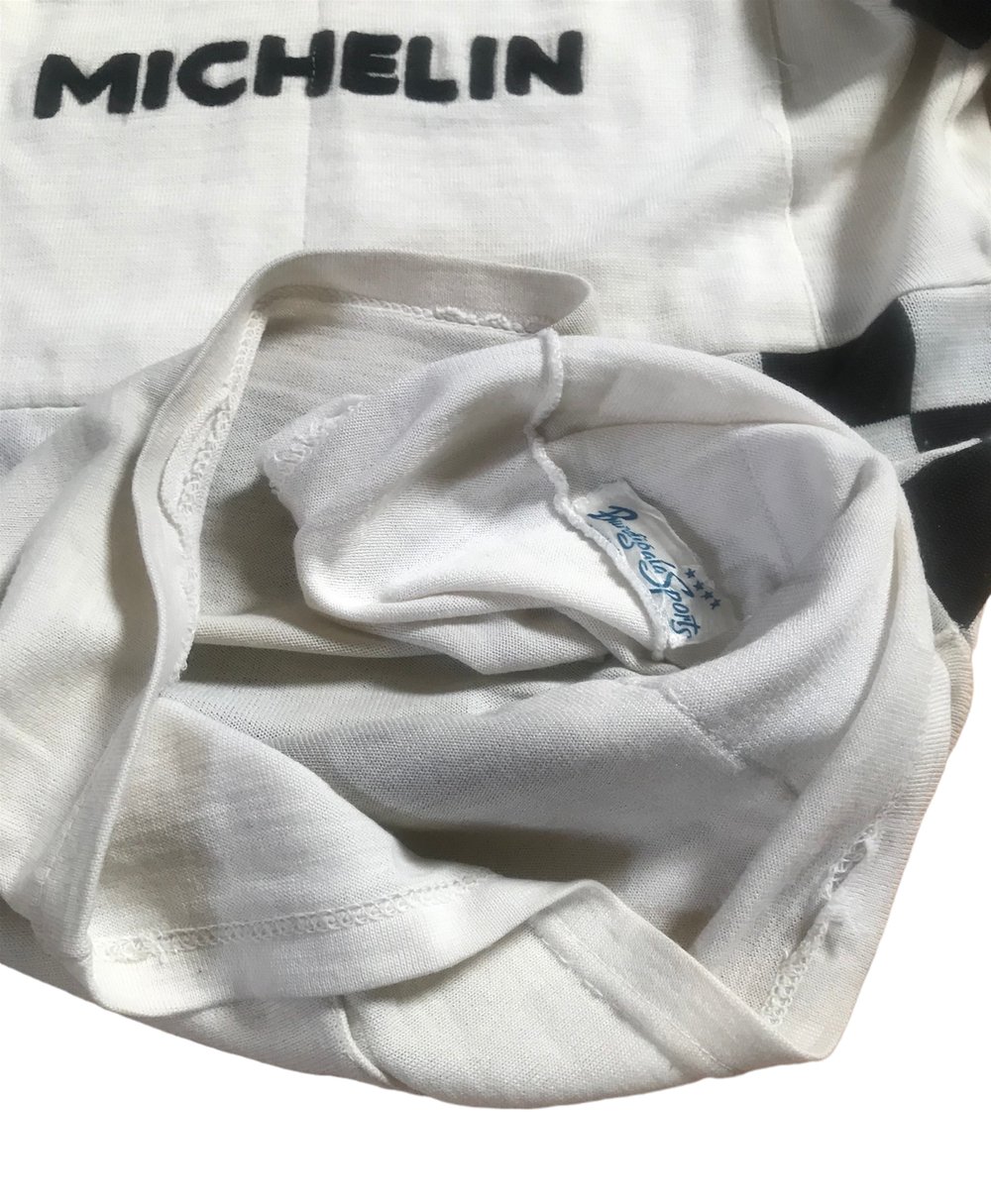 Description:
It may be half a century and more old but in my opinion, no one has ever designed a nicer jersey than this – fresh, simple, instantly recognisable, surely a true 'design classic.' And never cooler than when on the back of the damiers had graced greats including Eddy Merckx, Charly Gaul, Walter Godefroot, Tom Simpson, Bernard Thévenet and Roger Pingeon.
Peugeot had always made a point of using French componentry: Mafac centre-pull brakes, Simplex gears, bits and pieces from TA, Wolber tyres. And as the sole surviving big-time squad where the lead sponsor was a bike manufacturer, Peugeot had been the last factory team in cycling.
In 1963, the iconic recognisable damier checkerboard design appeared and remained so until 1986. Two manufacturers (Bovis and Burdigala Sports) will supply the cycling team in 1971, the only year for the damier jersey mentioning Peugeot-BP-Michelin to have a round neck without a zip. The cycling team is led by the most successful rider Ferdinand Bracke winning the overall title at the 1971 Vuelta a España in front of Wilfried David of Belgium and Luis Ocaña of Spain.
Color: This fantastic blue/yellow jersey had its heyday with Rik Van Steenbergen.
Condition: Sublime preservation of the wool, the condition is like new of this legendary jersey from 50's and early 60's.
• Manufactured from an 100% pure wool with chain-stitched lettering
• The jersey shows the familiar front chest pockets used since the birth of cycling
• Two button down pockets at the front
• Round neck, no zip
• Three back pockets at the rear
• Three button down pockets at the rear
• Short sleeves jersey
• No maker's label present
Size: Medium
Armpit to armpit: 42cm
Length: 72cm