Here is a page where you will find all kinds of links related to the history of cycling.
" La course en tête " [which perhaps best translates as 'Running Ahead'] featuring the famed cyclist Eddy Merckx. The movie follows Merckx during the 1973 and 1974 seasons and gained unprecedented access to the public and private life of the sportsman, together with portraying the wider world of professional cycling. Winner of eleven 'Grand Tours' and most significant cycling titles, Eddy Merckx is widely considered as the greatest competitive cyclist of all time.




" Autour du Tour ", le Tour de France d'un coursier. Jacques ERTAUD n'a pas voulu raconter l'histoire du Tour 1975. Il a préfèré évoquer à travers les grands moments, les petits incidents, le grandiose et l'anodin, la gloire et la souffrance, cette aventure étrange qu'est le Tour de France. Il a demandé à Antoine BLONDIN, romancier et journaliste sportif de commenter ces images.Gérard MONNEYRON est un "ouvrier du cyclisme", son rôle est de servir un leader, son ambition d'arriver à Paris. Il y terminera 80ème après avoir beaucoup souffert et gagné peu d'argent. Dans l'autre univers, celui des vedettes et de leurs mythes, on retrouve POULIDOR, MERCKX [il va terminer deuxième après bien des malheurs dont une chute stupide et une fracture du maxilaire]. Le super champion est sur le déclin, mais une autre idole apparaît, Bernard THEVENET, dont ERTAUD a suivi l'ascension et l'entrée dans la 'légende des cycles'.


https://www.ina.fr/ina-eclaire-actu/video/cpa76053210/autour-du-tour-le-tour-de-france-d-un-coursier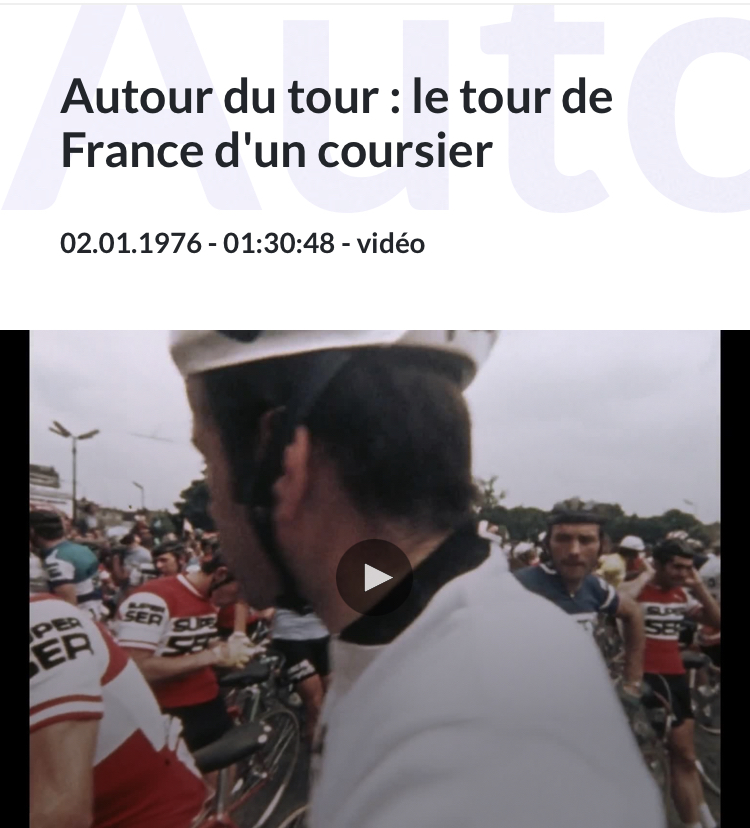 1962 Vive le Tour ! In his short documentary Vive le Tour, Louis Malle presents his energetic evocation of the Tour de France.

A short documentary about the 1962 Tour-de-France. Topics covered include: crowds of people and motorcycles, drinking raids and feeding, pileups, doping, 'the charge' and the mountain stages.







" 23 days in July " 1983 Tour de France [52min] by Tim Sullivan is one of the best films ever made on the Tour de France. This brillant documentary follows the progress of the Australian cyclist Phil Anderson in his quest for the winner's yellow jersey 1983 Tour de France won by Laurent Fignon. With the voice of cycling Phil Ligget who provide analysis and day-by-day coverage of the Tour race.
F