ALL ANTIQUES OR VINTAGE POSTERS ARE GUARANTEED 100% ORIGINAL. NOT a current reproduction.

The posters are veritable pieces of historic heritage, which have a collector's value.

[A French translation is available at the bottom of the page].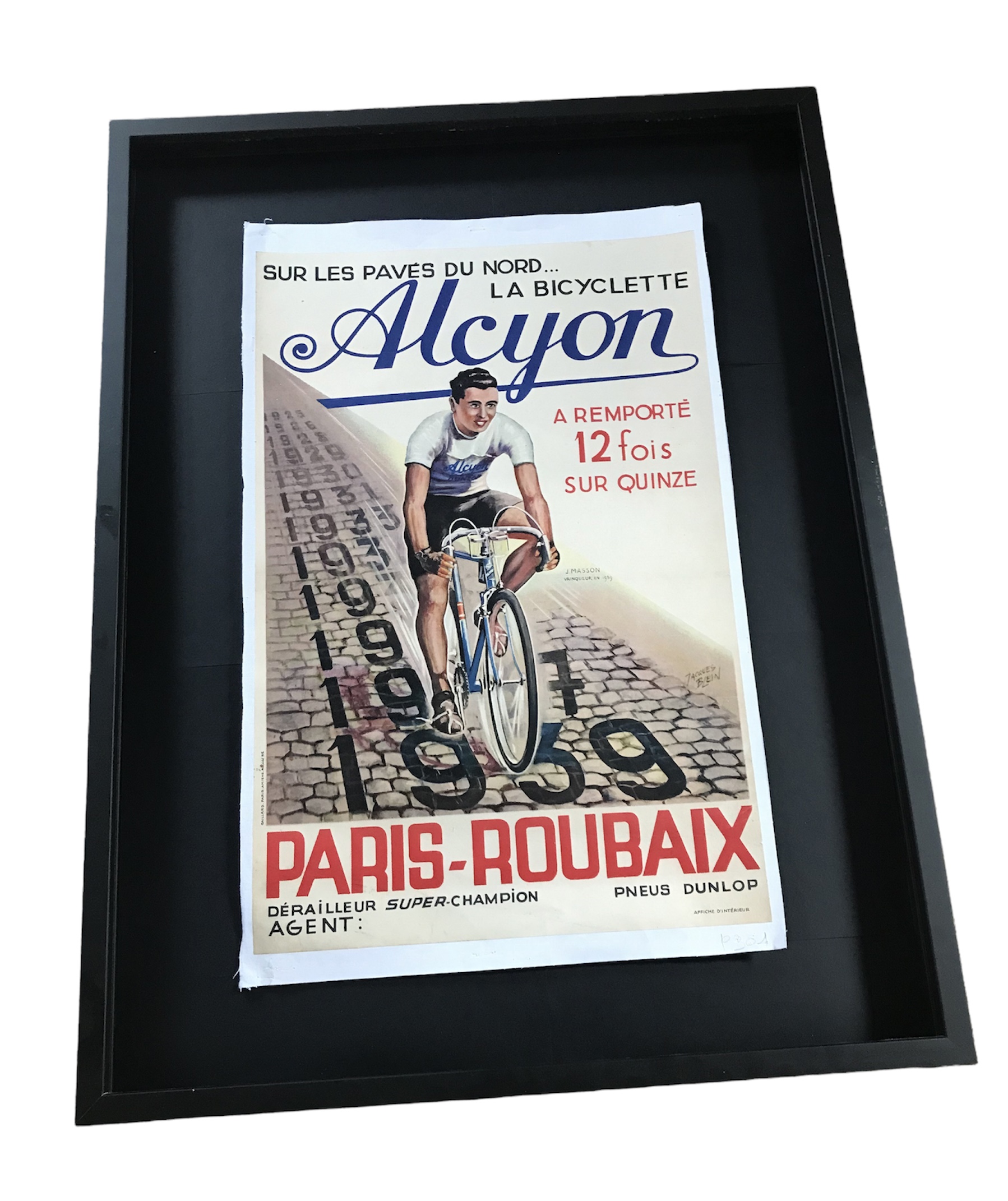 Many of the older posters were printed using a technique known as stone lithography. They were ephemeral and very few have survived. Suspended outdoors or indoors, hung or glued to walls, the early process of stone lithography created beautiful images. Stone lithography is a printing method that is based on the principle that oil and water do not mix. Using a greasy substance, an image is drawn or painted on to a flat piece of limestone in reverse.

Whatever makes a poster valuable is a good image, what is also very important in the pressing is the condition, some posters can be very very rare to find because they are not printed in big quantity or because they have not been saved well. If you find an example in search piece in perfect condition, the price can be very very high!

Long before the sporting gesture was shot by photographers, it was the illustrators whose mission was to translate it into images in the columns of newspapers as example. Undisputed masters of their field, introduced readers of the press, both specialized and non-specialized, to numerous disciplines before and after the war. The accuracy of their style were due in part to their study of the movement of the athletes.

All our posters have been archivally mounted on acid free paper with museum wheat paste and backed with linen canvas [Linen Backed]. This protects the fragile poster. Early vintage posters viewed as temporary advertising were printed on inexpensive paper as their purpose was to be glued up on a wall or kiosk and most probably to have a different one replace it in a short time.

While expensive, linen backing is a conservation method used to mount, stabilize, preserve and protect vintage posters so they can be displayed or framed without compromising value.



[Traduction française ci-dessus]

TOUTES LES AFFICHES ANCIENNES OU VINTAGE SONT GARANTIES 100% ORIGINALES. Pas une reproduction actuelle.

Les affiches sont de véritables pièces du patrimoine historique, qui ont une valeur de collection.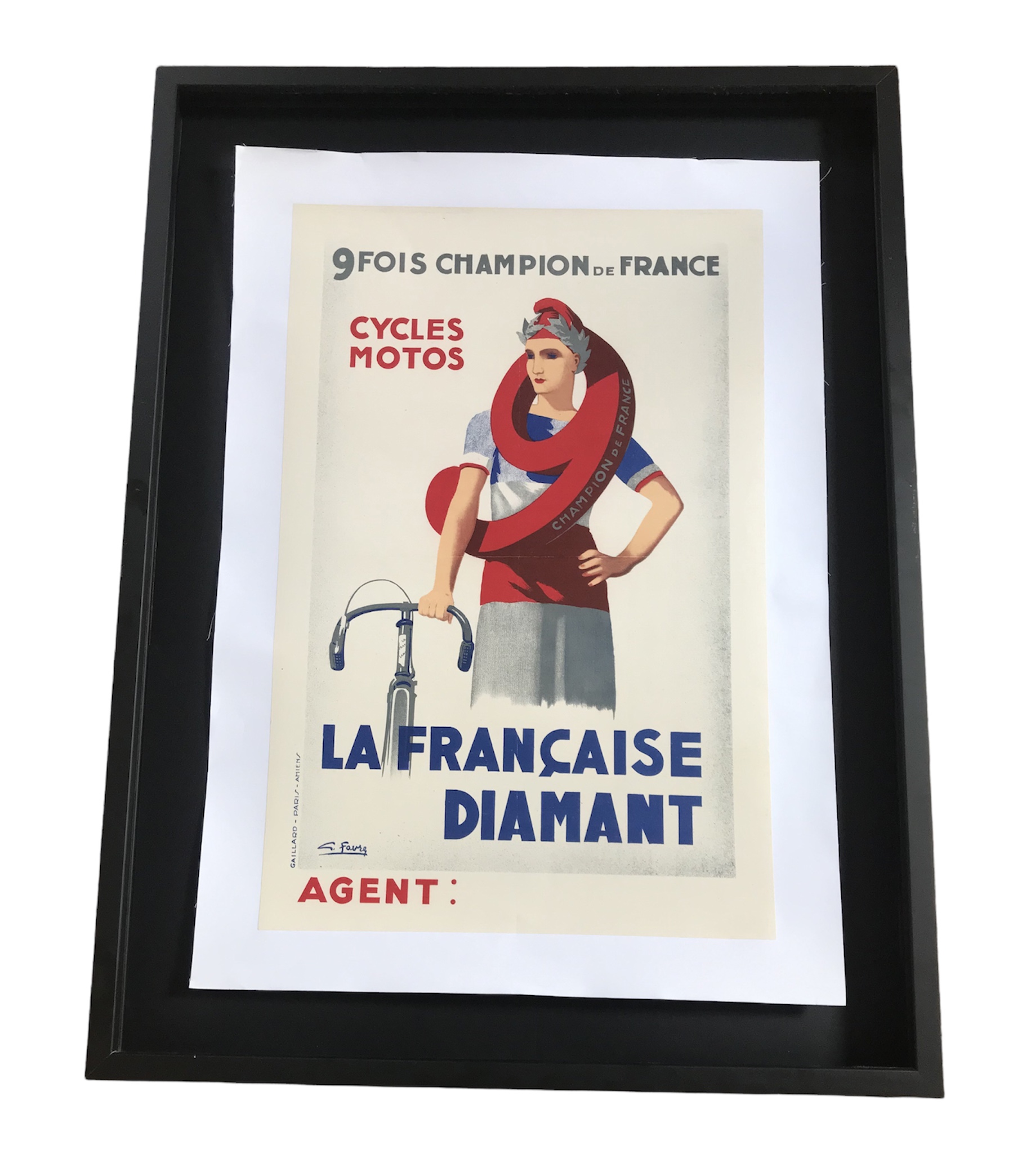 De nombreuses affiches anciennes ont été imprimées à l'aide d'une technique connue sous le nom de lithographie sur pierre. Elles étaient éphémères et très peu ont survécu. Suspendues à l'extérieur ou à l'intérieur, accrochées ou collées aux murs, les premiers procédés de lithographie sur pierre créaient de magnifiques images. La lithographie sur pierre est une méthode d'impression qui repose sur le principe que l'huile et l'eau ne se mélangent pas. À l'aide d'une substance grasse, une image est dessinée ou peinte à l'envers sur un morceau de pierre calcaire plat.

Ce qui fait la valeur d'une affiche est une bonne image, ce qui est aussi très important dans le pressage est l'état, certaines affiches peuvent être très très rares à trouver parce qu'elles ne sont pas imprimées en grande quantité ou parce qu'elles n'ont pas été bien conservées. Si vous trouvez un exemple en pièce de recherche en parfait état, le prix peut être très très élevé !

Bien avant que le geste sportif ne soit filmé par les photographes, ce sont les illustrateurs qui avaient pour mission de le traduire en images dans les colonnes des journaux à titre d'exemple. Maîtres incontestés de leur domaine, ils ont fait découvrir aux lecteurs de la presse, spécialisée ou non, de nombreuses disciplines avant et après la guerre. La précision de leur style était due en partie à leur étude du mouvement des athlètes.
Tous nos posters ont été montés de manière archivistique sur du papier sans acide avec de la pâte de blé de musée et soutenus par une toile de lin [Linen Backed]. Ceci protège l'affiche fragile. Les premières affiches vintage considérées comme des publicités temporaires étaient imprimées sur du papier bon marché car leur but était d'être collées sur un mur ou un kiosque et très probablement d'être remplacées par une autre affiche en peu de temps.

Bien que coûteux, le dos en lin est une méthode de conservation utilisée pour monter, stabiliser, préserver et protéger les affiches vintage afin qu'elles puissent être exposées ou encadrées sans compromettre leur valeur.