A look back at the evolution of the most iconic jerseys that have a mystical symbol of their design in the heritage of cycling history that the professional teams have raced for.

This online store will perhaps one day see the publication of a book to evoke the iconic jerseys awarded to champions worn on the French national territory and the stories that made them. A vibrant tribute of the French cycling races and a whole era that has passed.

[A French translation is available at the bottom of the page].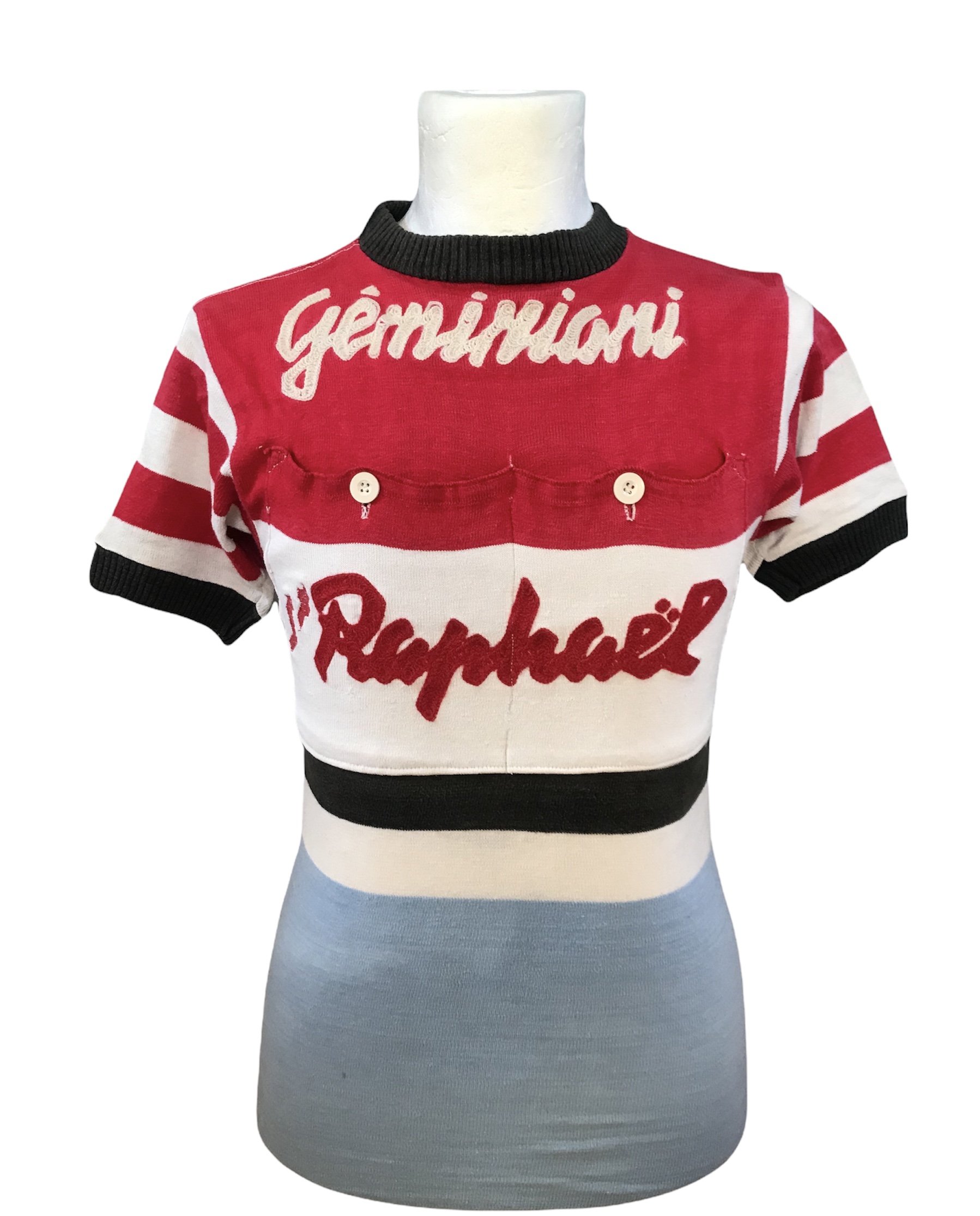 [Above] " The art of using one's first name to circumvent the French ban on non-sporting brands in cycling! One of the very first jerseys made in 1955/1956 with the name of the sponsor St-Raphaël and the name of the French cycling champion Raphaël Géminiani " !

THE RETRO CULT IS BACK
Fashionable, original, chic, elegant, refined, timeless, the vintage cycling jersey is also a style, a frame of mind, a resurrection of all these mythical teams such as - Peugeot, Gitane, Helyett, Mercier - and distinctive jerseys of leaders on some cycling events. A fashion phenomenon, nostalgia is a very big consumer market for the public !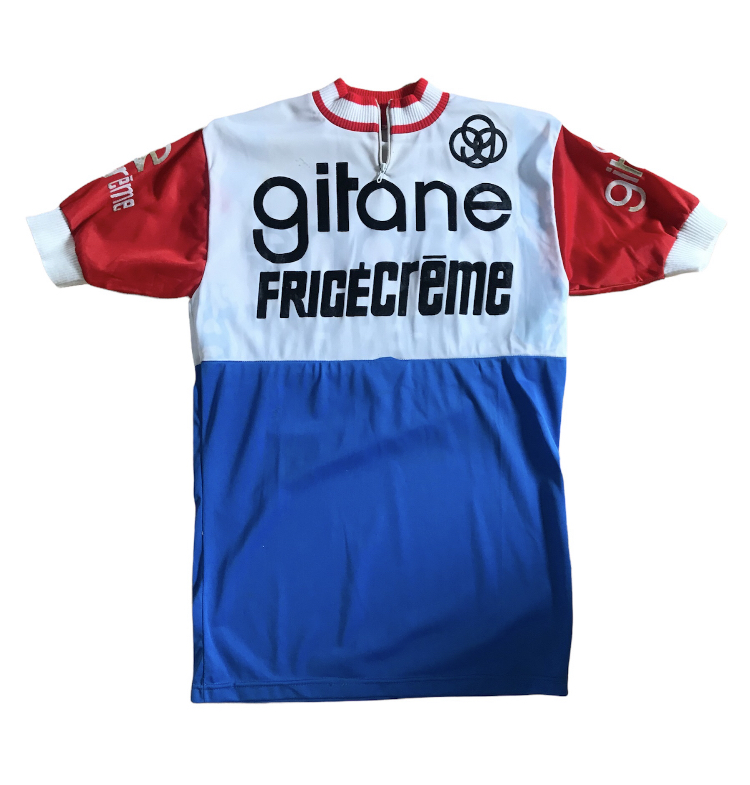 Vintage is in the air, it arouses the emotion of a period when cycling was really cool and we can see that it is a very current trend. The retro style is a great opportunity for the prestigious brands of yesteryear, such as Le Coq Sportif to revisit their old collections and thus rediscover a heritage of jerseys, a revamped style and copied identically using more breathable fabrics for an up-to-the-minute look by passionate people who have created their own companies to market replicas of vintage cycling jerseys full of stories and legends.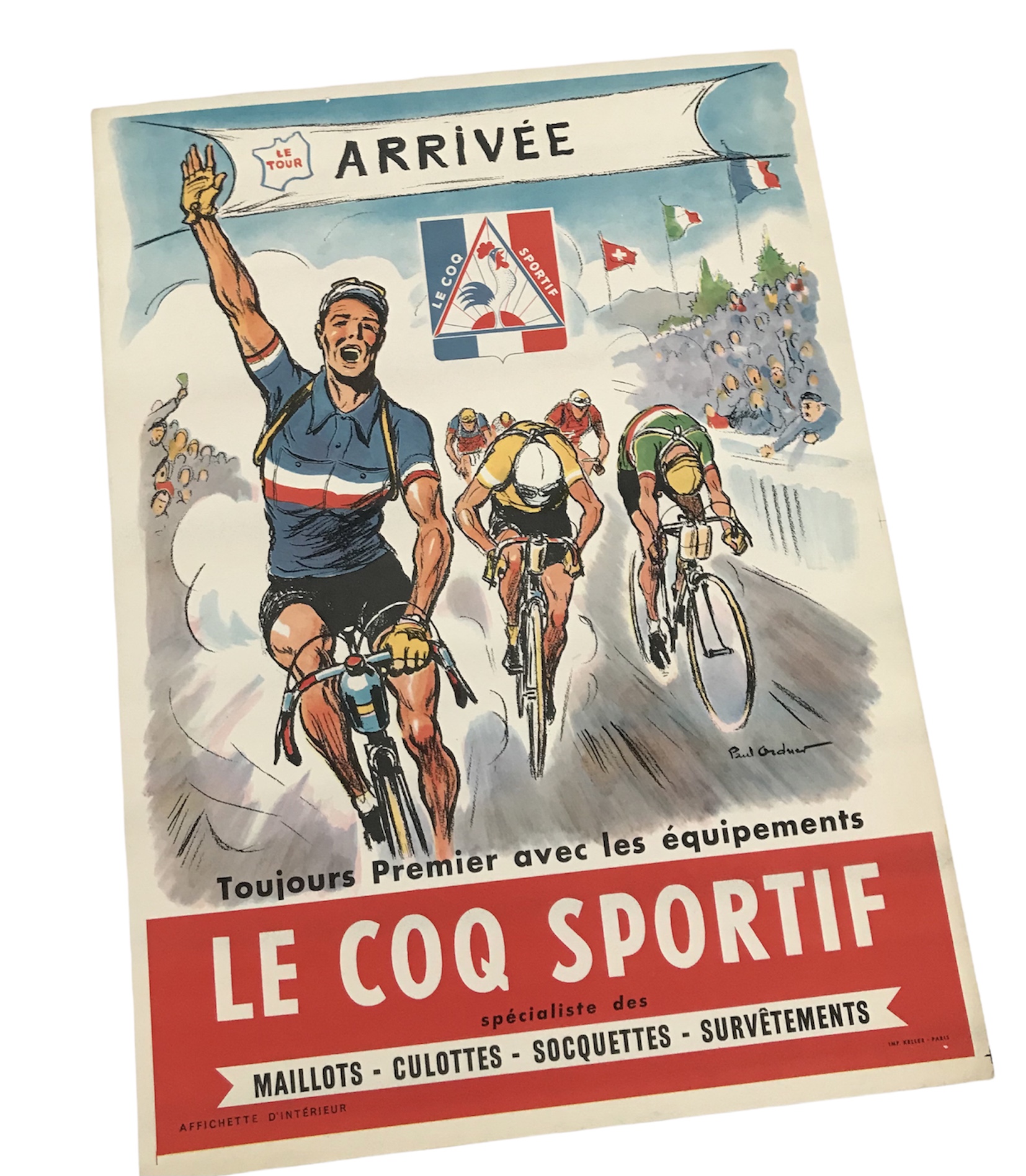 Today, the pro team jerseys are made of immaculate lycra in disparate colors with innovative designs but not easy to wear for many people. Hence the melancholy feeling for those who knew the cycling jersey made of natural wool until the end of the 60's, which became a cult object. Unique pieces worn by the world's elite have become true objets d'art for collectors, a speculative market was born, and some jerseys are sold at a high price in specialized auction houses. This is obviously the case for the jersey of the 50s and 60s, which was both simple and creative, uncluttered and still appealing today !
A TRIBUTE TO FRENCH MANUFACTURING
In search of a glorious 'Fabriqué en France' past of our sports hosiery brands such as - Unis-Sport, Le Coq Sportif, Tricots du Rocher, Bovis, Burdigala Sports - that have contributed to the making of a jersey.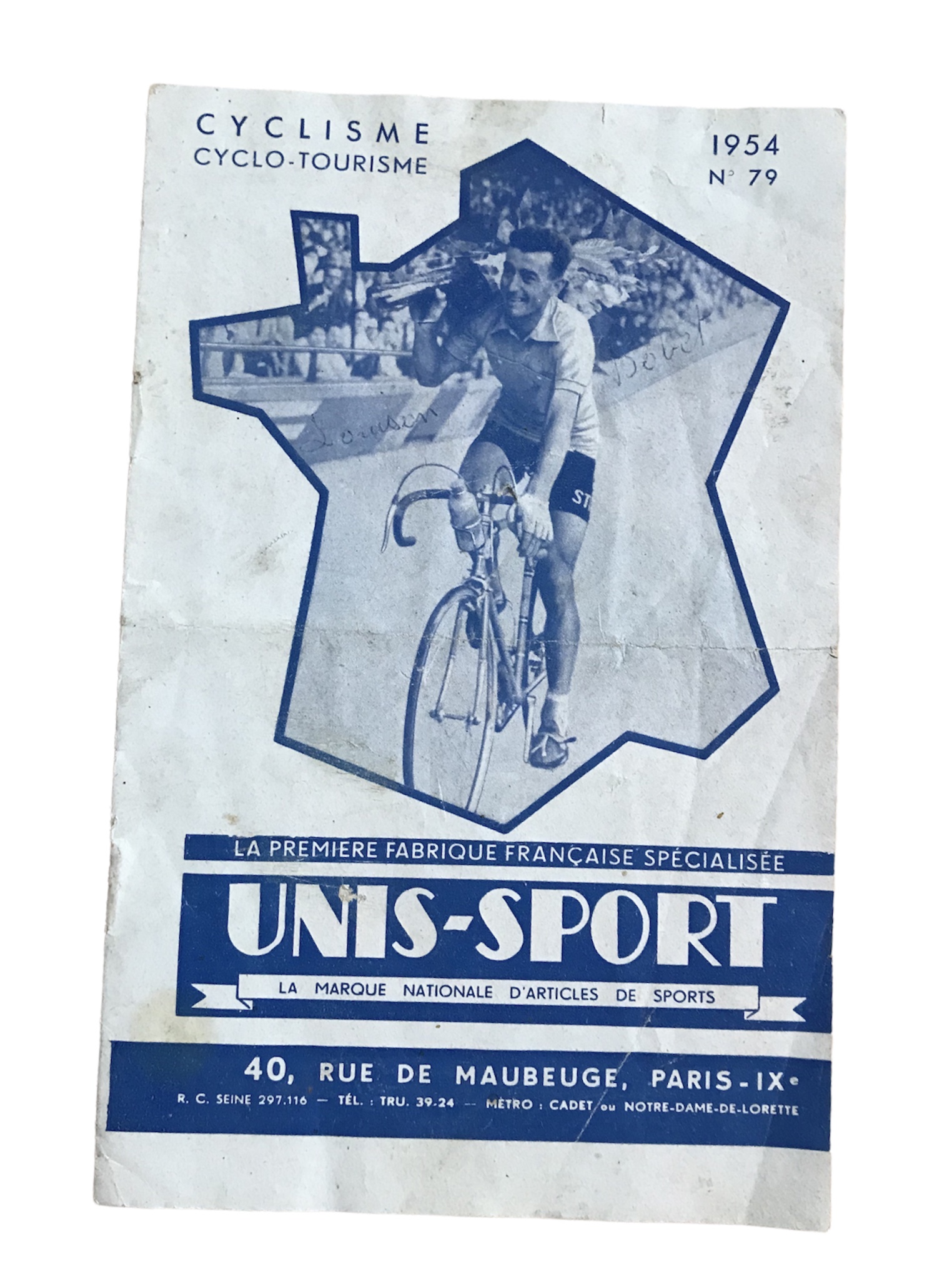 " What is important is to keep the founder's message alive, to remain a true and authentic brand. We have a beautiful French brand that is a pillar of French industry and sport " ! Le Coq Sportif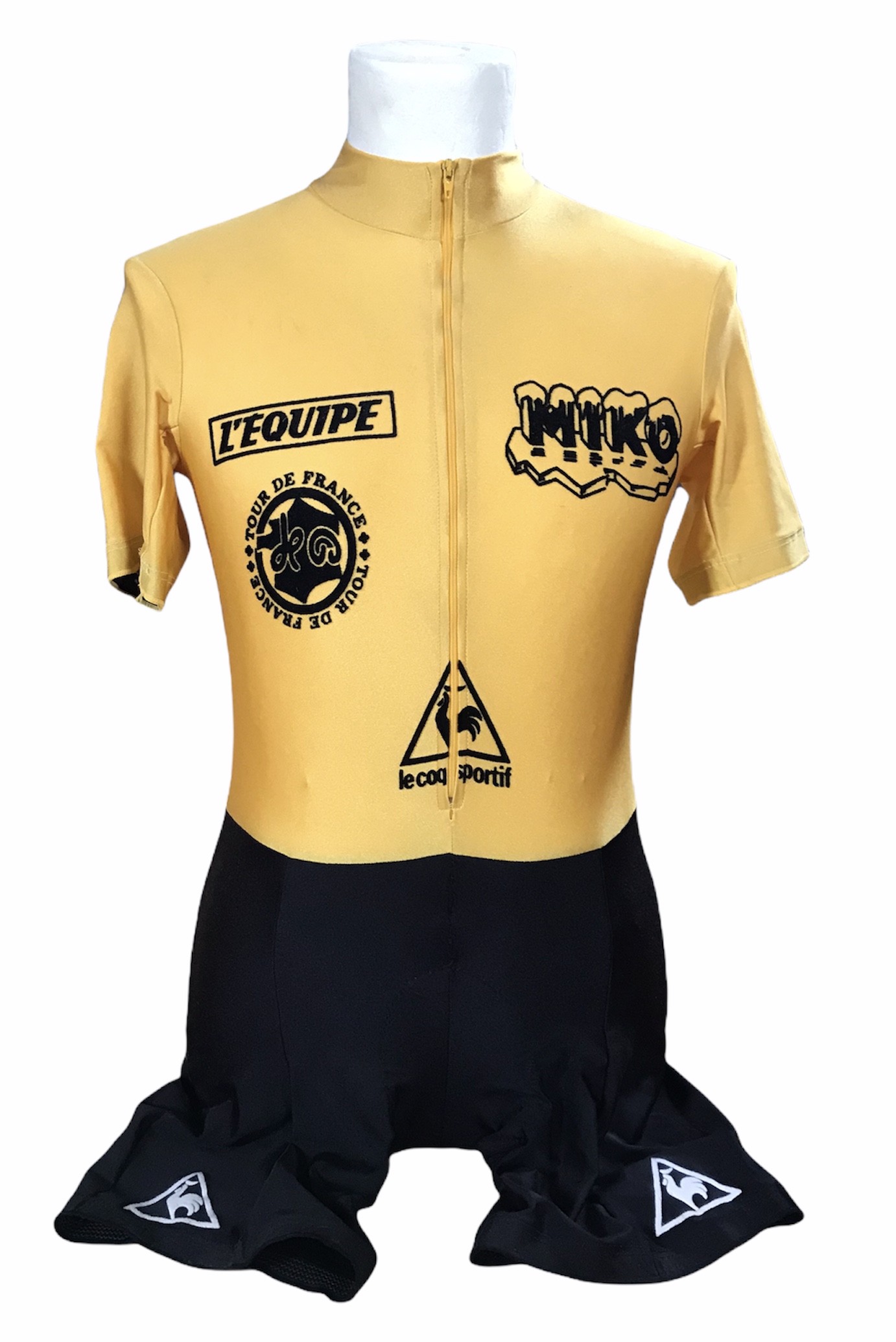 It is also to explore the fascinating adventure and a better understanding to the textile industry and its components [merino wool, natural and synthetic fibers] embellished with parallel stories on the birth of French cycling through its stage or road races such as - Bordeaux-Paris, Paris-Brest-Paris, Paris-Nice, Paris-Roubaix, the Tour de France - on French national roads, created by visionaries who contributed to the rise of the bicycle, the press and its pioneers - sports directors and journalists to increase newspaper sales, played a major role in the creation of cycling. The advent of sponsors on jerseys in the mid 50's was a real upheaval, a valuable communication tool for brands and cycling teams, a win-win agreement!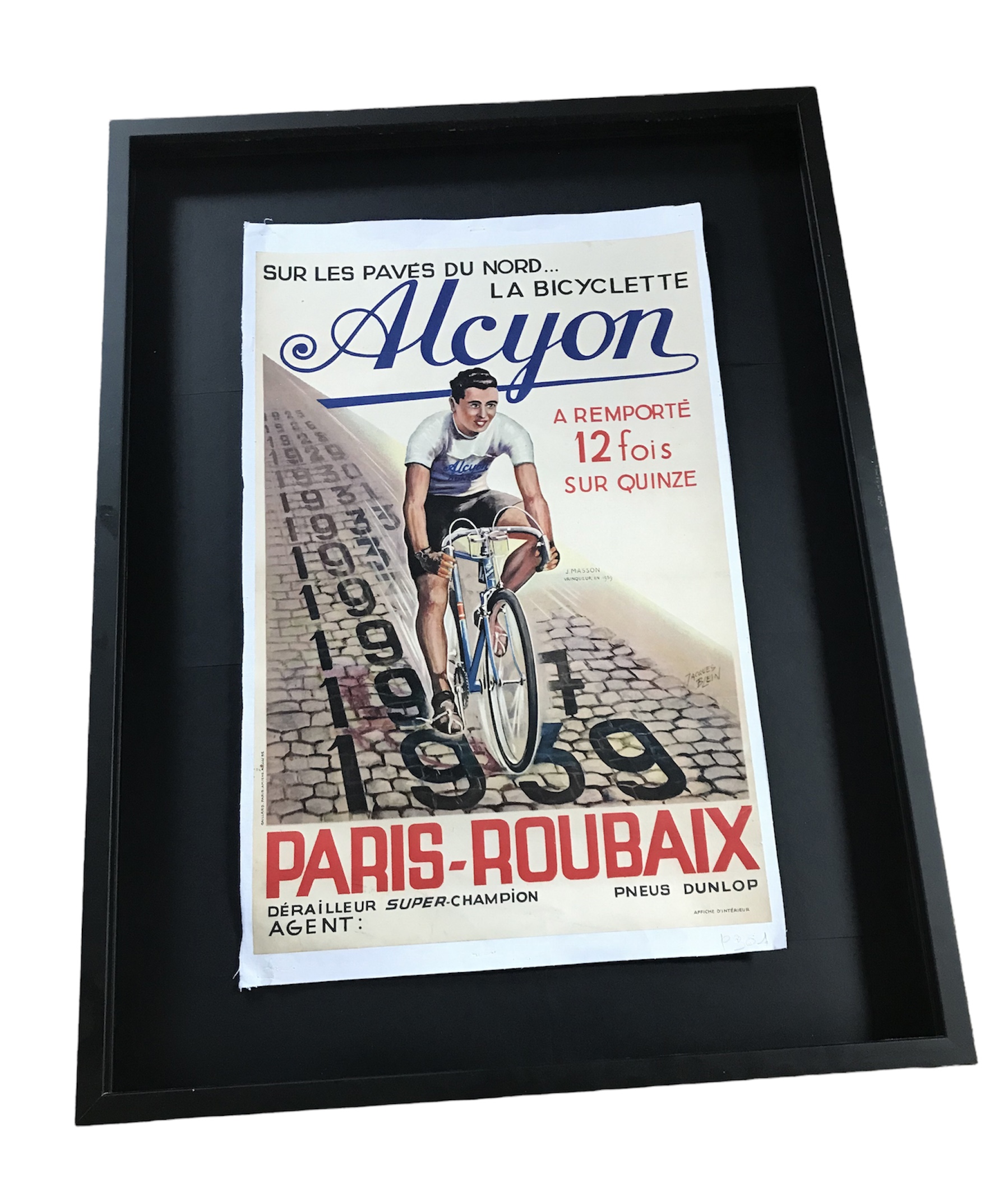 Vibrant testimonies from the past and present with their main actors such as - craftsmen, former cyclists, journalists, collectors, experts - enrich the prodigious history of cycling to better understand the origin of the jersey and its manufacturing evolution, the shapes and colors, the textures and materials used.

This inventory 'Made in France' restores the memory of these mythical jerseys worn by champions, symbols of eternity, entered the gotha of international cycling. Each rider's jersey represents a moment in the history of his career, leaving behind imperishable memories with the public.
[French translation below]

Le maillot de cyclisme vintage est de retour ! Phénomène de mode, la nostalgie est un très gros marché de consommation pour le public !

Cette boutique en ligne verra peut-être un jour la publication d'un livre pour évoquer une partie de l'héritage du cyclisme français sur le territoire national avec comme thème central la glorification du maillot cycliste authentique et de toute une époque révolue.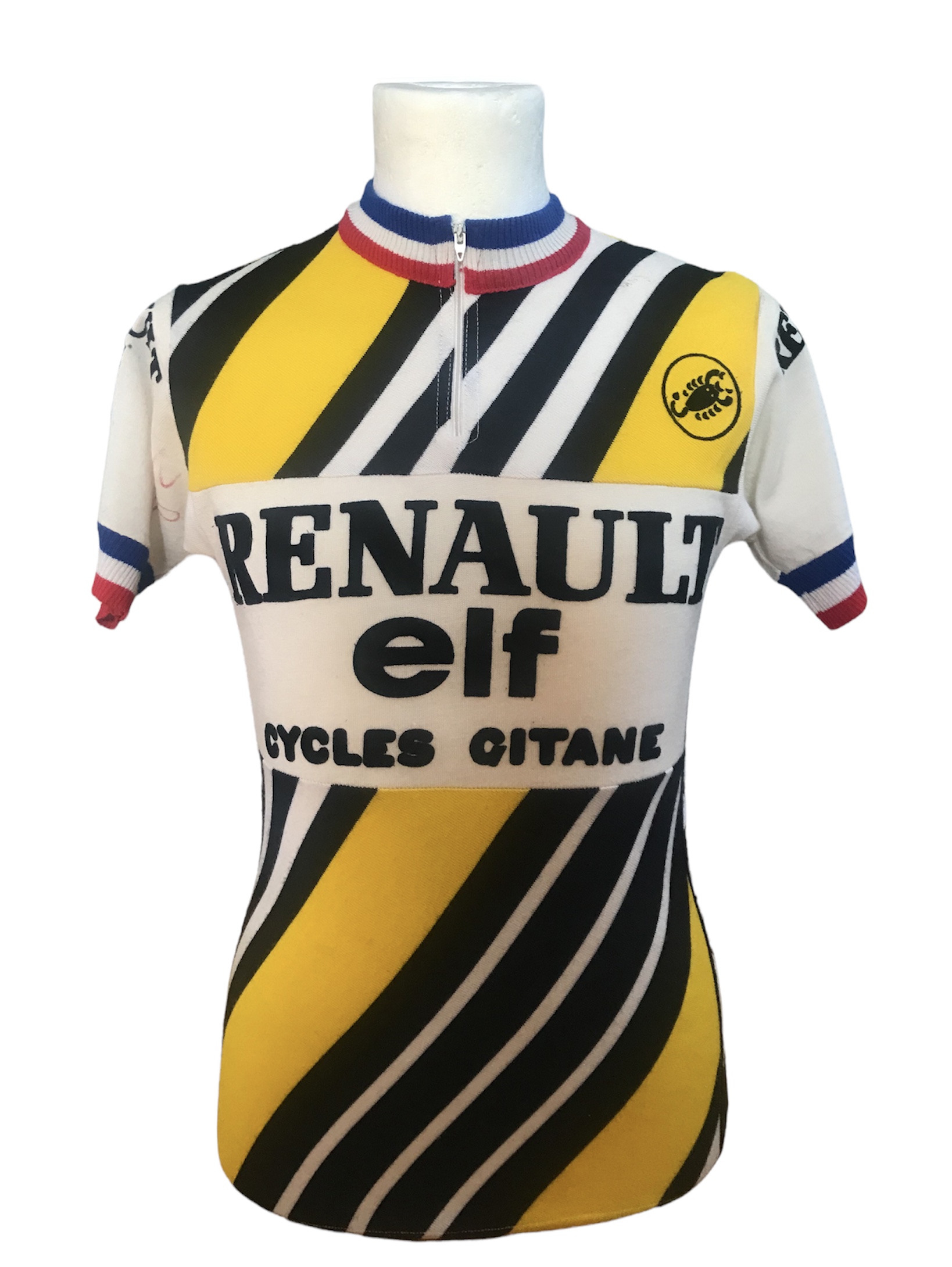 LE CULTE DU RÉTRO EST DE RETOUR
A la mode, original, chic, élégant, raffiné, intemporel, le maillot cycliste vintage est aussi un style, un état d'esprit, une résurrection de toutes ces équipes mythiques telles que - Peugeot, Gitane, Helyett, Mercier - et des maillots distinctifs des leaders sur certaines épreuves cyclistes. Phénomène de mode, la nostalgie est un très gros marché de consommation pour le public !

Le vintage est dans l'air, il suscite l'émotion d'une période où le cyclisme était vraiment cool et nous pouvons constater que c'est une tendance très actuelle. Le style rétro est une grande opportunité pour les marques prestigieuses d'antan, comme Le Coq Sportif, de revisiter leurs anciennes collections et de redécouvrir ainsi un patrimoine de maillots, un style revisité et copié à l'identique avec des tissus plus respirants pour un look actuel par des passionnés qui ont créé leurs propres entreprises pour commercialiser des répliques de maillots cyclistes vintage pleins d'histoires et de légendes.

Aujourd'hui, les maillots des équipes pro sont en lycra immaculé, dans des couleurs disparates, avec des designs innovants mais pas faciles à porter pour beaucoup de gens. D'où le sentiment de mélancolie pour ceux qui ont connu le maillot de cyclisme en laine naturelle jusqu'à la fin des années 60, devenu un objet culte. Les pièces uniques portées par l'élite mondiale sont devenues de véritables objets d'art pour les collectionneurs, un marché spéculatif est né, et certains maillots sont vendus à prix d'or dans des salles de vente spécialisées. C'est évidemment le cas du maillot des années 50 et 60, à la fois simple et créatif, épuré et qui séduit encore aujourd'hui!

UN HOMMAGE À LA FABRICATION FRANÇAISE
A la recherche d'un glorieux passé 'Fabriqué en France' de nos marques de bonneterie de sport telles que - Unis-Sport, Le Coq Sportif, Tricots du Rocher, Bovis, Burdigala Sports - qui ont contribué à la fabrication d'un maillot.


" L'important est de faire vivre le message du fondateur, de rester une marque vraie et authentique. Nous avons une belle marque française qui est un pilier de l'industrie et du sport français ". Le Coq Sportif


C'est aussi partir à la découverte d'une aventure passionnante et d'une meilleure compréhension de l'industrie textile et de ses composants [laine mérinos, fibres naturelles et synthétiques] agrémentée d'histoires parallèles sur la naissance du cyclisme français à travers ses courses par étapes ou sur route telles que - Bordeaux-Paris, Paris-Brest-Paris, Paris-Nice, Paris-Roubaix, le Tour de France - sur les routes nationales françaises, créées par des visionnaires qui ont contribué à l'essor du vélo, la presse et ses pionniers - directeurs sportifs et journalistes pour augmenter les ventes de journaux, ont joué un rôle majeur dans la création du cyclisme. L'arrivée des sponsors sur les maillots au milieu des années 50 a été un véritable bouleversement, un outil de communication précieux pour les marques et les équipes cyclistes, un accord gagnant-gagnant !


Des témoignages vibrants du passé et du présent avec leurs principaux acteurs tels que - artisans, anciens cyclistes, journalistes, collectionneurs, experts - enrichissent la prodigieuse histoire du cyclisme pour mieux comprendre l'origine du maillot et l'évolution de sa fabrication, les formes et les couleurs, les textures et les matériaux utilisés.

Cet inventaire 'Made in France' restaure la mémoire de ces maillots mythiques portés par des champions, symboles d'éternité, entrés dans le gotha du cyclisme international. Le maillot de chaque coureur représente un moment de l'histoire de sa carrière, laissant derrière lui des souvenirs impérissables auprès du public !