Émile Teisseire - 1951 - Helyett Hutchinson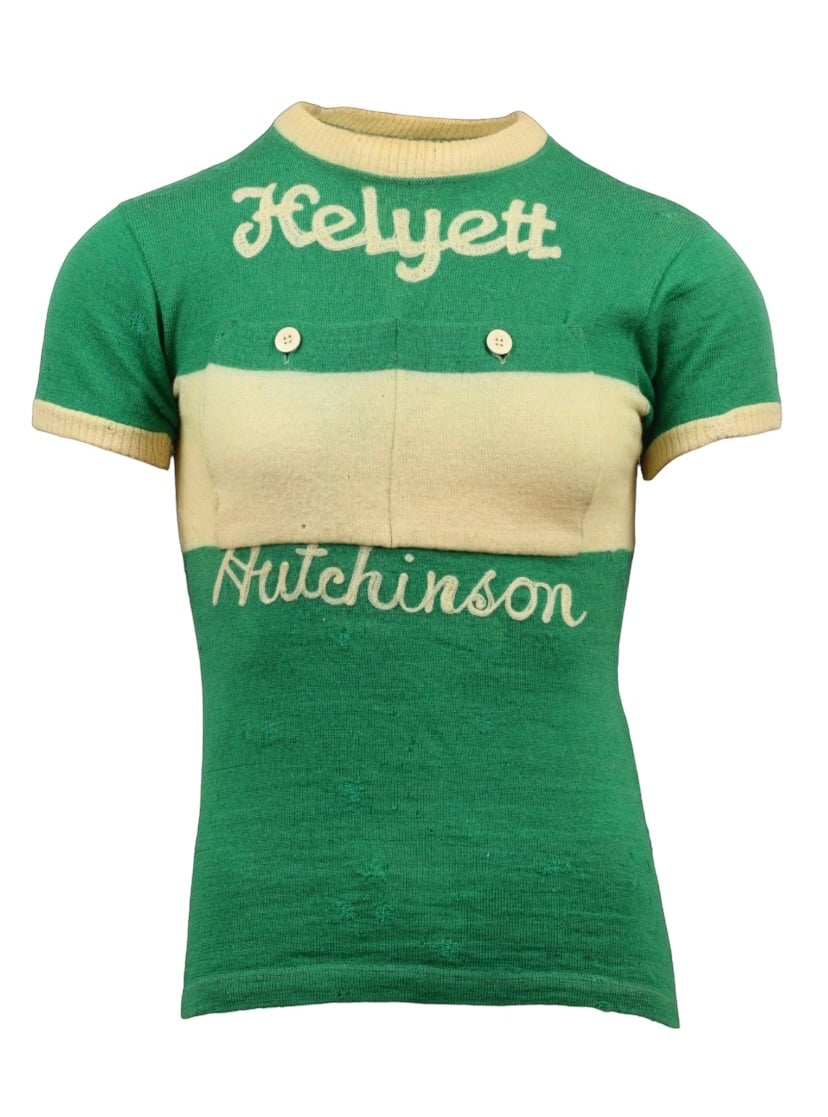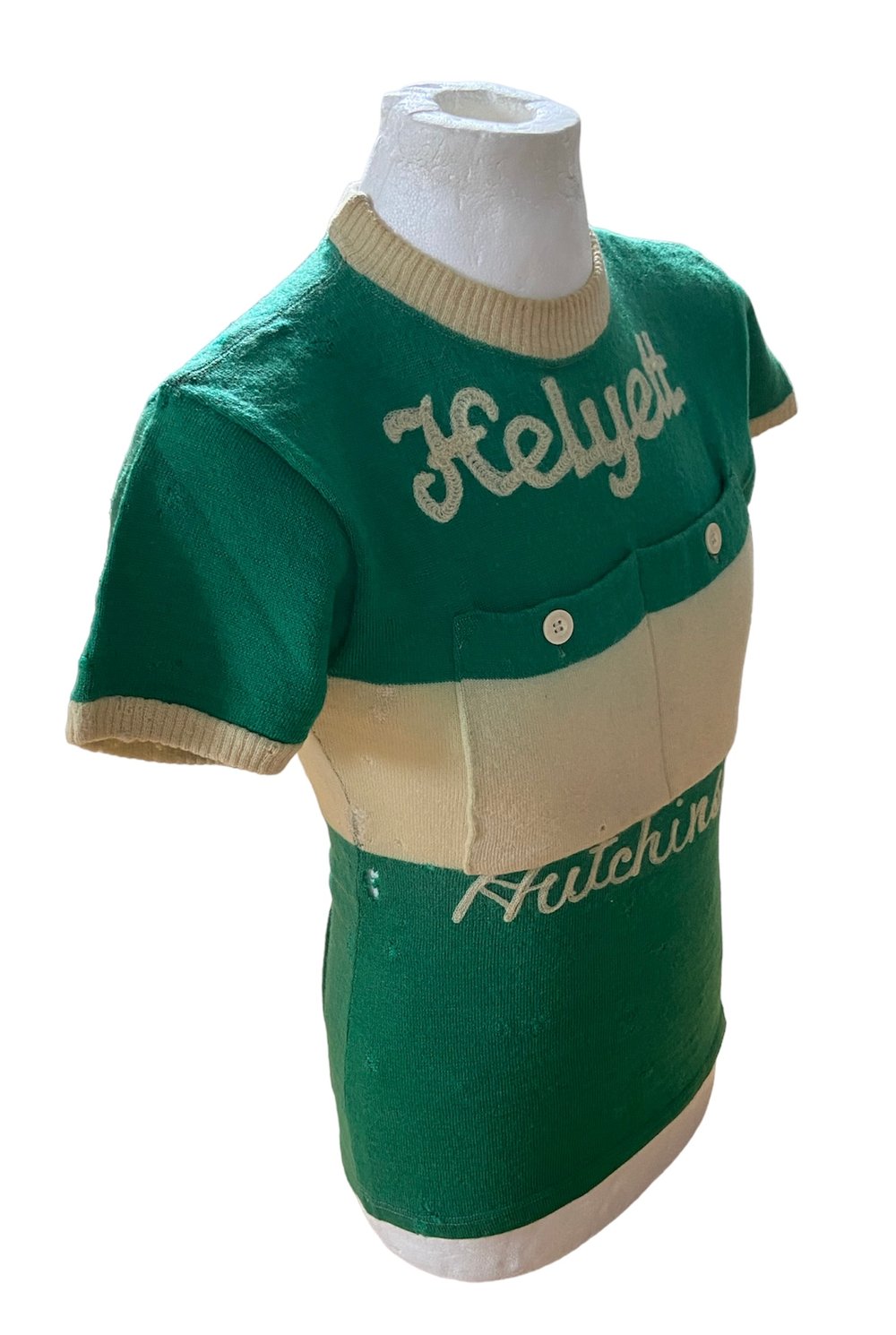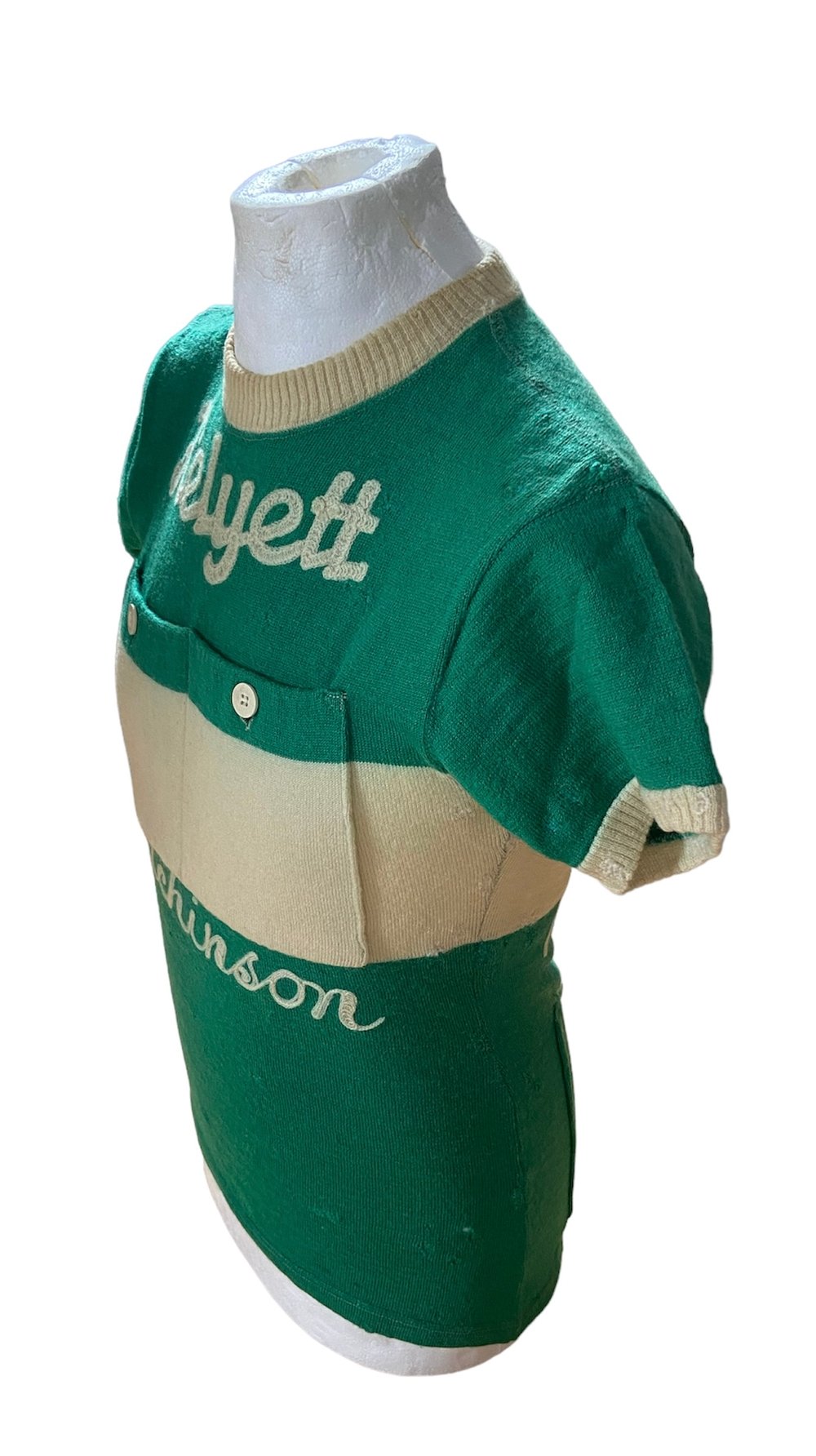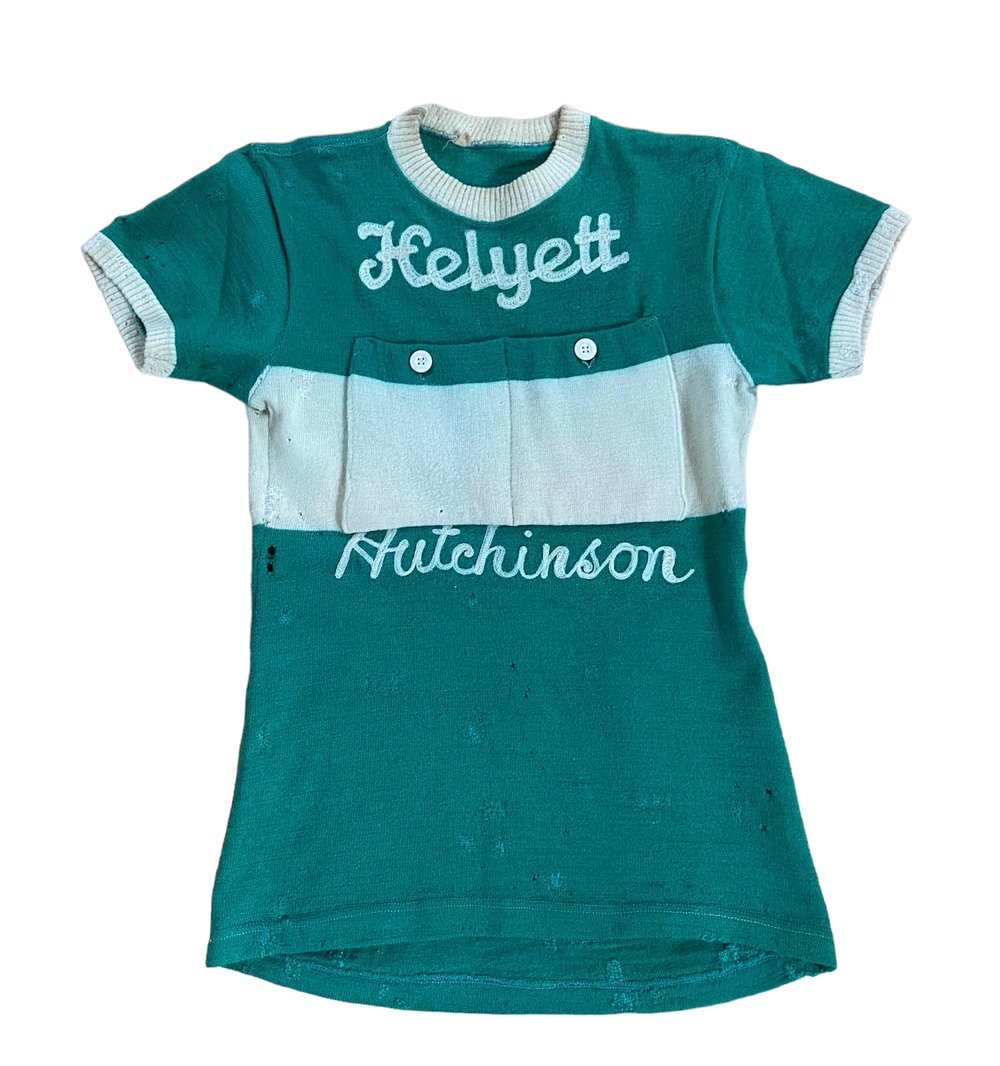 Description:
Very rare jersey worn by Émile Teisseire with the Helyett-Hutchinson team in the 1951 season. Brother of Lucien, who was yellow jersey in the 1953 Dauphiné Libéré.
This jersey is an original, a legendary piece of cycling history. This legendary green jersey is an original with white stripe appeared on the professional cycling scene in 1932. Helyett Hutchinson is a winning duo, René Vietto and Jacques Anquetil will be its two greatest ambassadors.
Colour: Green with white band, became famous a simple design, a culte tunic!
Condition: This jersey dates back to 1951, its condition has suffered over time, pieces of wool have been added following several falls of the rider. That being said, it is a great museum piece to own for a collector!
• Manufactured from an 100% pure wool with chain-stitched lettering
• The jersey shows the familiar front chest pockets used since the birth of cycling
• Two button down pockets at the front
• Short sleeves jersey
• Round neck, no zip
• Two front pockets
• Three back pockets at the rear
• Made in France by Mey Sport
Size: Small
Length: 71cm
Armpit to armpit: 37,5cm
PLEASE NOTE to review carefully the photos to determine the condition
Arguably one of the most important French bicycle manufacturers - along with Alcyon, Automoto, Gitane, Mercier, and Peugeot - was Helyett. The company sponsored a professional cycling team from 1932 (Helyett-Hutchinson) until 1961 (Helyett-Fynsec-Hutchnson). At some point in their careers, legends like Rene Vietto and Jacques Anquetil rode for Helyett.
Major victories of the Helyett Hutchinson team 1932-1961:
Tour de France 1957, 1961, 1962
Giro d'Italia 1960
Vuelta 1958, 1962
Liège-Bastogne-Liège 1943
Tour of Lombardy 1962
Flèche Wallone 1937
Bordeaux-Paris 1958, 1962
Paris-Tours 1962
Paris-Nice 1935, 1957, 1959, 1961
Critérium du Dauphiné Libéré 1950, 1961
Tour of Belgium 1937, 1938, 1939
Tour of Romandie 1960, 1961
Grand Prix des Nations 1943, 1956, 1957, 1958,, 1961
Company History:
The Helyett company was founded in 1919 by two Picard brothers, in Sully-sur-Loire, with another factory near Orleans, and named after the heroine of the operetta Miss Helyett, whose image adorned many of the head badges affixed to Helyett bicycles.
The company started out making cycle parts but was soon making complete bicycles and, by 1926, motorcycles too.
In 1932 the company started sponsoring a cycle racing team with Hutchinson as co-sponsor, as they were almost continuously through to 1953 and a few of the subsequent years, the last time in 1961 when the team sponsors were Helyett – Fynsec – Hutchinson. The last Helyett professional team was the Saint-Raphael – Helyett team of 1962, when Jacques Anquetil gained his third Tour de France victory.
Jacques Anquetil won three of his five Tour de France victories riding for the Helyett team, before switching to Gitane in 1963 and winning again. Other great riders also rode for Helyett (list of the more notable ones to be added).
In 1962 the Orleans factory was sold to Robert Griffon for the manufacture of Griffon bicycles and in 1966 Helyett was merged with Gitane and subsequent Helyett bicycles became "badge-engineered" Gitanes – some even carrying the Gitane logo on the fork crown.