1961 🇫🇷 Tour de France/Tour de l'Avenir - Race Official's car flag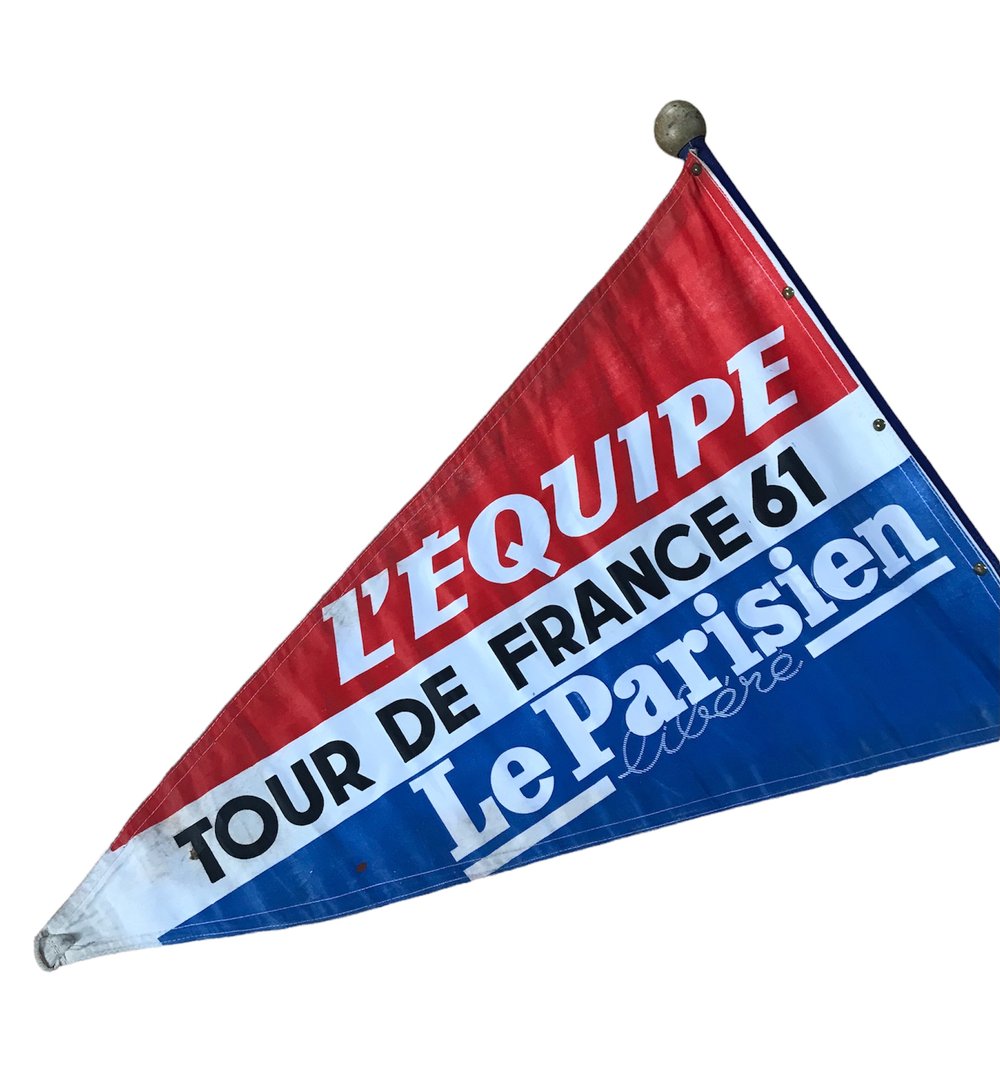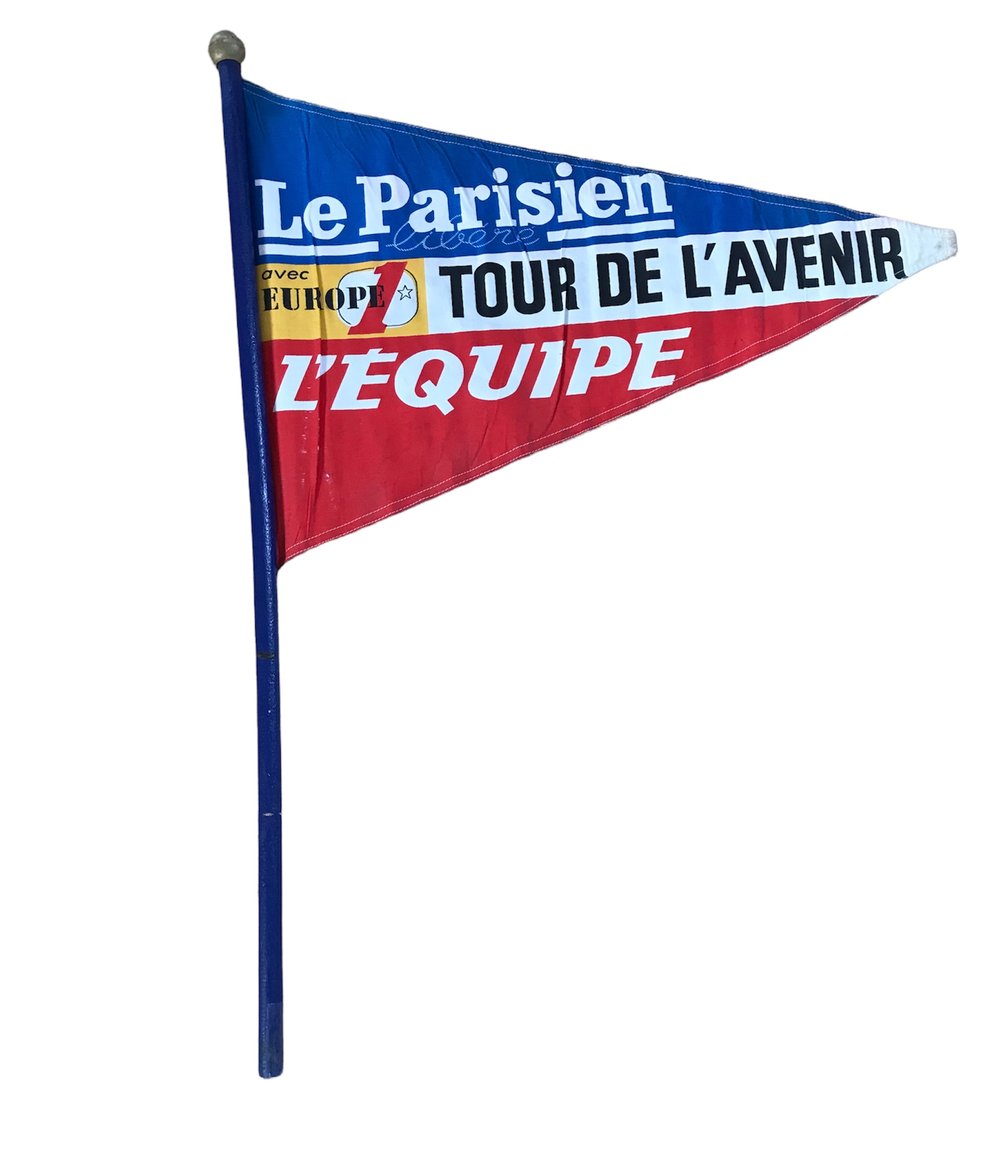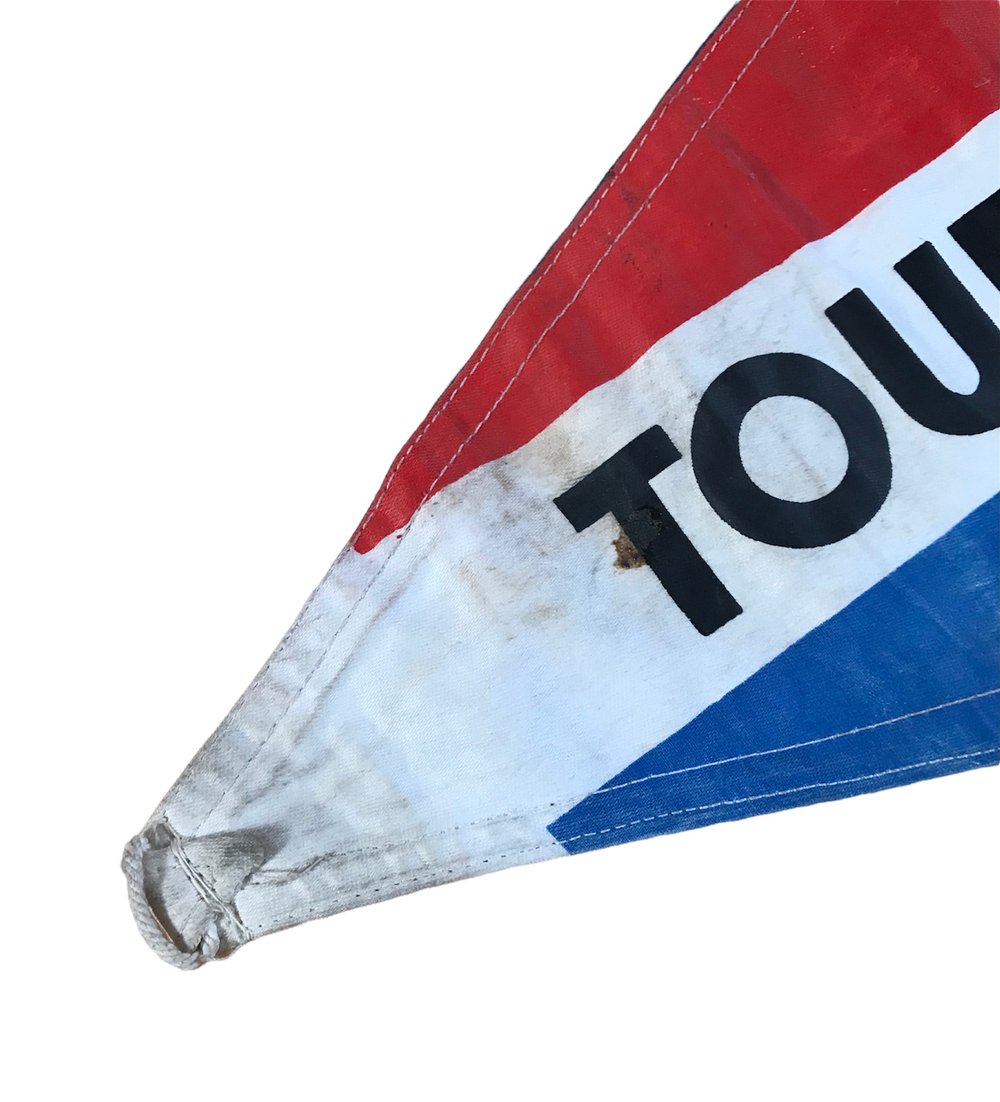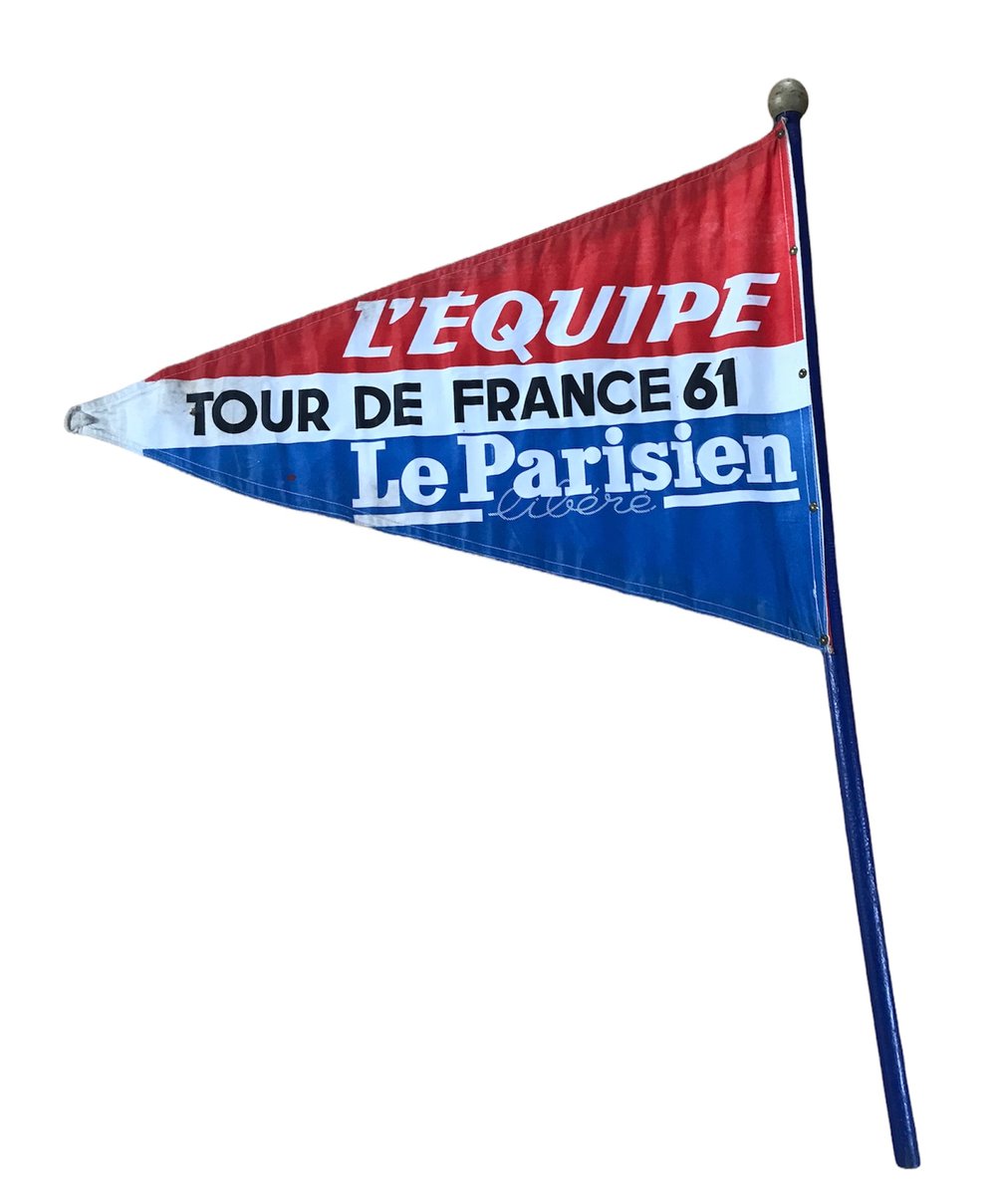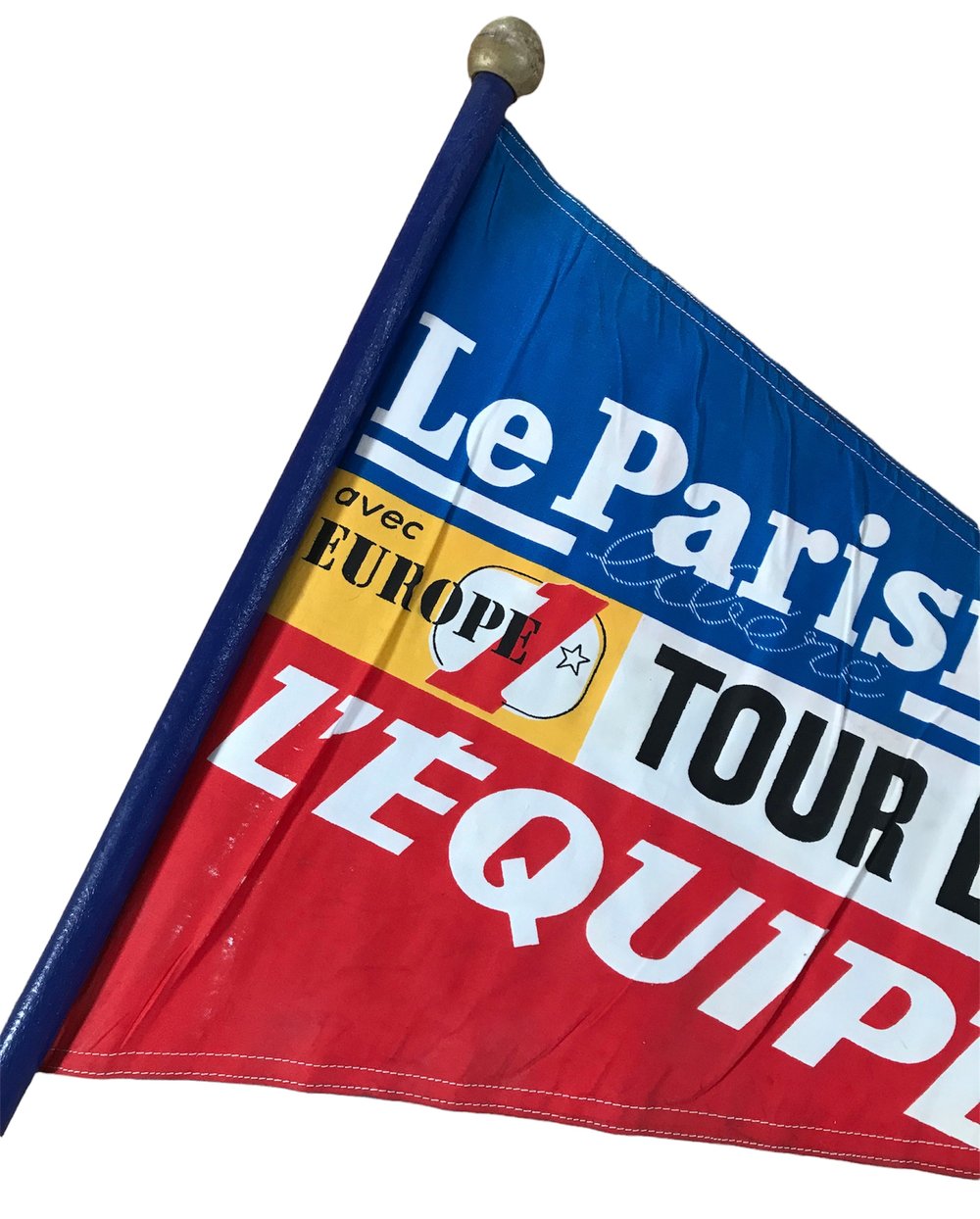 Description:
This unique two sided flag was created for both the 1961 Tour de France and Tour de l'Avenir (first edition). Rare and curious double use for collectors!
In a tradition started with the first Tour de France in 1903, these flags were affixed to wood dowels and placed in special holders on race official cars. These flags were used well into the 1960s. For 20+ years after that the flags were used by officials and course marshals to warn riders of oncoming danger. What is particularly appealing is during the period from post-WWII until the late 1960s, the flags had the year clearly visible. As time has marched on, the desirability of these flags has grown, with particular interest given to the years where the winner was also considered a great champion.
The 1961 Tour de France took place from 25 June to 16 July, consisting of 22 stages over 4,397,5 km.
Bahamontes and Nencini, the last two winners are absent, but Charly Gaul and Jacques Anquetil are present. Anquetil could rely on 11 team members who were all devoted to him, making up the French team. With eight stages, the green and yellow jerseys, the team classification, the cup is full for the Tricolores. Jacques Anquetil won his second Tour de France after his first success in 1957.
The 1961 Tour de France was dominated by Jacques Anquetil who held the yellow jersey from Stage 1b all the way to the finish in Paris. Indeed André Darrigade won the Stage 1A Rouen-Versailles (136,5 km).
The Tour de l'Avenir reveals the future stars of international cycling, 14 Tour de France were won by the winners of the Tour de l'Avenir: Felice Gimondi, Joop Zoetemelk, Greg Lemond, Miguel Indurain, Laurent Fignon, Egan Bernal and Tadej Pogačar.
1961 is the inaugural edition of the Tour de l'Avenir. Until 1967, the race was held earlier in the day, but on the same course as the Tour de France. Created by Jacques Marchand, editor-in-chief of L'Équipe. The race has changed its name several times during its history to attract teams from nations that did not have professional riders to participate in the Tour de France. Guido De Rosso, an Italian amateur, won in 1961.
Colour: Triangular pennant, horizontally divided red-white-blue. The red stripe was charged with "L'ÉQUIPE" in white letters of the font still used today by the newspapers. The white stripe was charged with the Tour's vintage in black letters (for instance, "TOUR DE FRANCE 61" in 1961). The blue stripe was charged with "Le Parisien libéré", in white letters (today, "Le Parisien", in a modernized font, still on a blue background).
Size 58.5 x 42 cm ( 23 x 16.5 inches)
PLEASE NOTE to review the photos carefully to determine the condition.