Greg Lemond - 1986 - La Vie Claire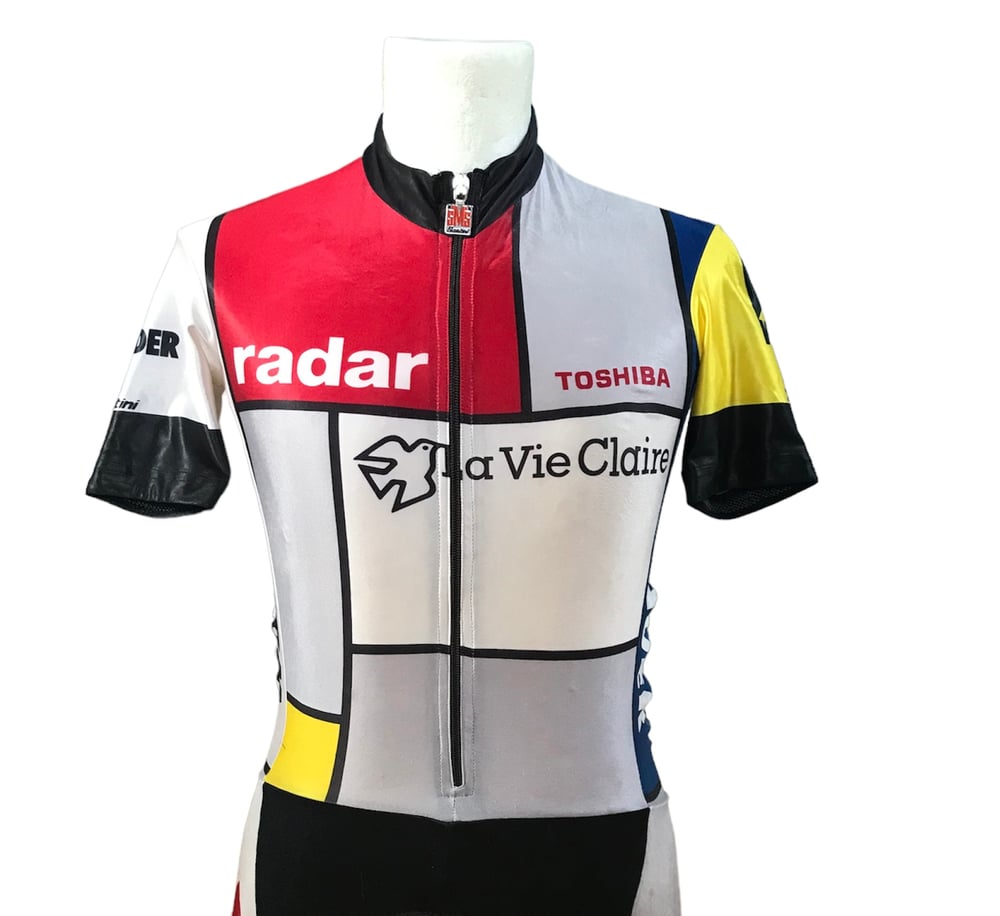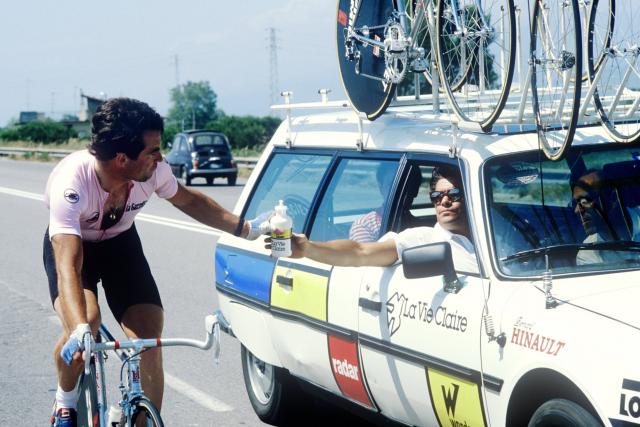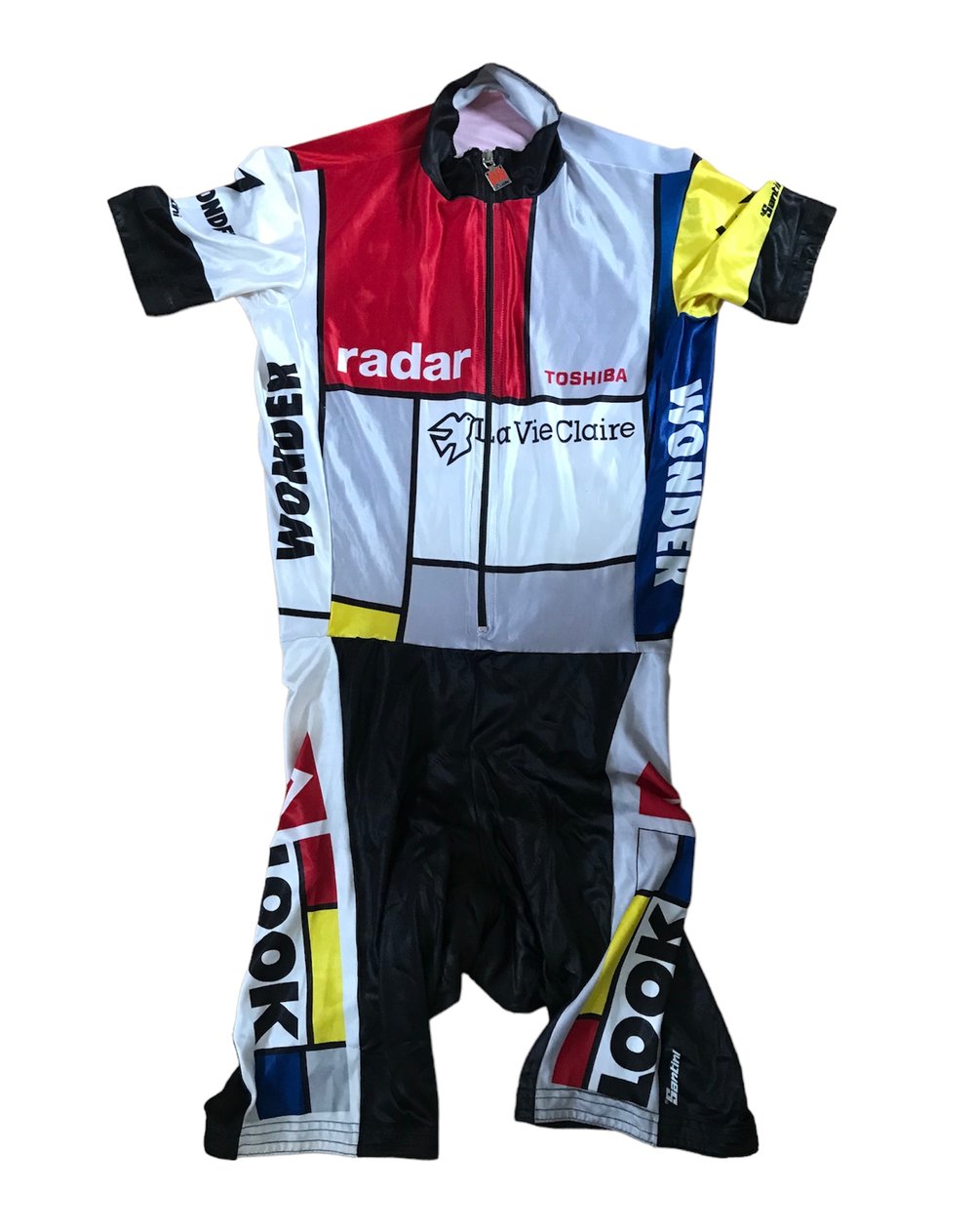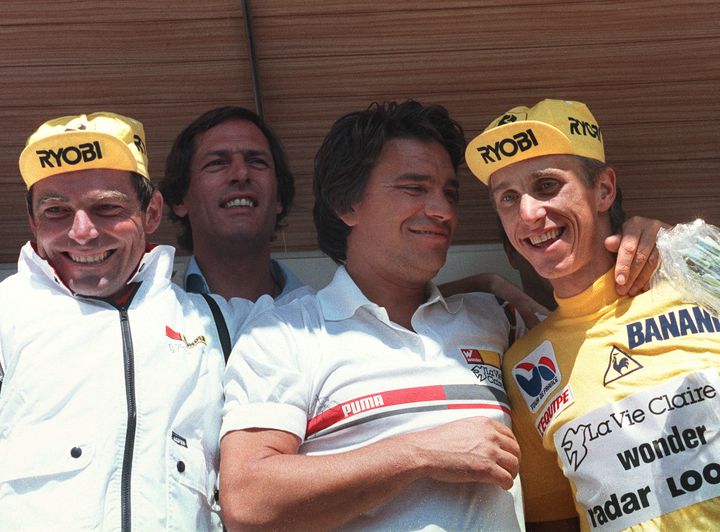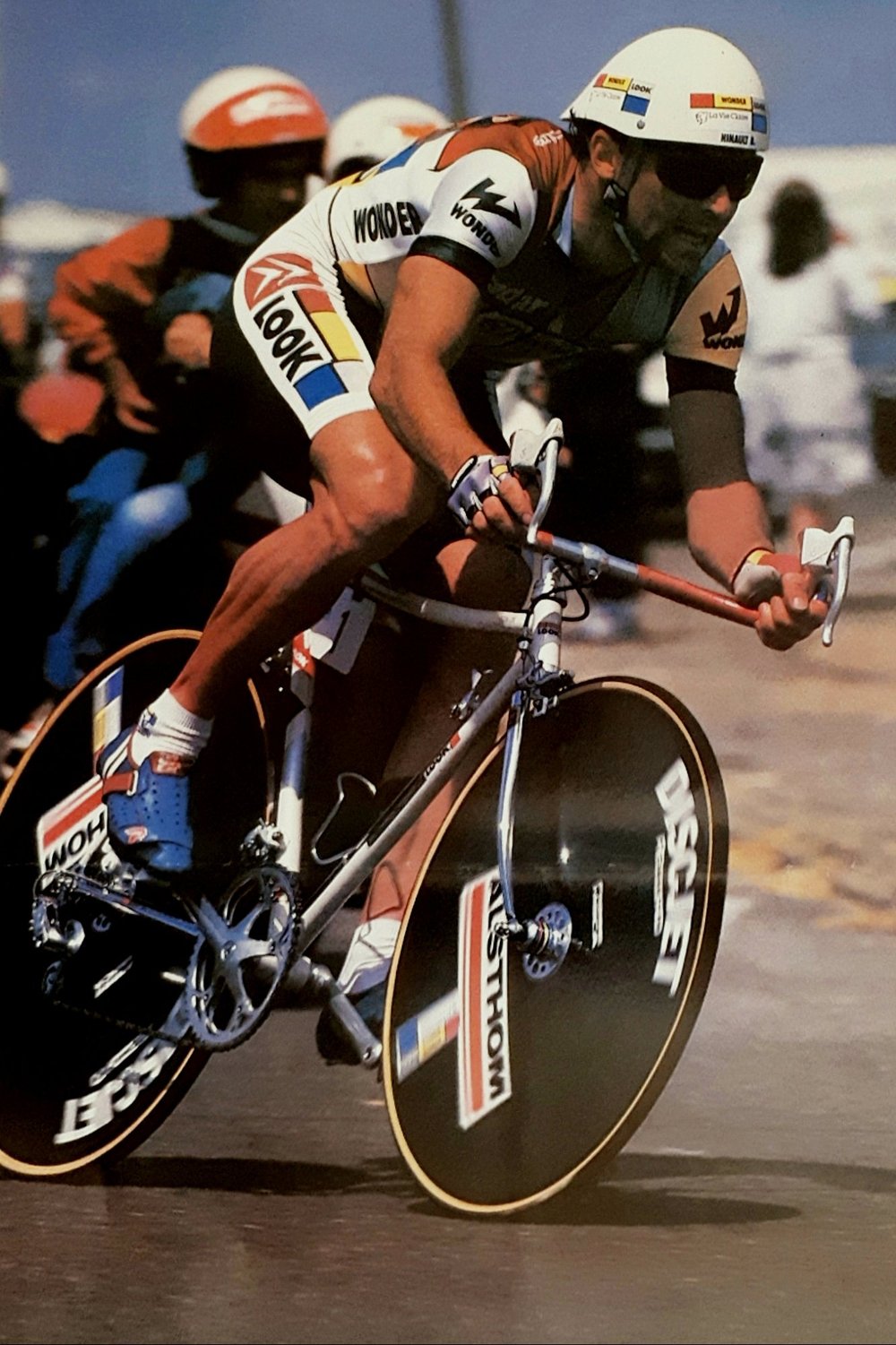 Description:
This very rare authentic and iconic time trial skinsuit used in 1986 by Greg Lemond is an important part of Santini's history.
Final victory in the 1986 Tour de France with Greg Lemond, six stages wins, every jersey except the points and four riders in the top ten with Lemond (1st), Hinault (2nd), Hampsten (3rd) and Rüttimann (7th) - which has never been achieved since. It's possibly the greatest modern Tour team performance.
The La Vie Claire jersey made by the Italian brand Santini has been dubbed as "the greatest in professional cycling history" by cycling enthusiasts. Considered revolutionary, the design was based on the painting of Dutch artist Piet Mondrian.
Color:
The design (sleeves: yellow and grey; chest: pattern of rectangles in different sizes and colors) is considered one of the most memorable jersey designs in cycling.
Condition: This TT jersey is a beauty, in great condition
• Manufactured from an 80/20 polyamid elasthan mix with flocked lettering including logos "La Vie Claire", Look", "Wonder", "Radar", "Santini", "Toshiba" and "Citroën".
• Long length at the zip collar 40cm
• Made in Italy by Santini
Size: Small/Medium
Length: 92cm
Armpit to armpit: 41cm
The French team La Vie Claire, led by the entrepreneur Bernard Tapie in 1984, the team comprised five-time Tour de France winner Bernard Hinault, three-time winner Greg LeMond, Andrew Hampsten and Canadian Steve Bauer. Santini was there right at the starting line; in 1984, the brand becomes the official apparel supplier of the team. From 1987, Toshiba became the main sponsor of the team and from 1988 onwards La Vie Claire withdrew their sponsorship. The jersey was redesigned in 1990.. The Toshiba team continued until the end of the 1991 season.
Bernard Tapie ordered jerseys from SMS - Santini Maglificio Sportivo, a company created and founded in 1965 by Pietro Rosino Santini, an Italian man loving cycling deeply planted in the Bergamo area.
A new design that carries Mondrian aesthetics, specifically the painting "Composition in red, yellow and blue."
Printed fabrics were still something of the future and each coloured square, besides the black separating lines, had to be worked separately and then assembled. The team especially fancied the panels, which could potentially carry various sponsors' logos.
Perceived as timeless, the design was instantly beloved by the team (much to the stylist's dismay).
The new design was described as fresh, fashionable, futuristic yet functional, the Dutch artist's grids ideal for fitting sponsors' logos.
Major wins:
The La Vie Claire team (1984-1986) directed by Paul Köchli had won with Bernard Hinault the Tour de France and Giro d'Italia in 1985, the 1984 Grand Prix des Nations Classic, the 1984 Giro di Lombardia Classic, the 1984 Trofeo Baracchi and Greg LeMond the Tour de France in 1986 and Andrew Hampsten the Tour de Suisse on 1986.