Clément 700c tubular bicycle tires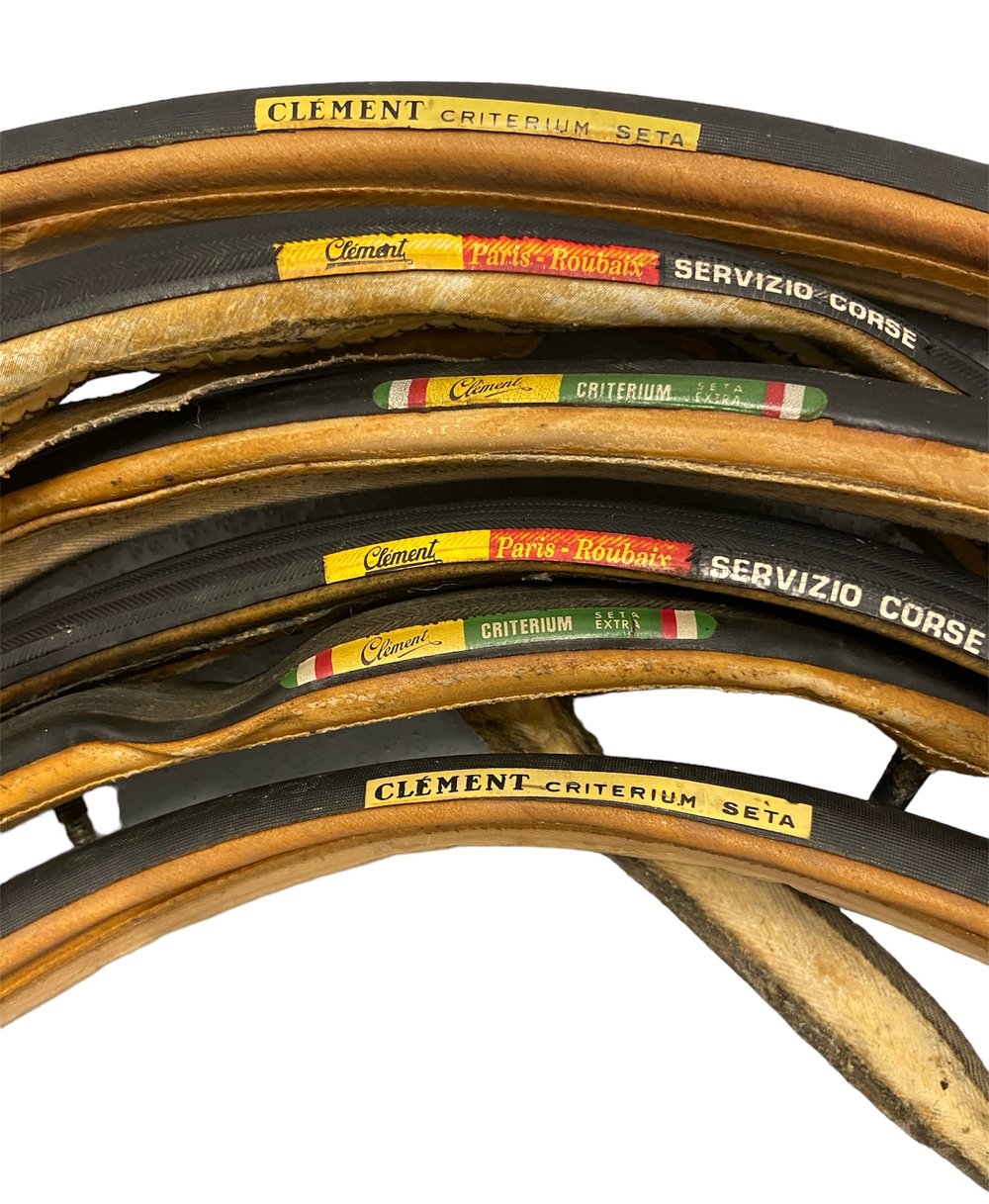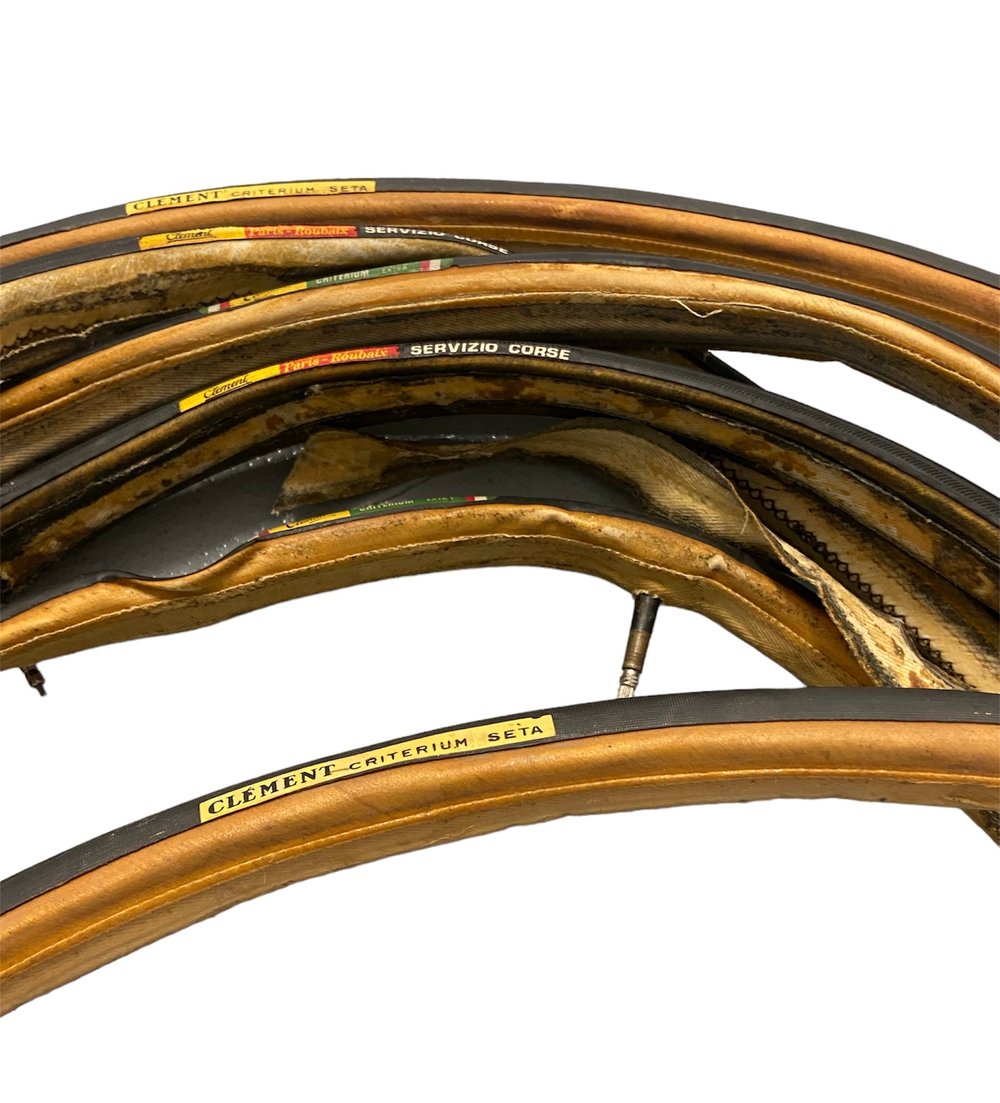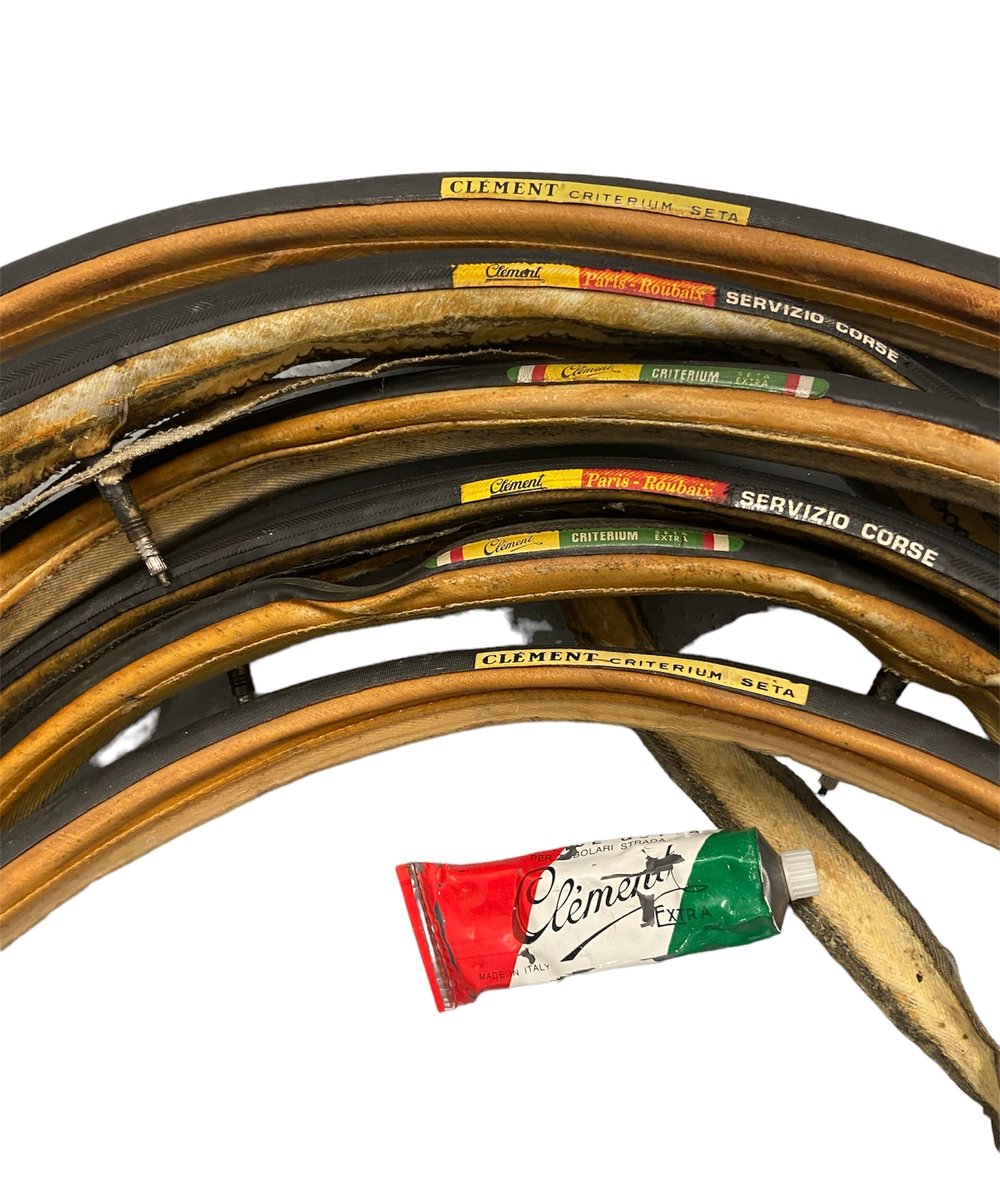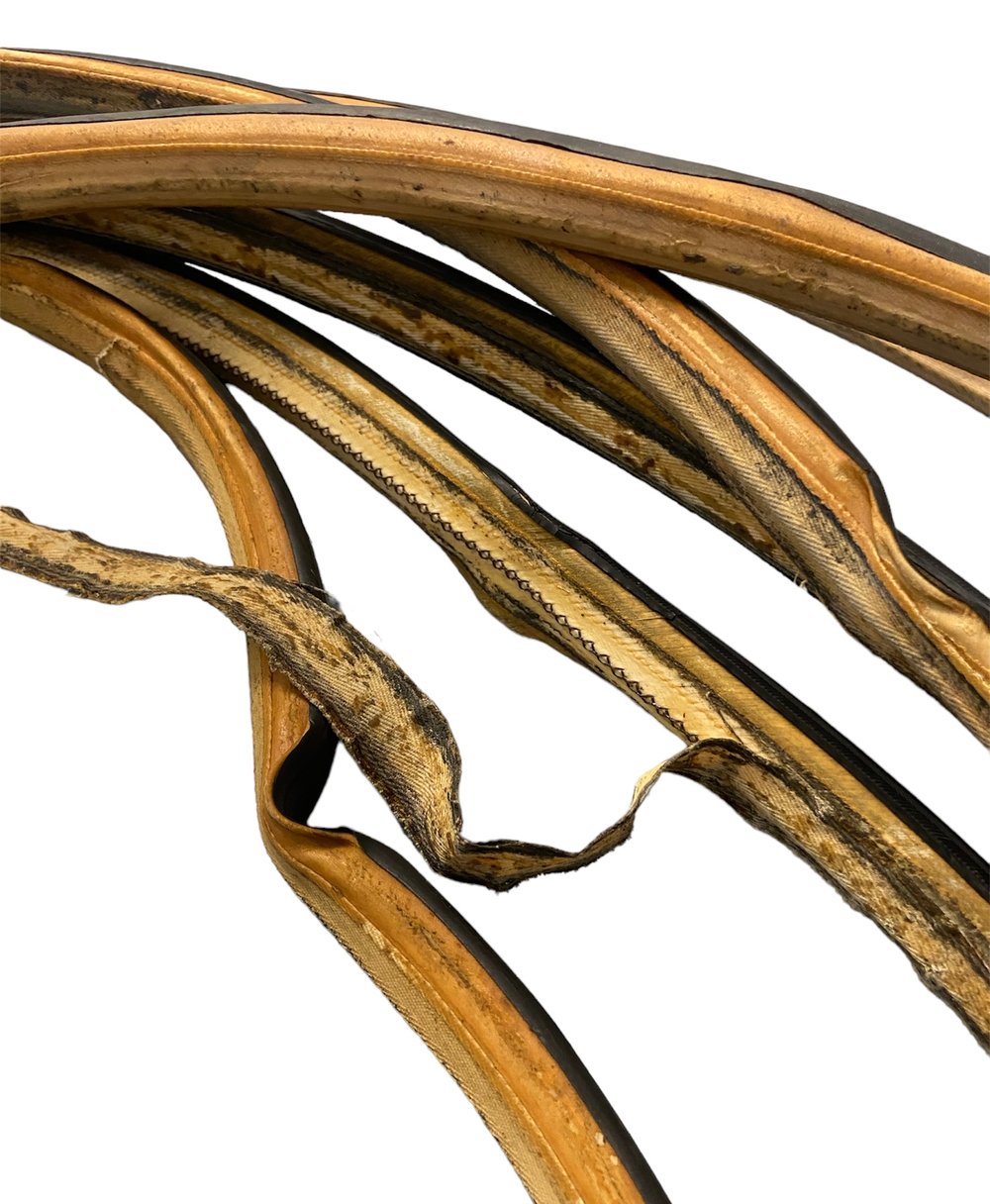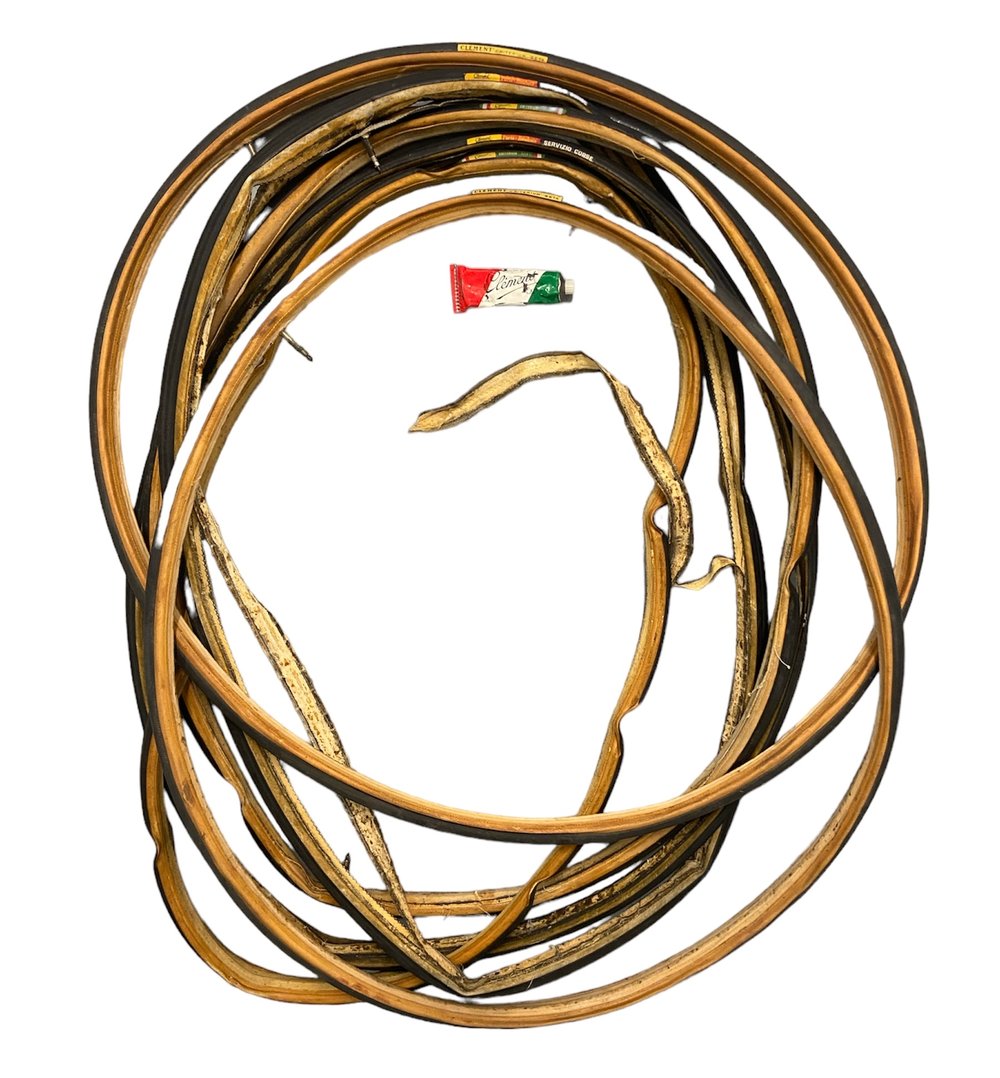 Description:
The tubular tyre is a mystery to many, stepped in myth, superstition, even fear. How can one get so animated about something as mundane as a tyre, you may ask? Simply put, they are the unsung heroes, the forgotten link, the final part of the chain that connects you on the road.
Through the 1980s, racing cyclists had the wares of the finest Italian tyre manufacturers such as Clement, Vittoria, Gommitalia, and d'Alessandro, who all offered dozens of models of tyre to choose from, specially for specific events and road conditions.
The French manufacturer Wolber rose to the challenge with a wide range of tyres. Indeed, the Wolber Invulnerable triples the puncture-free
mileage. A finely woven layer of STAINLESS STEEL MESH resists punctures yet so flexible and fine is this layer, lying just underneath the tread, that it has no effect on the superb resilience and efficiency of this tyre.
Structure:
The tubular tyre is made from multiple components. In essence, it is woven carcass protected by a tread-band, wrapped around an inner tube and then stitched up to form a unit that can be bonded to the appropriate rim. Tubular tyres are considered more comfortable and more efficient than clincher tyres. As a result, tubular rims are more often lighter than an equivalent high-pressure rim. The smooth contours of the tubular rim dramatically reduce the chance of a pinch flat or snakebite puncture, which is why they fare much better when subjected to impact from ston, pothole or cobble en route to Roubaix, the Queen of the Classics forces mechanics to resort to old favorites regardless of sponsorship commitments.
Fitting tubulars: The appeal of racing
The careful preparation and painstaking gluing on of tubs was, and still is, all part of it. Choosing an adhesive was also more of a challenge. Clement and Vittoria had their own mastice.
French traduction:
Description:
Le boyau est un mystère pour beaucoup, entouré de mythes, de superstitions, voire de craintes. Comment peut-on se passionner pour quelque chose d'aussi banal qu'un pneu? Tout simplement parce qu'ils sont les héros méconnus, le maillon oublié, la dernière partie de la chaîne qui vous relie sur la route.
Dans les années 1980, les coureurs cyclistes pouvaient compter sur les meilleurs fabricants de pneus italiens, tels que Clement, Vittoria, Gommitalia et d'Alessandro, qui proposaient tous des dizaines de modèles de pneus, spécialement adaptés à des événements et à des conditions de route spécifiques.
Le fabricant français Wolber a relevé le défi en proposant une large gamme de boyaux pour rivaliser avec les italiens. En effet, le Wolber Invulnerable triple le kilométrage sans crevaison. Une couche finement tissée de MESH en acier inoxydable résiste aux crevaisons, mais cette couche, qui se trouve juste sous la bande de roulement, est si souple et si fine qu'elle n'a aucun effet sur l'élasticité et l'efficacité de ce pneu.
Structure:
Le boyau est un type de pneu composé de plusieurs éléments. Il s'agit essentiellement d'une carcasse tissée protégée par une bande de roulement, enroulée autour d'une chambre à air, puis cousue pour former un ensemble qui peut être collé à la jante appropriée. Les boyaux sont considérés comme plus confortables et plus efficaces que les pneus à chambre à air. Par conséquent, les jantes à boyau sont plus souvent plus légères qu'une jante haute pression équivalente. Les contours lisses de la jante à boyau réduisent considérablement le risque de crevaison par pincement ou par morsure de serpent, ce qui explique qu'elles s'en sortent beaucoup mieux lorsqu'elles sont soumises à des impacts de pierres, de nids-de-poule ou de pavés sur la route de Roubaix, la reine des classiques, qui oblige les mécaniciens à recourir à leurs vieux favoris boyaux sans tenir compte de leurs engagements en matière de sponsoring.
Montage des boyaux : L'attrait de la course cycliste. La préparation minutieuse et le collage méticuleux des boyaux étaient, et sont toujours, de mise. Le choix d'un adhésif était également plus difficile. Clément et Vittoria avaient leur propre colle.