1954 Unis-Sport mail order catalogue dedicated to the sale of cycling articles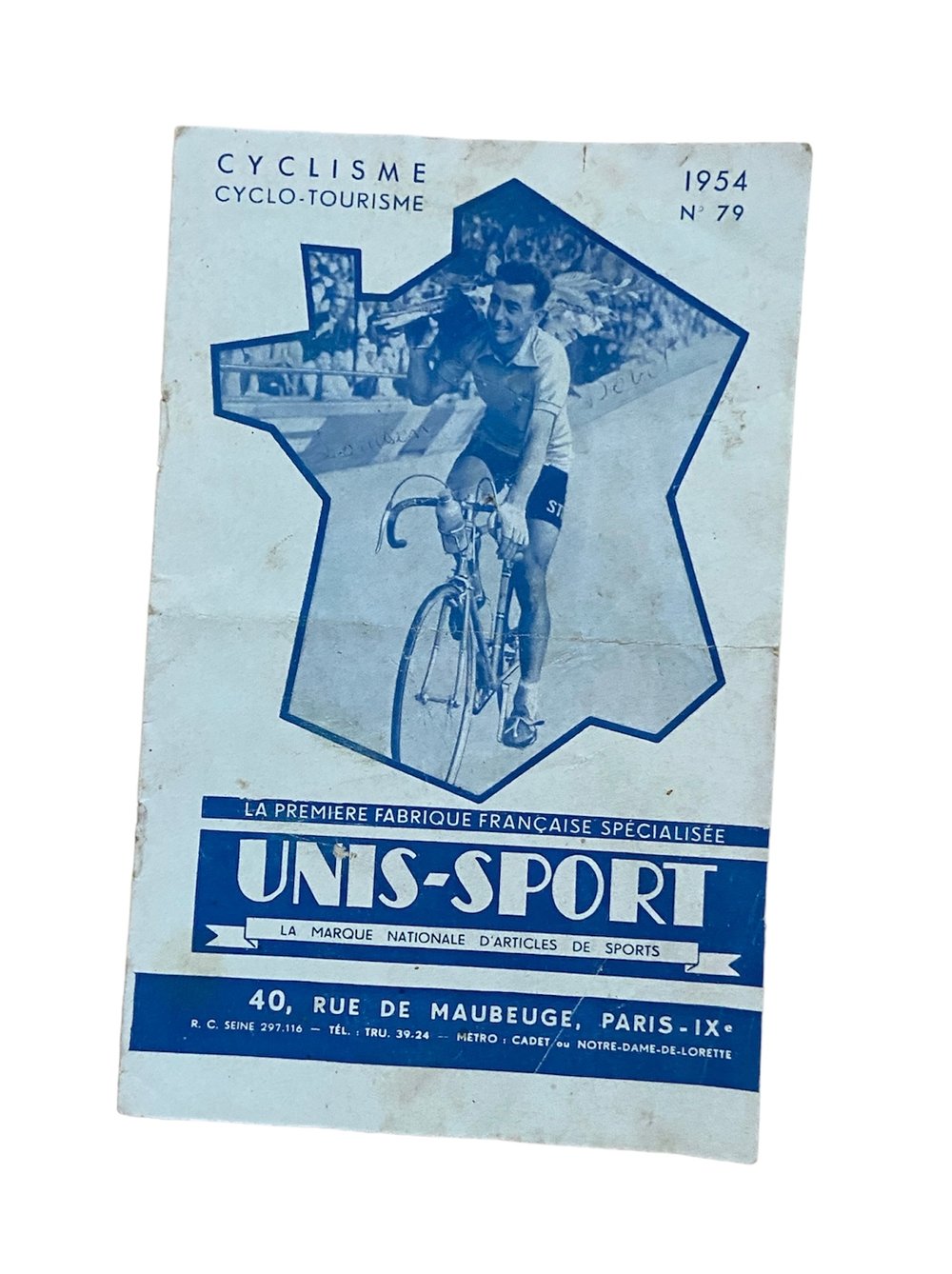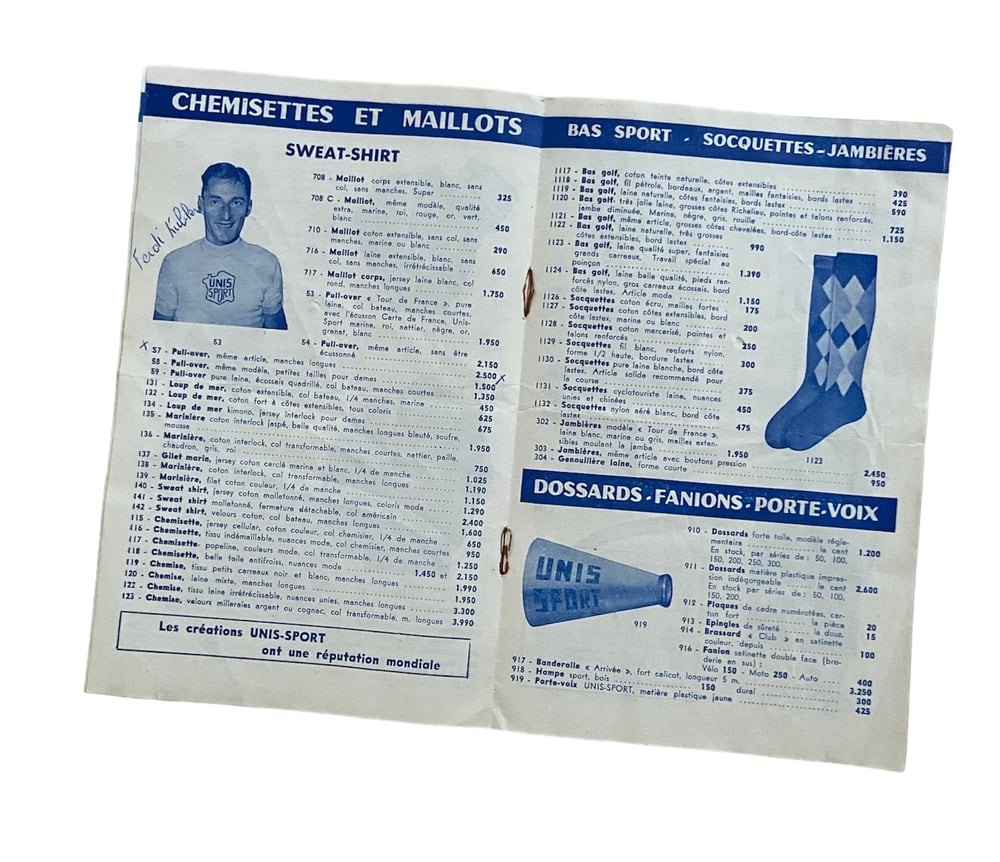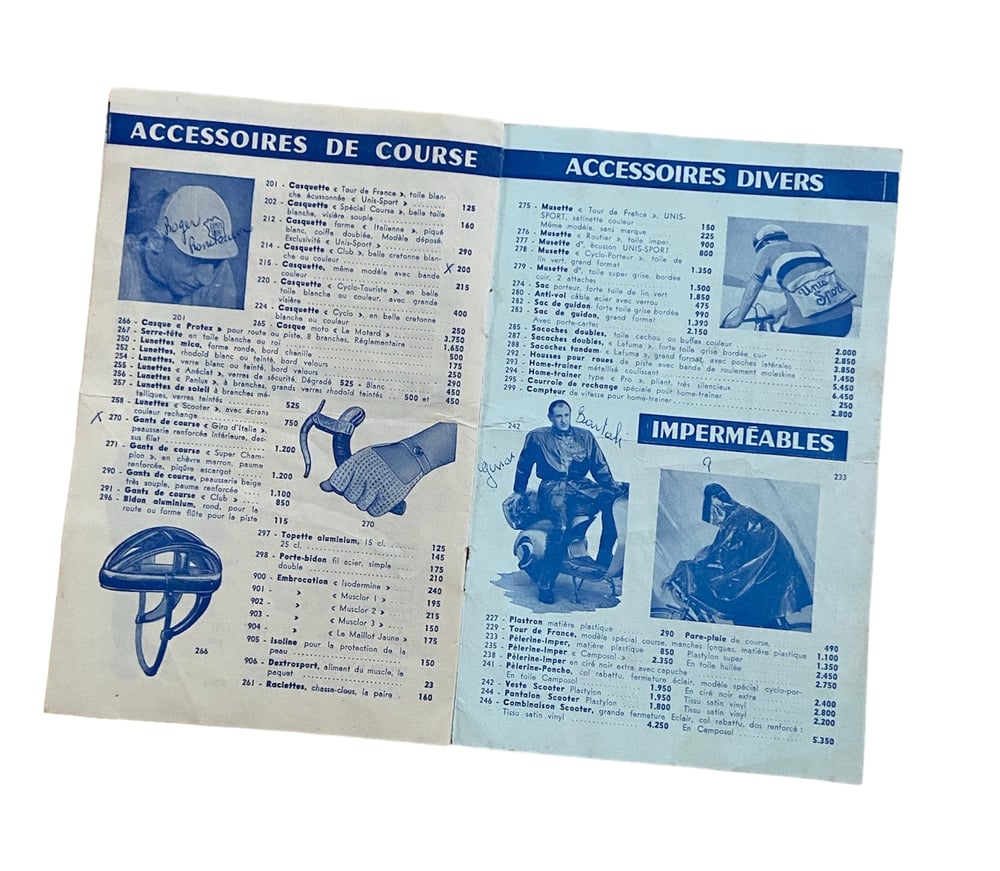 Description:
1954 Unis-Sport mail order catalogue dedicated to the sale of cycling articles. Unis-Sport launches sports fashion! Unis-Sport was officially chosen by Auto, the organisers of the Tour de France, to provide sports equipment for the riders.
Unis-Sport is France's leading mail order sports goods retailer. Its historic address was 40, rue de Maubeuge in the 9th arrondissement of Paris. Its main speciality was cycling products. The choice was vast: cycling shoes, pedal blocks, cycling shorts, anoraks, jackets, blousons, shirts and jerseys, race numbers, pennants, jerseys, tracksuits, caps, helmets, gloves, mackintoshes, badges, embroidery, musette bags. Each item had a purchase reference so you could order from a distance.
Size:
Pages: 12
Catalogue de vente par correspondance Unis-Sport pour l'année 1954 consacré à la vente d'articles de cyclisme. Unis-Sport lance la mode sportive! Unis-Sport était officiellement choisi par l'Auto chargé d'organiser le Tour de France pour l'équipement sportif des coureurs.
Unis-Sport est la première fabrique française de vente au détail d'articles de sport par correspondance. Son adresse historique était le 40, rue de Maubeuge dans le 9eme arrondissement de Paris. Sa grande spécialité était les articles sur le cyclisme. Le choix était très vaste: souliers cyclistes, calé-pedales, golfs et shorts cyclistes, anoraks, vestes, blousons, chemisettes et maillots, dossards, fanions, maillots de course, survêtement, casquette, casque, gants, imperméable, écussons, broderie, musette. Chaque article avait une référence d'achat pour commander à distance.