1969 - Faema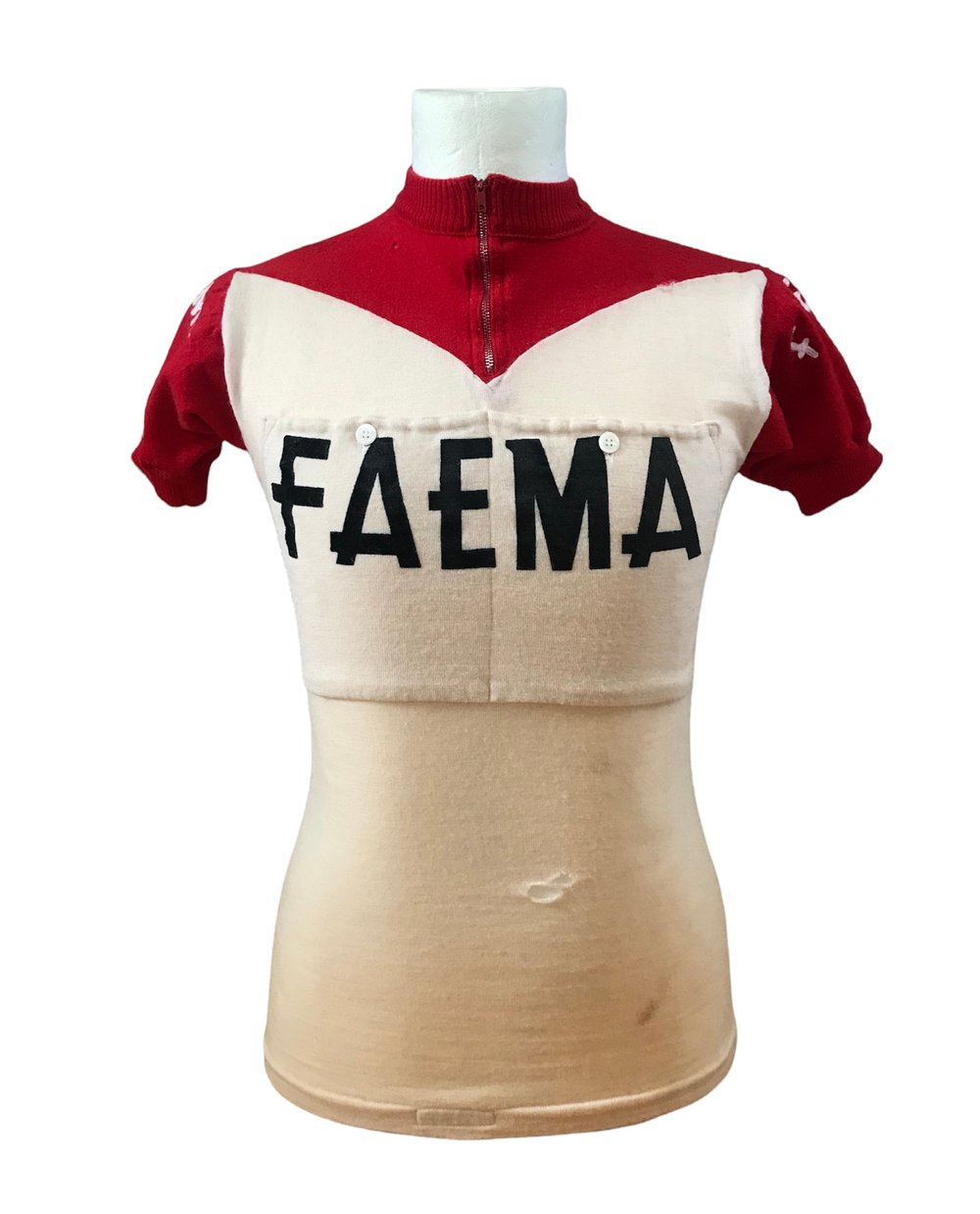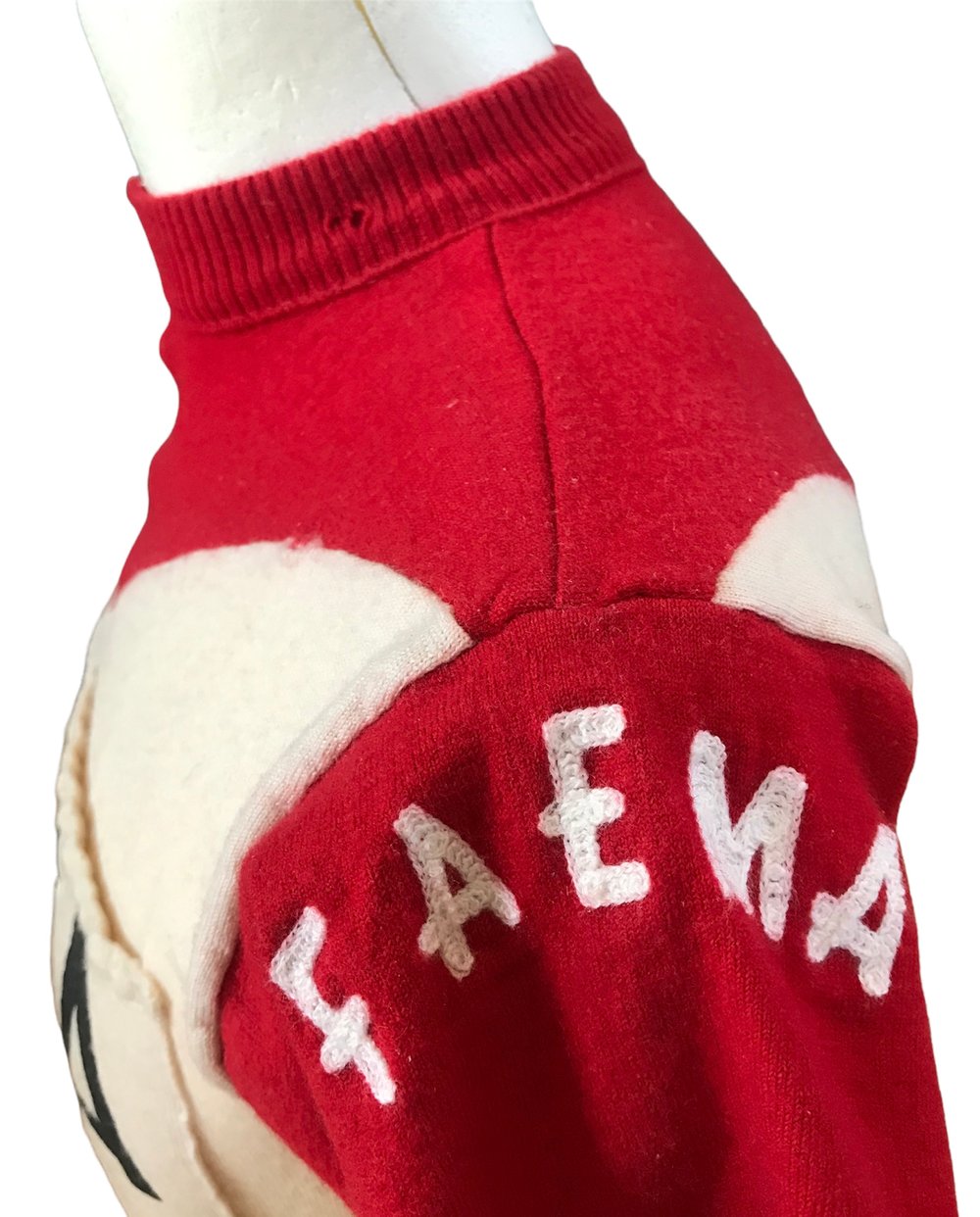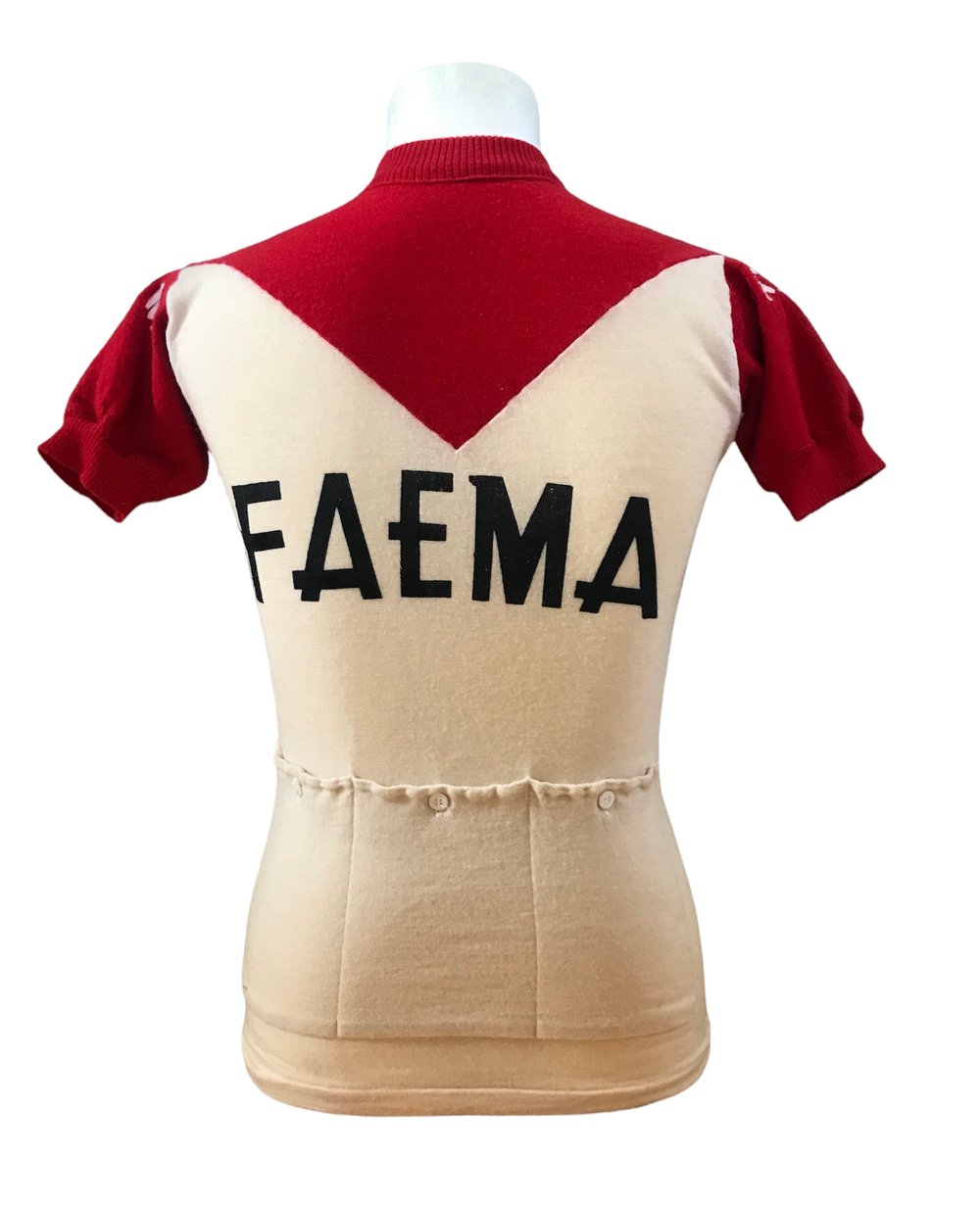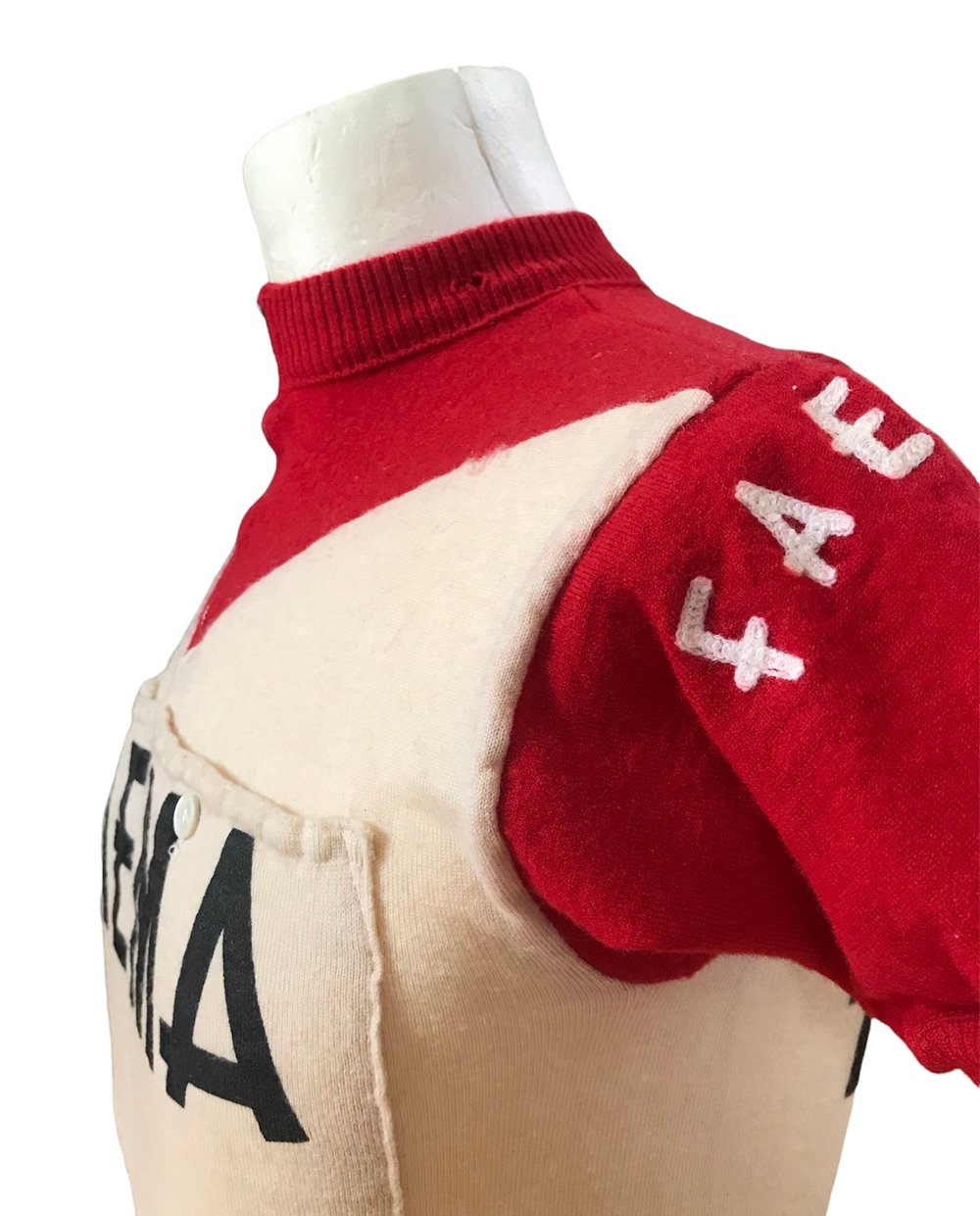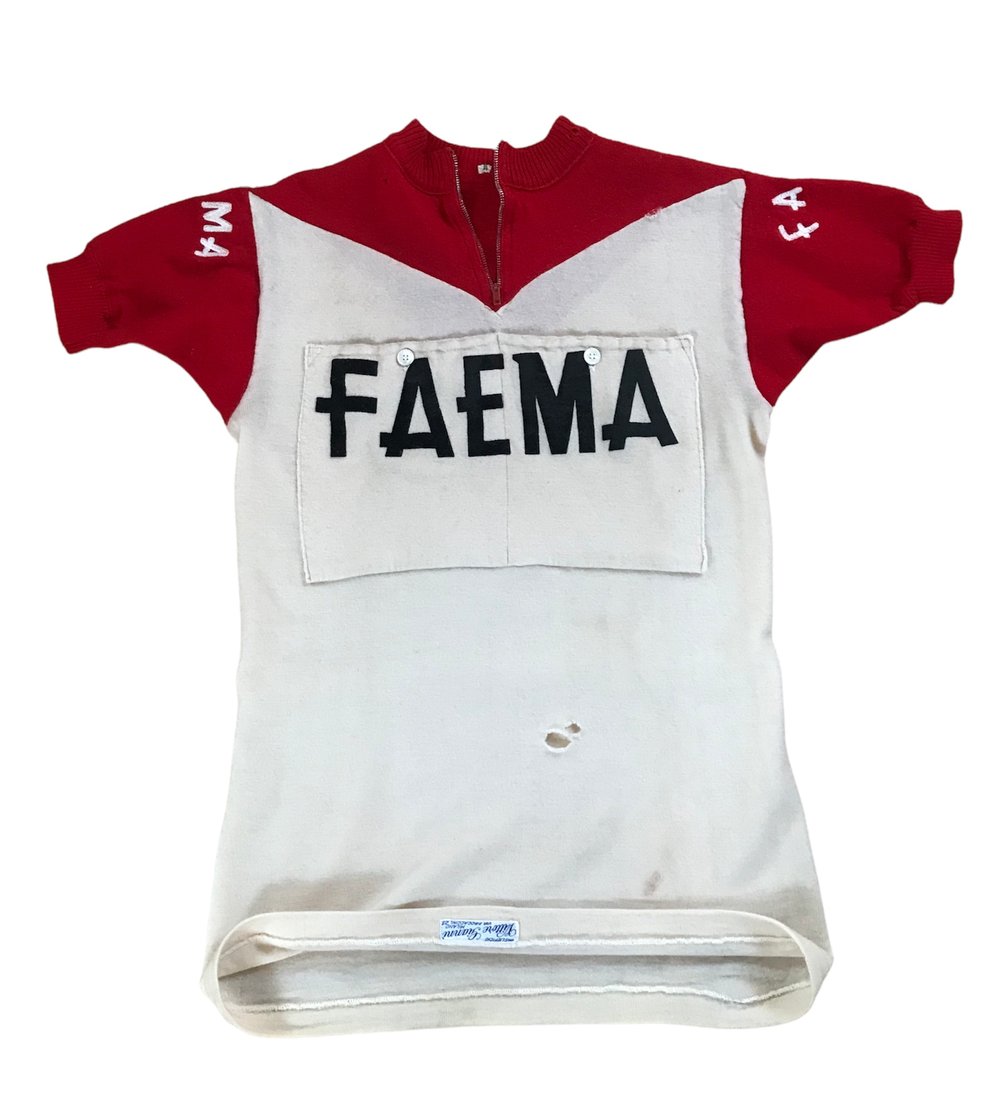 Description:
This iconic lines of the late 60's Faema jersey made unforgettable thanks to its association with Eddy Merckx's first victory in the Tour de France. A symbol for Belgium, which has a new king in 1969!
The distinctive red V-top of the Faema jersey adopted in 1968 to 1970 evokes a turning point in the career of Eddy Merckx who reigns over international cycling!
The team jerseys of 1969 were issued both with and without front pockets, depending on rider preference.
Faema (Fabbrica Appareechiature Electro Mecccaniche e Affini), the producer of espresso and coffee machines since 1945, was best known as the main sponsor of the Italian cycling team of the same name with a large Belgian and Spanish contribution, active from 1955 to 1970.
In 1964 Faema disappeared as a sponsor in the peloton, but it would return a few years later, and not without success. Led by Marino Vigna and again Lomme Driessens, the Faema team drove under Italian license in 1968. From 1968 Eddy Merckx rode for the team, which continued as Faemino-Faemena in 1970 before Faema withdrew from cycling.
In 1978 and 1979 Faema was still co-sponsor of Giancarlo Ferretti's Bianchi team. In 1978 Johan De Muynck won the Giro d'Italia on behalf of this team.
Main riders: Charly Gaul, Hugo Koblet, Rik Van Looy, Vitoria Adorno, Eddy Metckx
Main victories from 1968 to 1970:
Super Prestige Pernod (1969, 1970), World Road Race Championship (1968)
Italian National Road Race Championship (1969), Belgium National Road Race (1970),
Giro (1968, 1970), Tour de France (1969, 1970), Paris-Nice (1969, 1970), Tour de Romandie (1968), Tour de Suisse (1969), Milan-San Remo (1969), Tour des Flandres (1969), Paris-Roubaix (1968, 1970), Liege-Bastogne-Liege (1969), Championship of Zurich (1969), Flèche Wallonne (1970), Gand-Wevelgem (1970), Paris-Tours (1968), Amstel Gold Race (1969)
Color: Off-white color on most of the jersey and bright red on the collar and sleeves.
Condition: This jersey is a beauty, in great condition with flocked lettering.
• Manufactured from an 100% pure wool
• Long length zip at the collar 12,5cm
• The jersey shows the familiar front chest pockets used since the birth of cycling
• Short sleeves jersey
• Two button down pockets at the front
• Three back pockets at the rear
• Two button down pockets at the rear
• Made in Italy by Vittore Gianni
Please note: This jersey does have small holes, please review photos carefully.
Size: Small
Armpit to armpit: 41cm
Length: 64cm