1972 - Gitane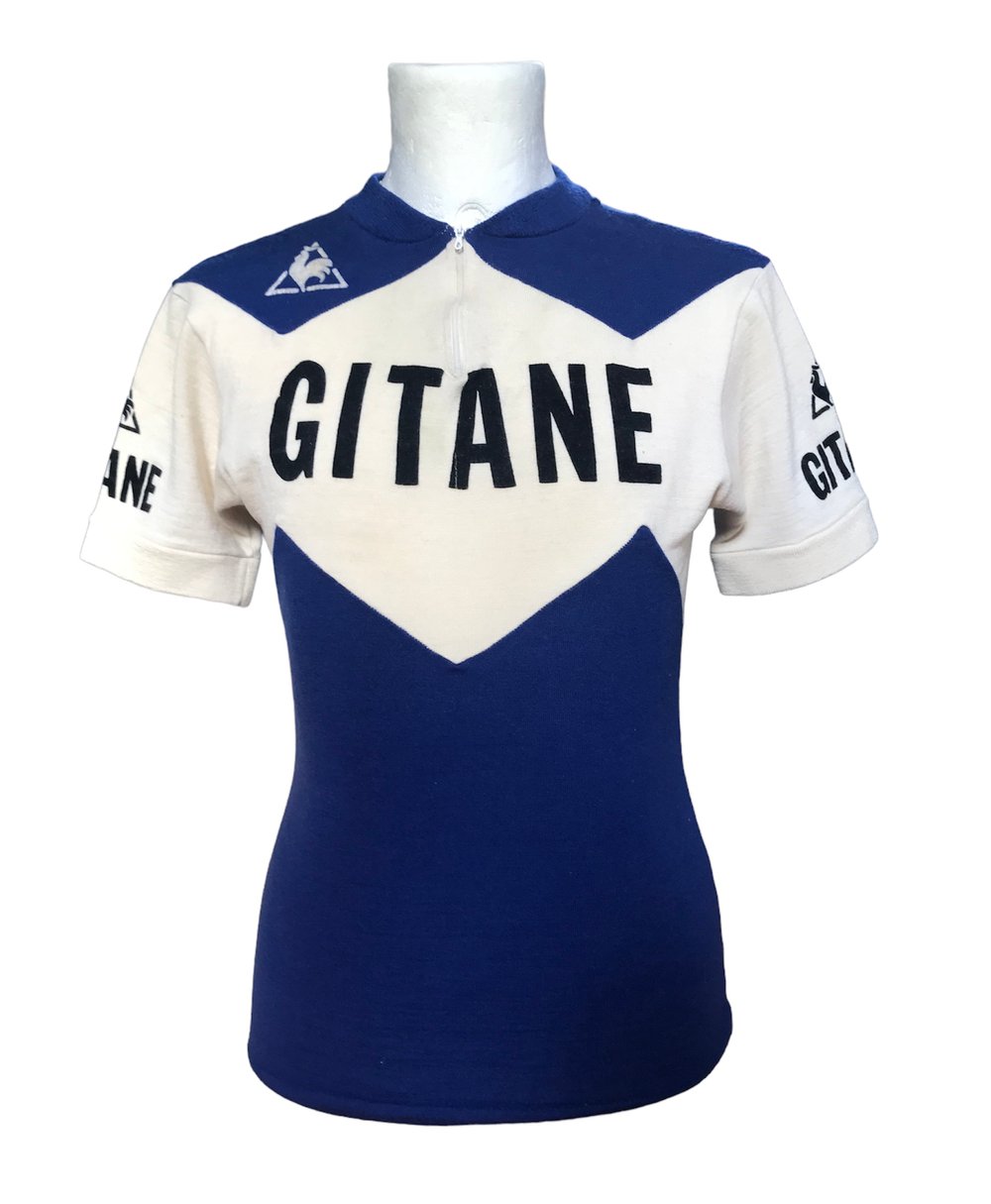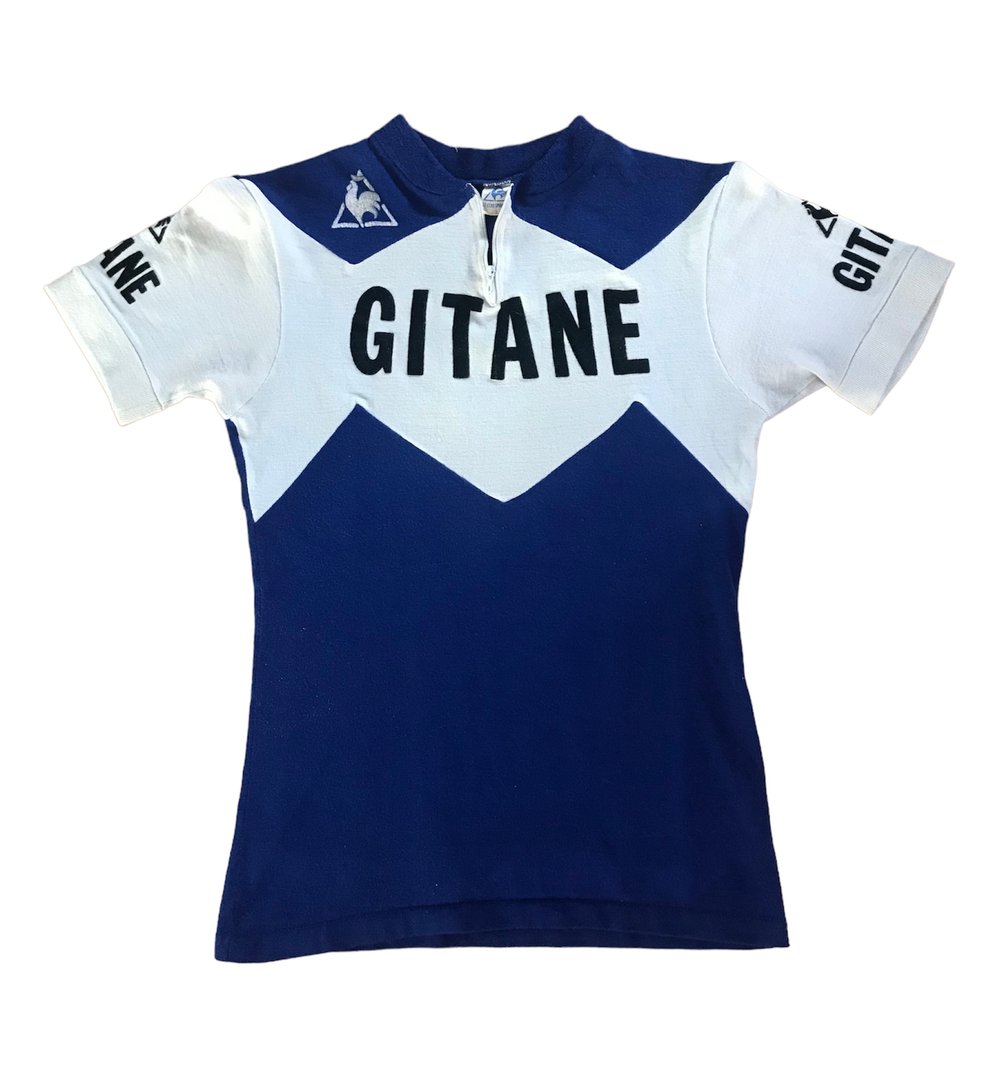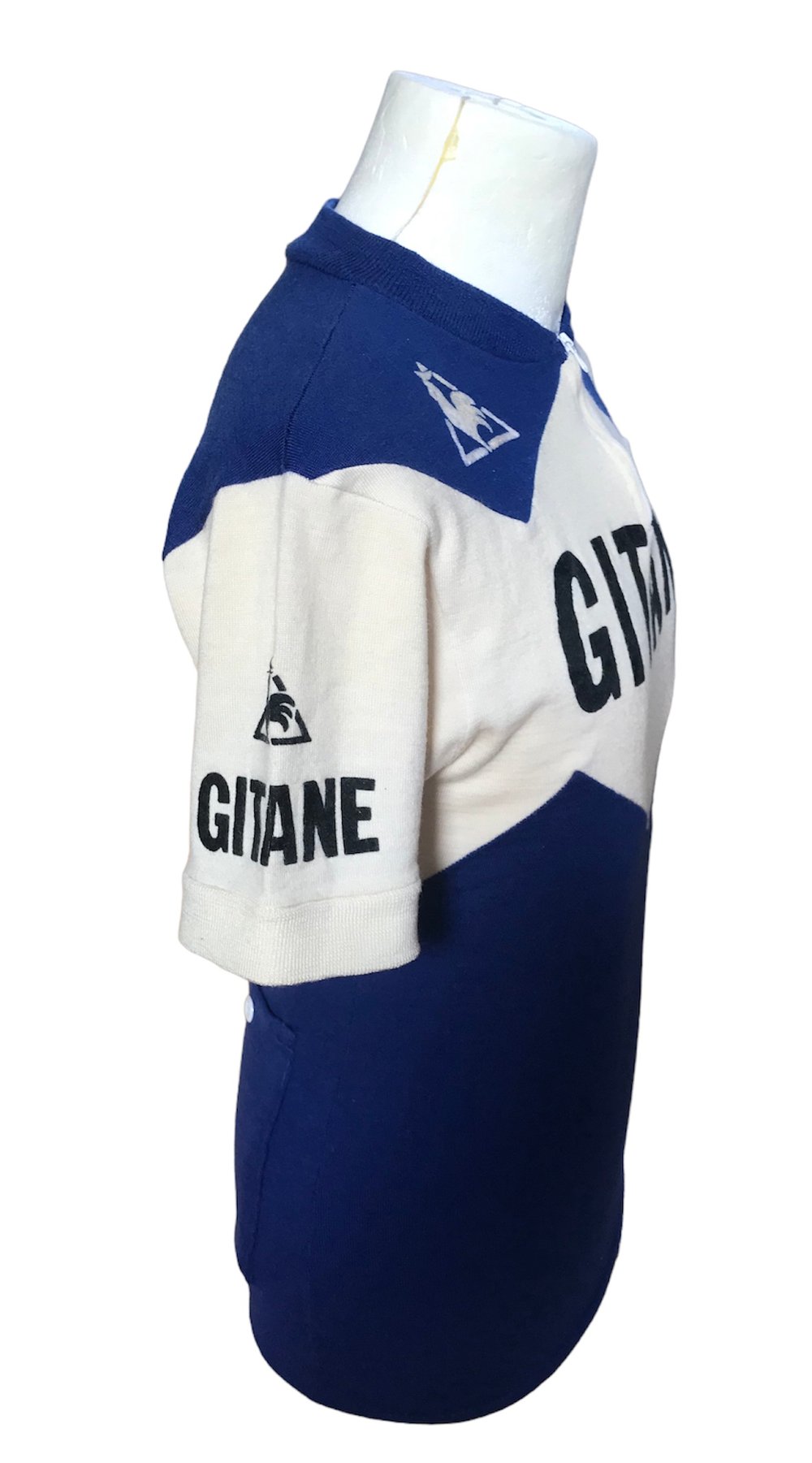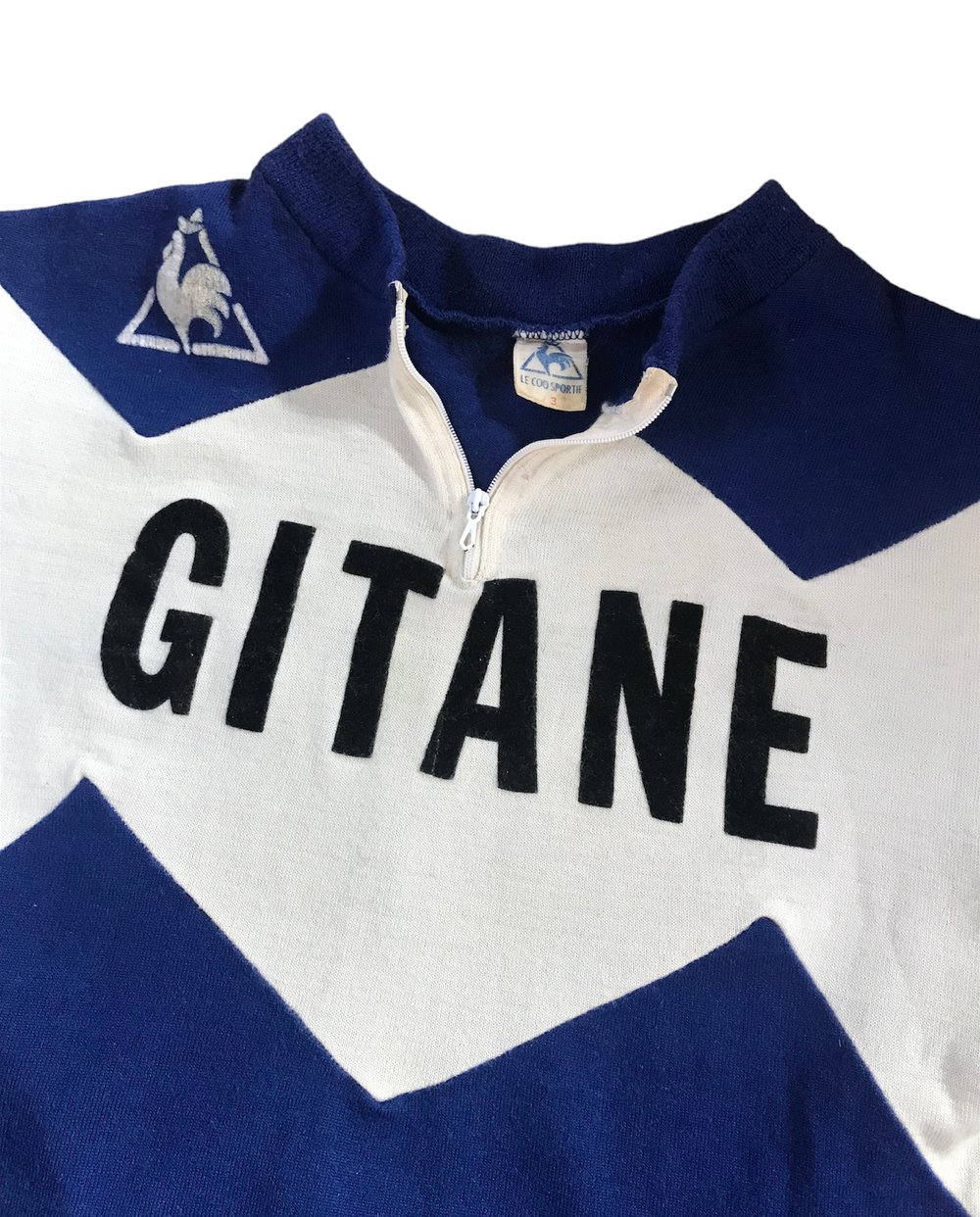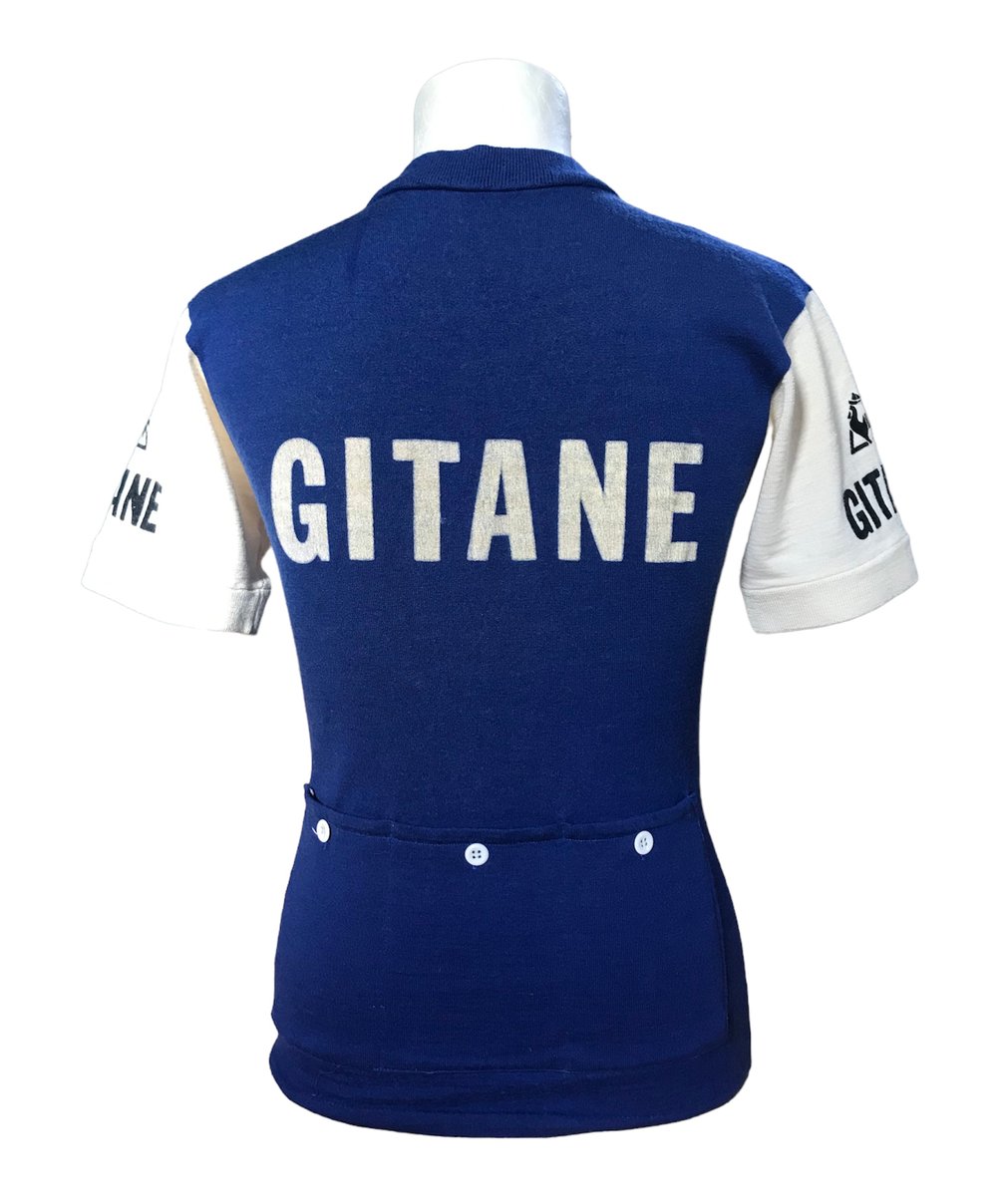 Description:
This rare 1972 Gitane team jersey design lasted only one season made by Le Coq Sportif used during the Tour de France.
Gitane was the name of the cyclingteam in 1972. The main riders on the team this season were Michael Wright, Maurice Le Guilloux, Pierre Tosi and Georges Chappe.
The French bicycle firm sponsored its first cycling team in 1947 and had a long association with various teams as both a primary and secondary sponsor.
Color: This short-lived design with blue color and white diamond took part of the 1972 Tour de France.
Condition: This jersey is a beauty, in good condition.
• Manufactured from acrylic with flocked lettering.
• Short sleeves jersey
• Long length zip at the collar 10,5cm
• Three back pockets at the rear
• Three button down pockets at the rear
• Made in France by Le Coq Sportif
Size: Medium
Armpit to armpit: 44cm
Length: 65cm
PLEASE NOTE to review carefully the photos to determine the condition.
The Gitane teams from 1947 to 1957 played a modest role in the professional peloton. The Gitane jersey had two colours during this period: a blue one tending towards navy and a less dark blue one, the inscriptions were red.
Between 1960 and 1966, the team had already left the professional pelotons, but Gitane was to equip extra-sport brands such as the Rapha and St-Raphaël teams with cycles, with many prestigious successes!
A Gitane team was reconstituted in 1972 after 15 years of absence, composed mainly of French riders. The team with the blue jersey and white diamond took part in the Tour de France but had very little success during the season.
Additional information:
An array of cycling legends, including Stablinski, Rik Van Looy, Rudy Altig, Jacques Anquetil, Greg Lemond, Bernard Hinault, made French company Gitane one of the most prominent and most prestigious manufacturers in the history of sport.
The first Gitane bikes began to appear in the late 1920s. A few years earlier, Marcel Brunelière opened a bicycle manufacturing shop in the town of Machecoul. In the 1950s he added motorcycles to his range, and the company name became MICMO (Manufacture Industrielle de Cycles et de Motocycles).
In 1966 Brunelière sold up and retired. MICMO was sold again in 1974, Renault bought MICMO in 1976.