Raoul Lesueur - 1947 World Champion - Middle distance racing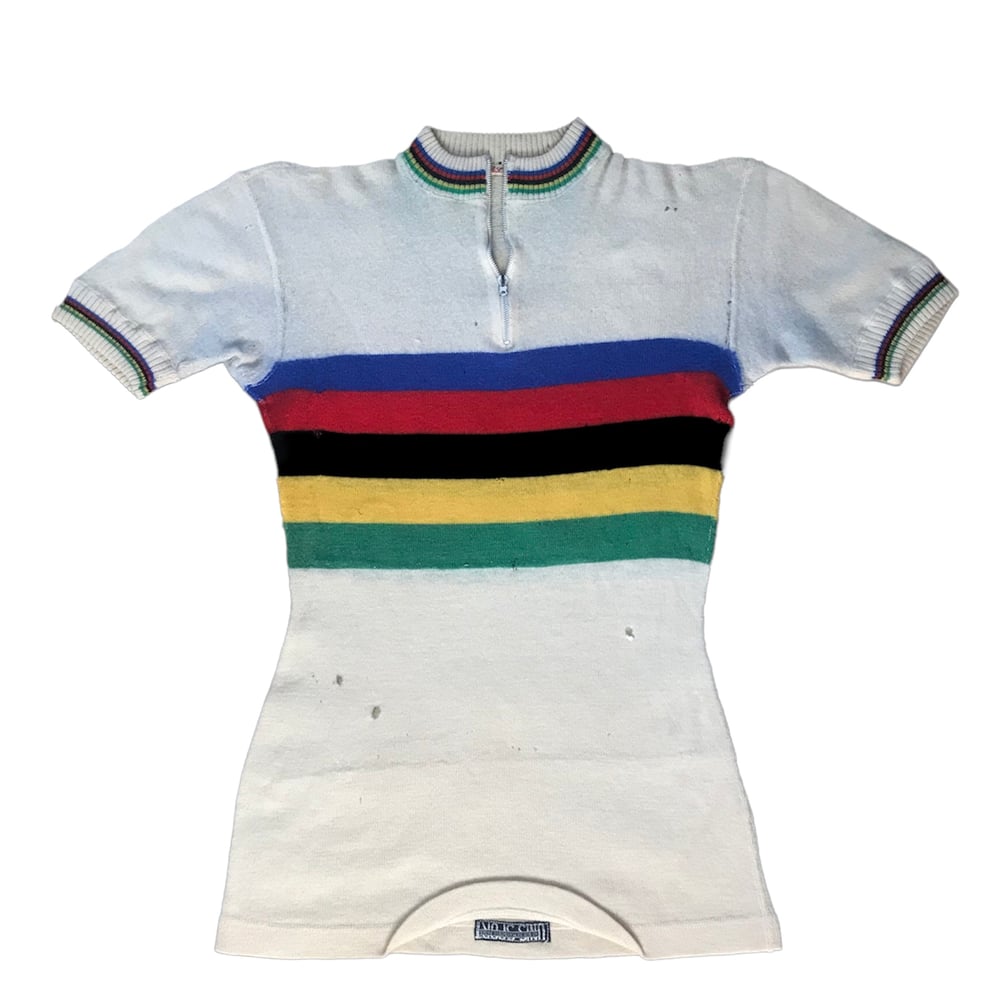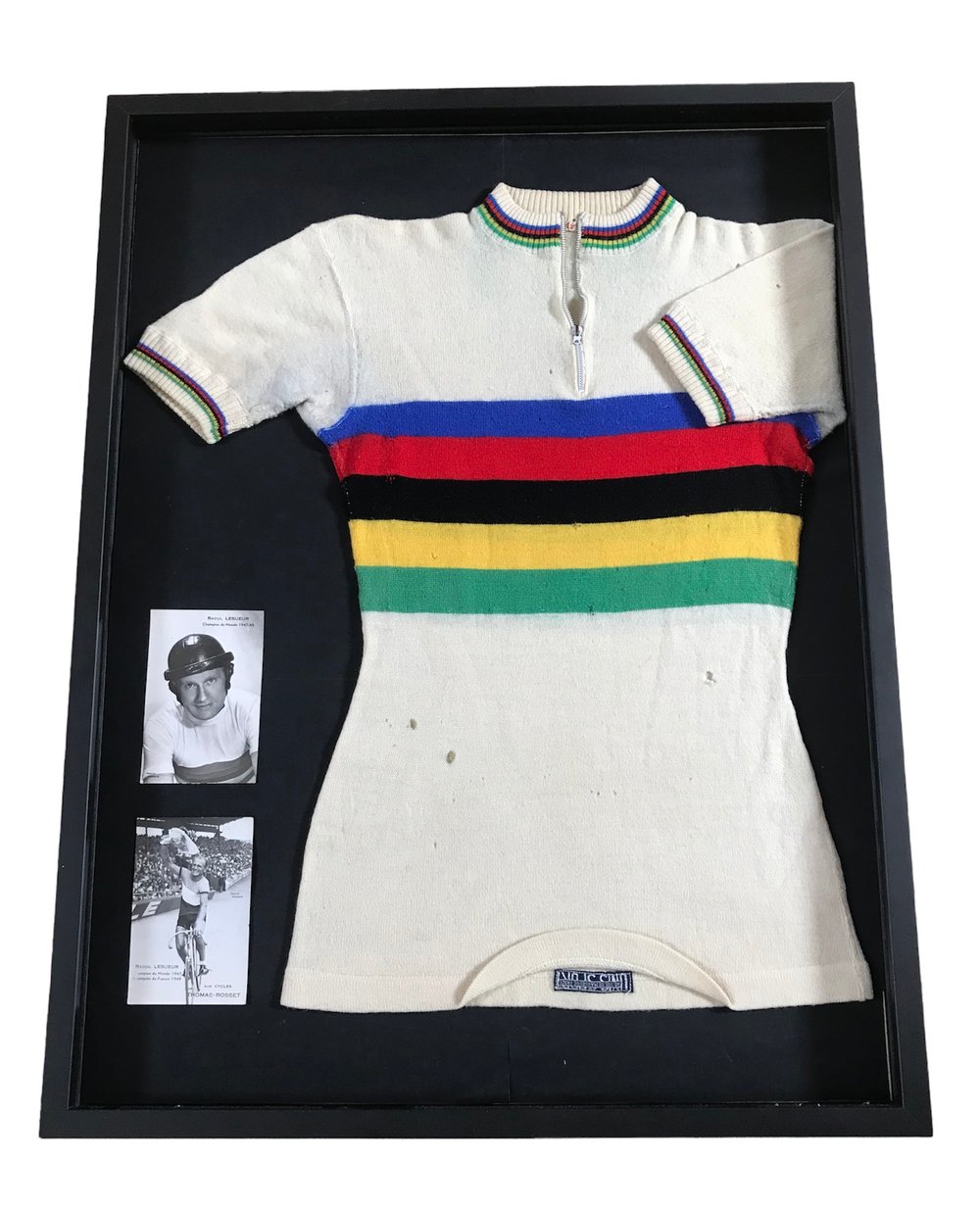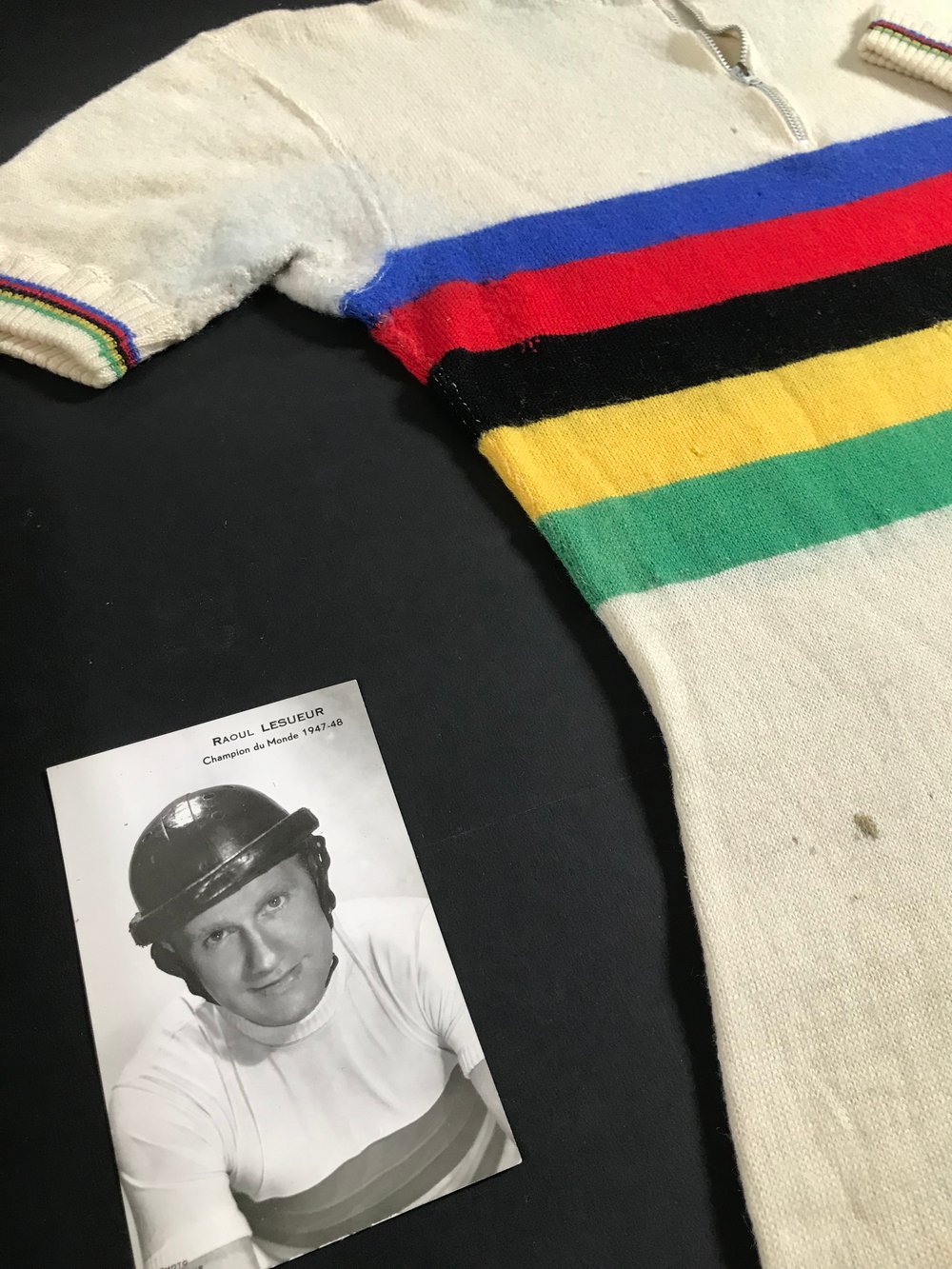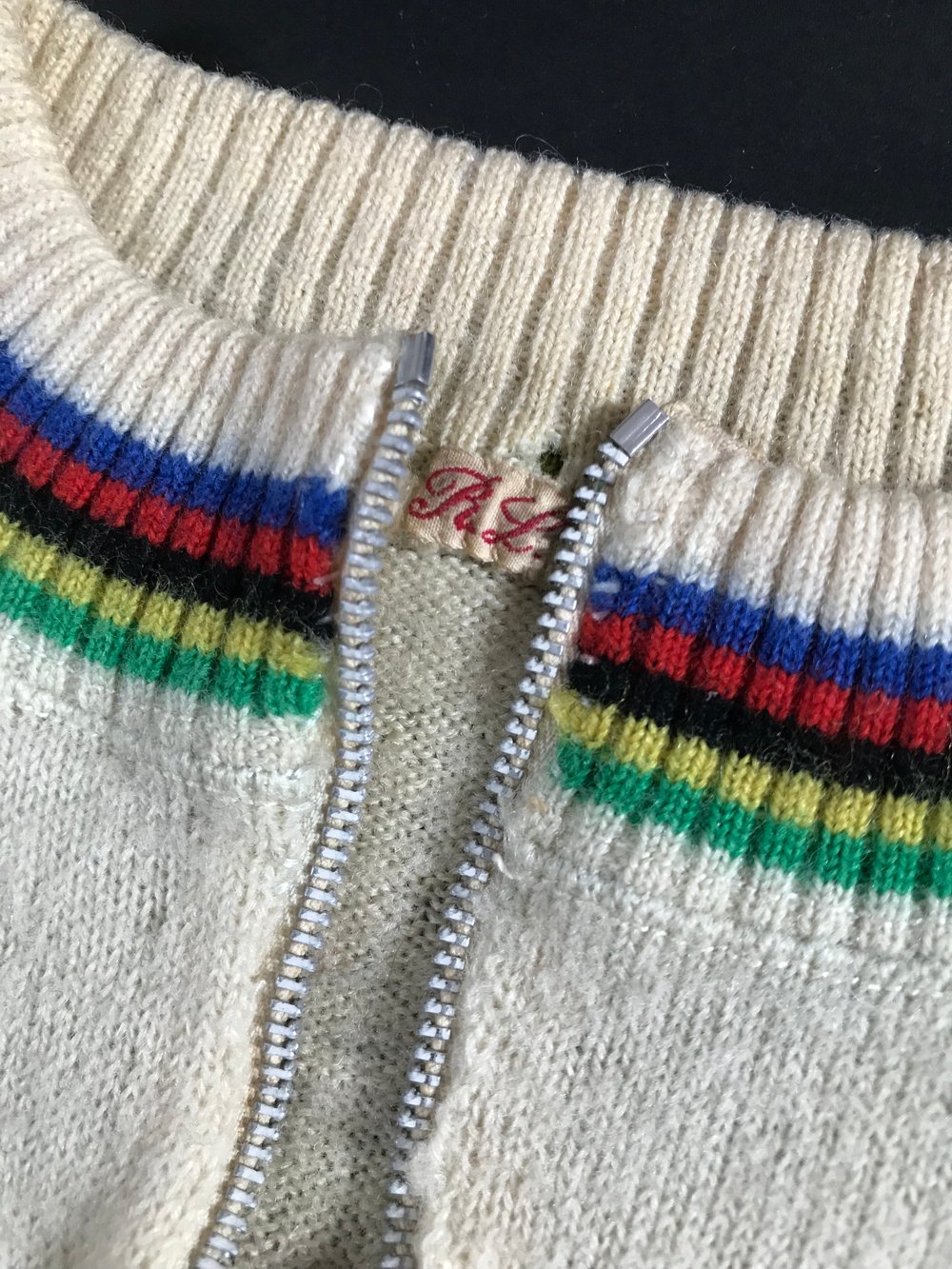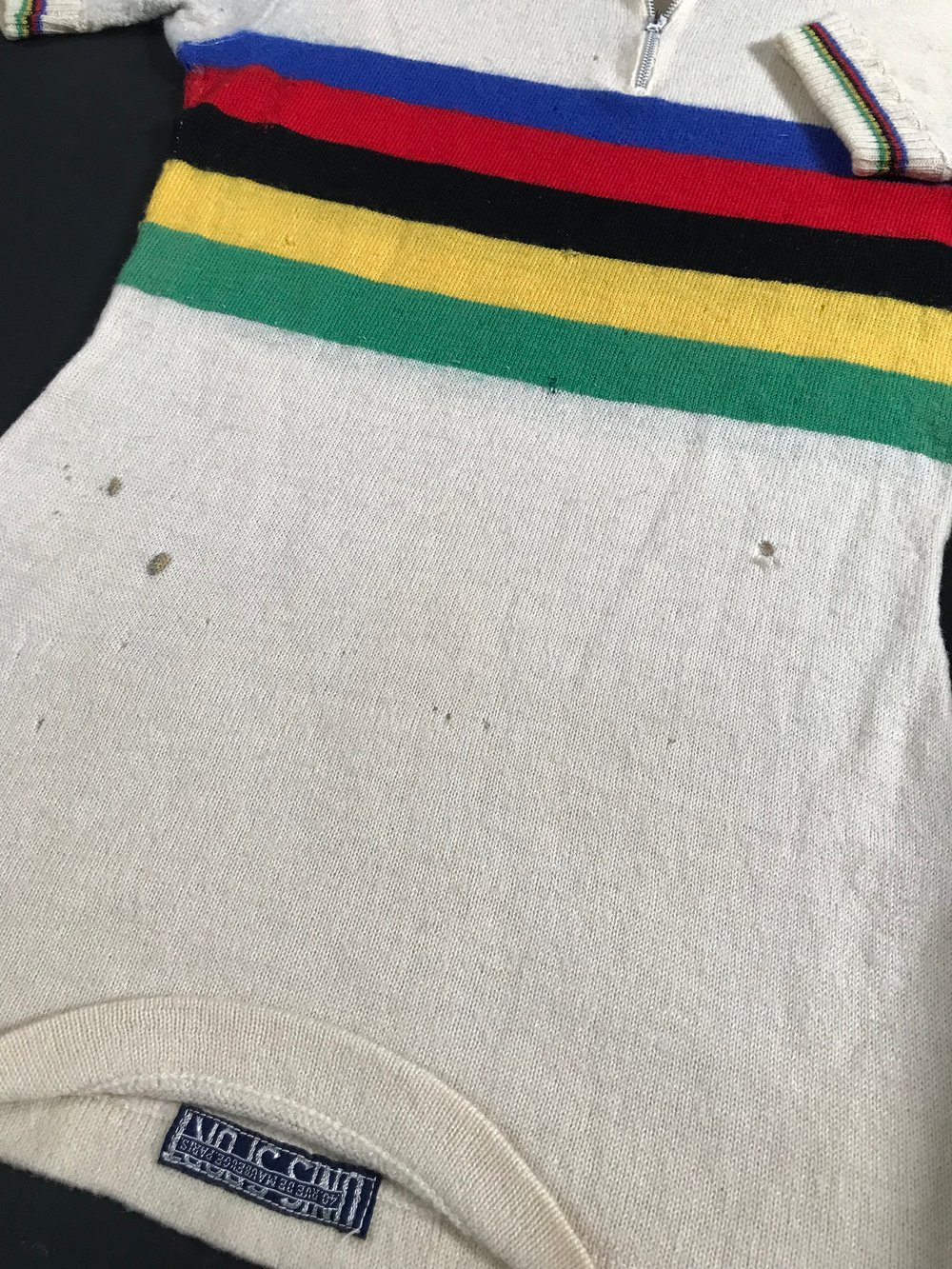 Description:
Used pro rainbow jersey by Raoul Lesueur.
The winner of this event earns the right to wear the distinctive "rainbow" jersey as the reigning champion. The design, in use since 1927, features the five horizontal bands of colour used by the UCI, the same colours that appear on the Olympic flag.
Raoul Lesueur, born April 29, 1912 in Le Havre and died August 19, 1981 in Cannes is a former French racing cyclist (1934-1943, Helyett Hutchinson). He was first a road cyclist with a 14th place in the 1936 Tour de France. He won Genes-Nice in 1935 and in 1937, Paris-Caen in 1937, the Critérium des As in 1943.
Double World Champion in middle distance running in 1947 in Paris and 1950 in Liège, French Champion in 1949 and European Champion in 1950 in Antwerp, Raoul Lesueur excelled in this discipline.
The middle distance is a track cycling competition contested behind a motorcycle over varying distances, in one or more rounds. Each rider rides behind a motorcycle trainer (nicknamed stayer or middle distance motorcycle). The latter carry a roller at the back against which the rider sticks his front wheel in order to make the most of the training. The runners practicing the middle distance are called stayers and the trainer is called the "pacemaker".
HISTORY:
After the six-day races, contested individually and almost without interruption, the public turned to sprint races and then to middle-distance competitions. Before 1902, middle distance was the number one sport in the United States and stayers were paid more than baseball players. These very spectacular events enliven the cycling rings for many years. These races are very dangerous, speeds sometimes exceeding 100 km/h. Falls are frequent and often dramatic, even fatal. Despite these permanent risks, riders such as Victor Linart or Guillermo Timoner fight on these events and become champions by marking the championships and the Grands Prix.
BICYCLES:
The middle distance requires specific bicycles. The fork is inverted and the front wheel is smaller to be closer to the trainer to get the most suction and shelter. For reasons of solidity, due to the very high stresses due to speed, bicycles are made of steel. The stem and the saddle are often connected to the frame by a metal rod for better security. The riders use high gears, with chainrings exceeding 60 or even 70 teeth for developments generally greater than 10 m.
Colour: This jersey carries an air of magic with its combination of five mythical colors!
Condition: Jersey in relatively good condition, some minor imperfections,.
Please Note: This jersey does have few holes, please look carefully at the photos to determine the condition.
• Manufactured from an 100% pure wool
• Long length zip at the collar 16cm
• Manufacturer's label sewn on the bottom of the jersey
• Initials R. L. sewn in the collar
• Short sleeves jersey
• Made in France by Unis-Sport
Size: Small
Length: 67cm
Armpit to armpit: 40cm