Original Vintage poster Adidas Sport Shoes Eddy Merckx World Hour Record Cyclist Race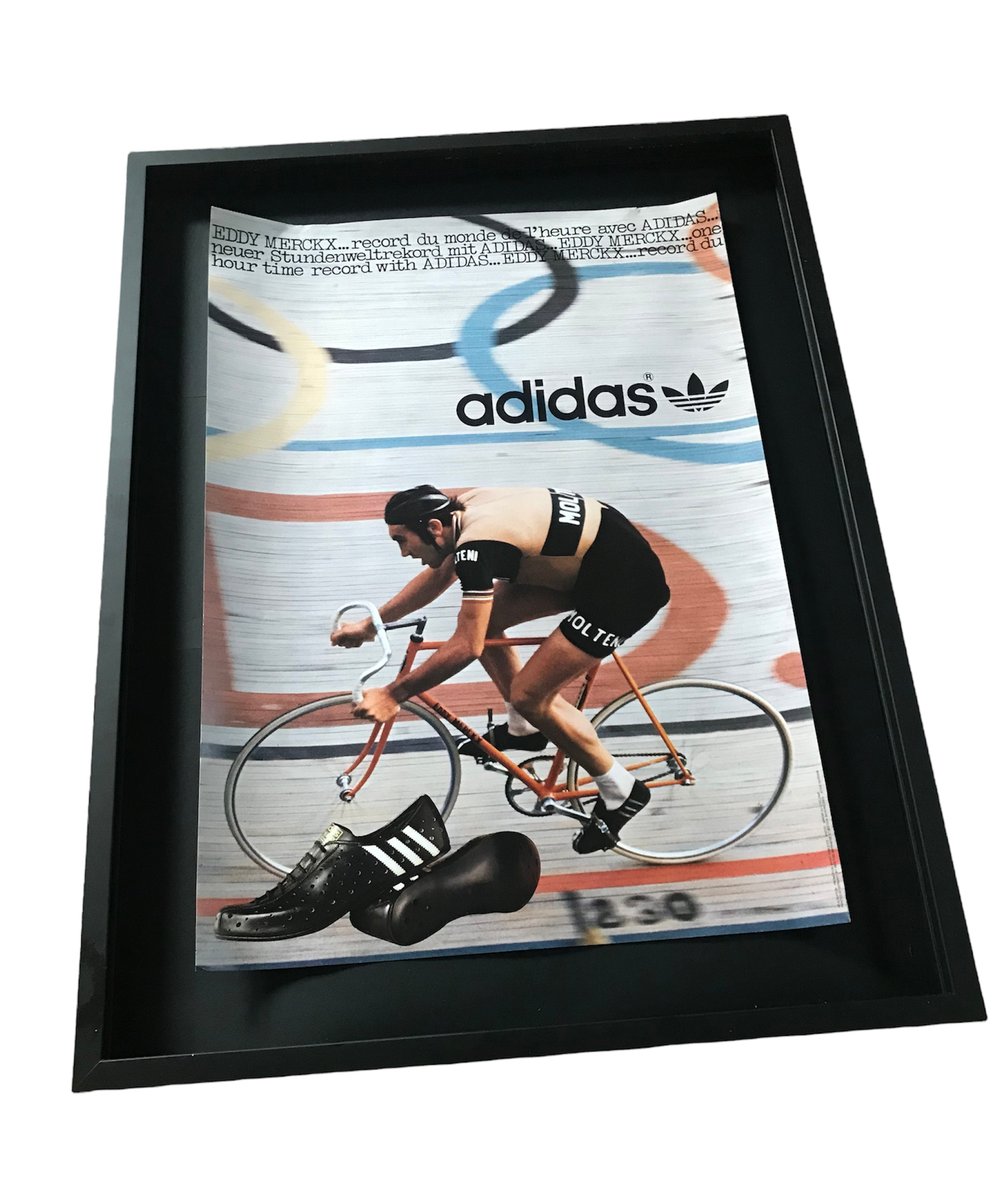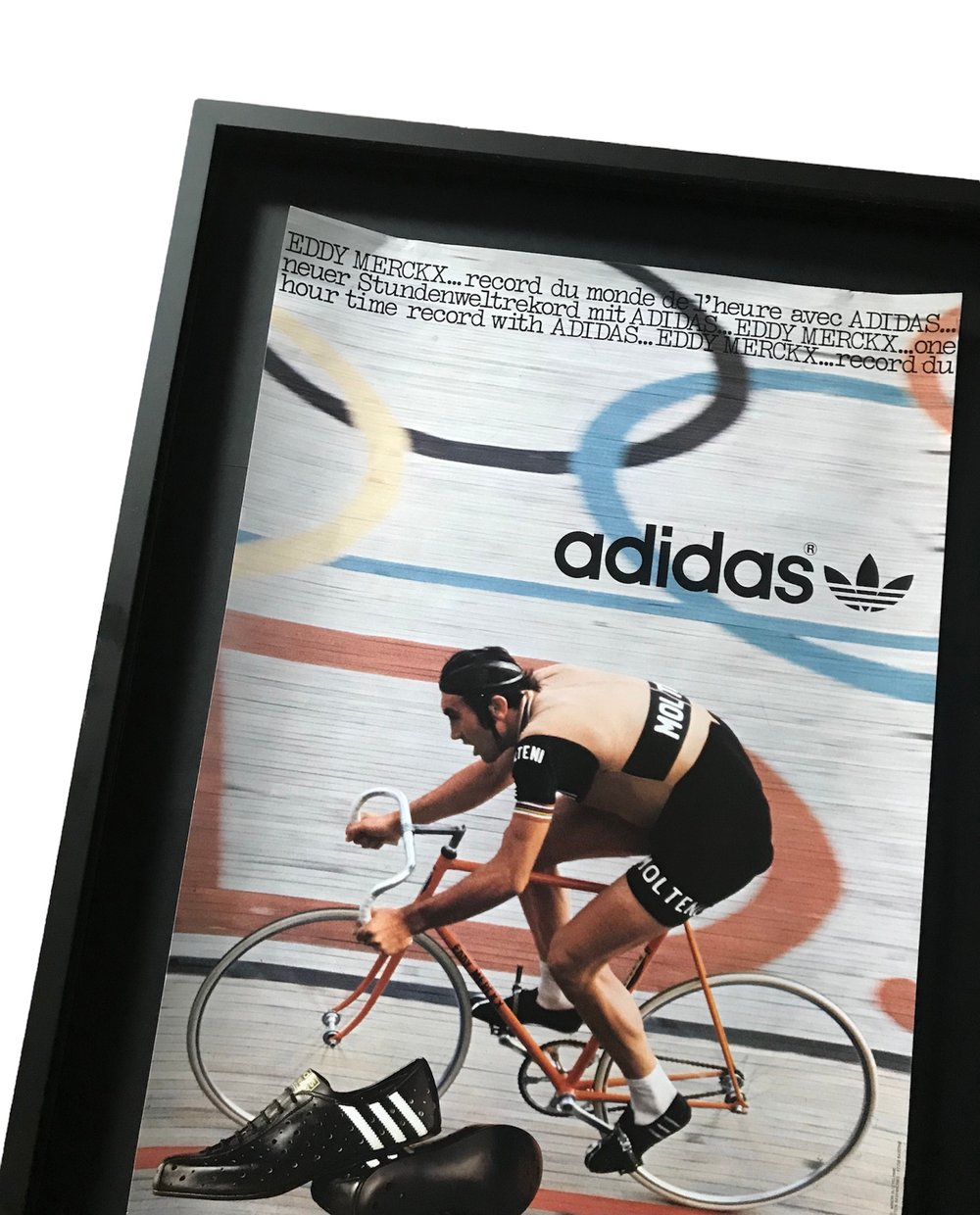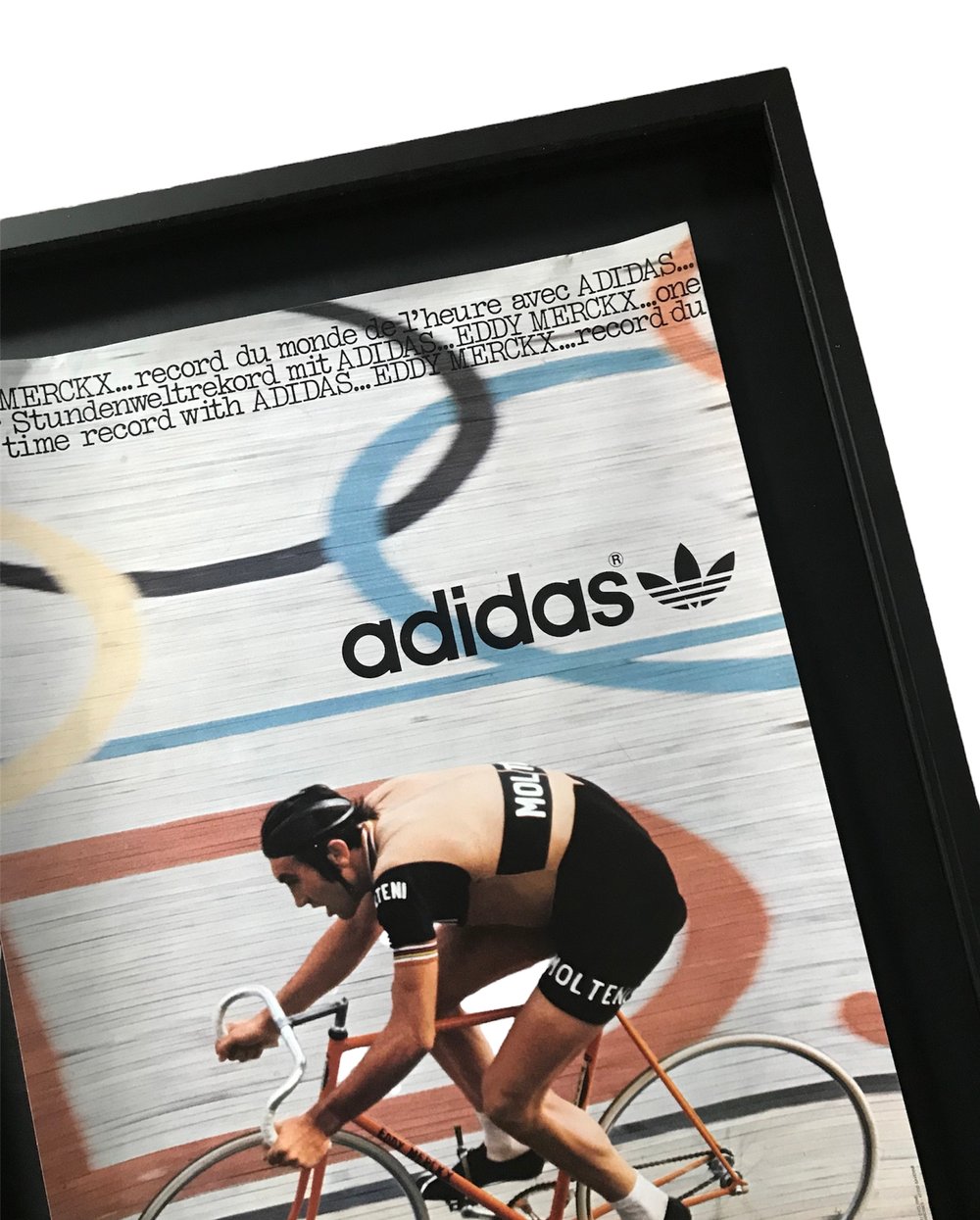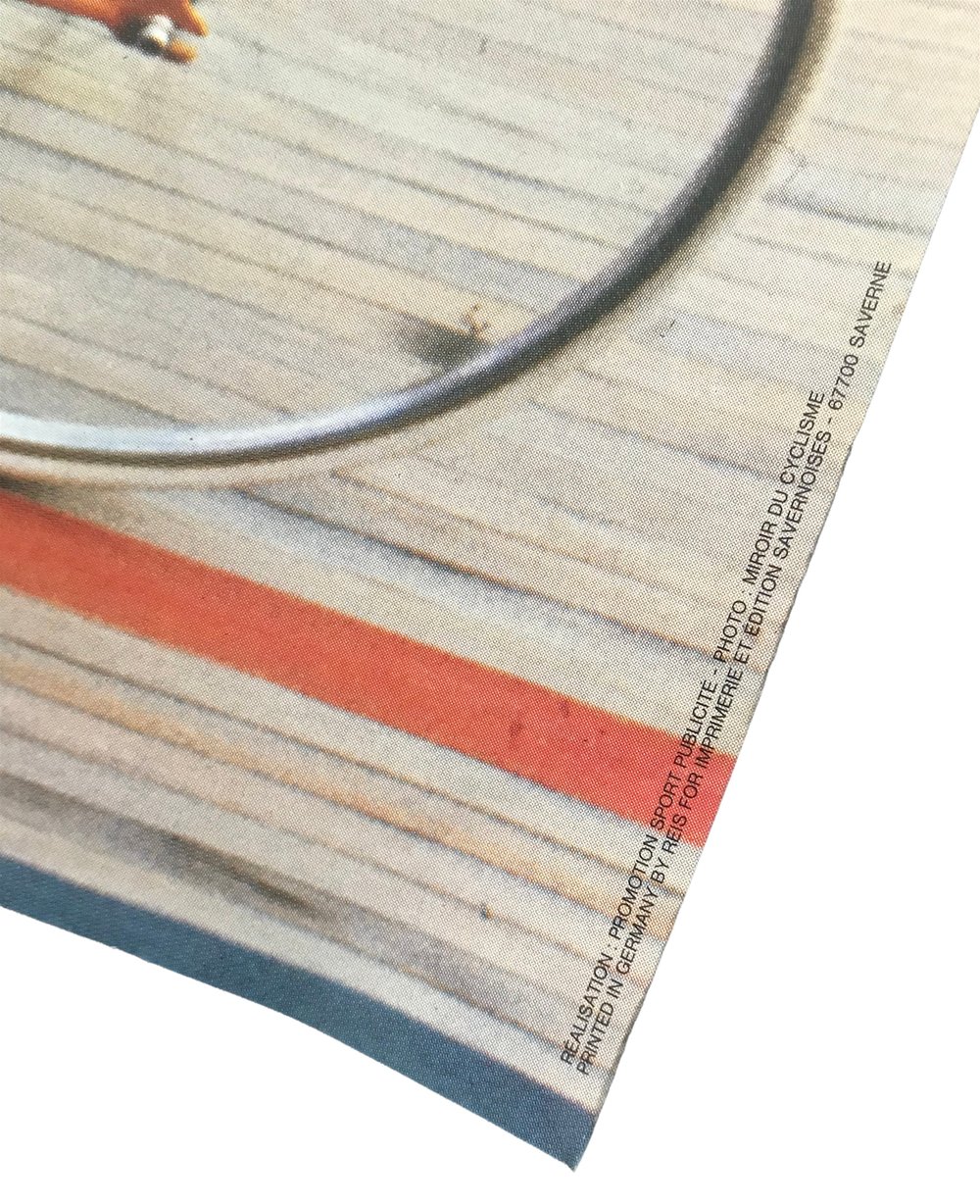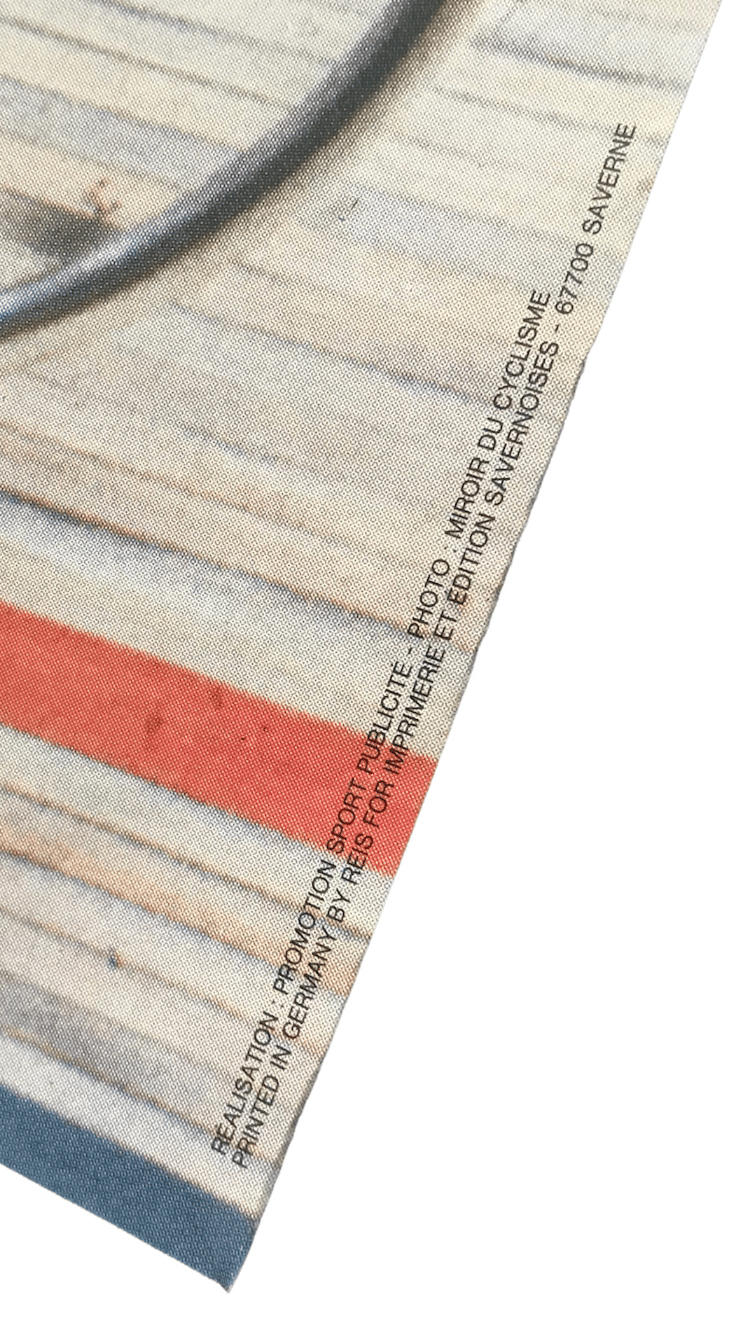 Description:
Original vintage advertising poster for Adidas shoes featuring a dynamic photograph of the professional road and track cyclist Eddy Merckx racing at speed in an indoor cycling event with the Olympic rings on the track in the background by the Adidas logo and an image of a pair of black sports shoes with the iconic Adidas three white stripes on them below, the black text above reading One hour time record with Adidas...Eddy Merckx... in French, German and English.
It's an original poster, NOT a reproduction.
Condition: New Old Stock
Dimensions
Height: 26.78 in. (68 cm)
Width: 18.9 in. (48 cm)
Photo: Miroir du Cyclisme
Printed in Germany by Reis for Imprimerie et Édition Savernoises - 67700 Saverne
PLEASE NOTE to review carefully the photos to determine the condition.
One of the most successful competitive cyclists of all time, Eddy Merckx (Edouard Louis Joseph, Baron Merckx born 17 June 1945) achieved 525 victories including 11 Grand Tours and three World Championships as well as the hour record and all five Monuments (one day race events); after retiring from professional sport he established a bicycle chain and coached the Belgian national cycling team.
In 1972, Eddy Merckx set a new hour record at 49.431 km (30.715 mi) in Mexico City at an altitude of 2,300 m (7,500 ft) where he proclaimed it to have been "the hardest ride I have ever done".
Additional information:
TIME! At 5:00am Eddy breakfasted on toast spread with a favorite cheese brought from home, ham, and coffee. By 6:50 he was at the track and by eight he had completed his warmup and was ready to go. In that hour over 2,000 people, alerted by Radio Mexico, rushed to witness this historic sixty minutes
At 8:56am exactly, Eddy Merckx began his great ride. A bell was sounded each lap. If he were on schedule he should be crossing the start line as it sounded. After the first two laps Eddy was a quarter lap up! Giogi Albani, who had the job of standing where Merckx actually was when the bell was rung, had a hard time keeping up!
Merckx's first kilometer passed in 1'10" and five kms. in 5'55.7". Already Eddy was 14 seconds up on Ritter's record to this point. Onlookers couldn't believe their eyes. A second five kms. in. 5'58" obliterated Ritter's ten km. time by five seconds. Ritter's 20 km. time was eclipsed by eleven seconds. And remember, Ritter had set his records on a special ride separate from his Hour attempt. Compared to Ritter's Hour pace, Merckx was 35" ahead at 20 km.
Albani urged Merckx to slow a bit, and he did, dropping to a 6'7" per 5 km. pace for the next seven 5 km. segments. Around km. 35 Merckx showed signs of being human. He fidgeted on his seat and the grimace on his face revealed the superhuman effort he was making. There was never a question of his taking the record; the only question was by how much. Far from fading, his last two kms. were reeled off in 1'13" and 1'12"
Still, he could barely speak when he first dismounted. Pictures of the moment show his face a mask of pain. It wasn't long, though, before Eddy regained is normal composure and was able to answer questions.
"Throughout this hour, the longest of my career, I never knew a moment of weakness, but the effort needed was never easy. It's not possible to compare the Hour with a time trial on the road. Here it's not possible to ease up, to change gears or the rhythm. The Hour record demands a total effort, permanent and intense, one that's not possible to compare to any other. I will never try it again. There are those who told me that if I came here to Mexico I wouldn't feel the pedals. I assure you, I could feel the pedals! Nevertheless, I don't regret this choice. I don't think I could ever improve on this record. Yet I am convinced that one day my record will be beaten. That is the law of the sport. But to beat it it will be necessary to push a bigger gear. My 52X14 was plenty big for me. For five or six kilometers it didn't pose a problem, but for a whole hour it was very much otherwise."
He reflected further, and then wondered if possibly he couldn't have done better if he hadn't started so quickly. If he entertained such thoughts seriously, it wasn't for long. Eddy Merckx never attempted the Hour again.